News
District 5 Council Candidate Brain-Pick
See Where Eric Friedman and Warner McGrew Stand on Key Election Issues
The contest for the District 5 seat on the Santa Barbara City Council pits Eric Friedman, a longtime county aide, against Warner McGrew, a former city fire chief. Both are Democrats, boast impressive résumés, and enjoy the backing of big-name supporters and donors. Their district, which covers the San Roque, upper State Street, and Hidden Valley areas, contains an eclectic mix of apartment housing, middle-class homes, and large estates, as well as the northwest end of the city's commercial corridor.
Here, they answer the Santa Barbara Independent's questions on important election issues. Some of their answers have been edited for length and clarity.
Friedman and McGrew will also speak on their city government views and ideas during the District 5 Discussion hosted by the Independent on Wednesday, October 4, from 6 to 7 p.m. at the MacKenzie Park Adult Building (3111 State St.). The event is free and open to the public. Reserve tickets at sbindytickets.com.
Ballots will be mailed to voters October 9.
What are District 5's top three issues?
Eric Friedman: Infrastructure and traffic circulation; housing and neighborhood preservation; the future of LaCumbre Plaza.
Warner McGrew: Economic sustainability; AUD [Average Unit-size Density] and ADUs [accessory dwelling units]; public safety, which includes homelessness.
What are Santa Barbara's top three issues?
EF: Water security; affordable workforce housing; economic development, in particular the future of downtown.
WM: Economic sustainability; homelessness; workforce housing.
How would you balance the interests of District 5 with the interests of the whole city?
EF: For 14 years I worked as a staff aide in the 1st District County Supervisor's office. This is the same district system we now have in the city. Using my background and experience at the county, I will look at the long-term vision and overall perspective of the city as whole when developing public policy goals and initiatives. At the same time, I will advocate for the 5th District when moving to implement the new city vision.
WM: As an experienced department head and manager in this city, I have the proven insight and ability to provide quality government service to both the 5th District and the city at large. I will be responsive to the issues and concerns of the 5th District while balancing the needs for the entire city.
How would you engage with your constituents, and how would you collaborate with your council colleagues?
EF: I will have an open-door policy to establish a responsive, transparent, and more accountable City Hall. This includes timely responses to individual contacts from the public, as well as hosting office hours in public places within the 5th District and attending community events and forums. Building relationships with the other council members and the mayor will come from keeping the perspective that we are all one city and need to implement a vision that serves all residents who live here. I think of Santa Barbara as the biggest small town you could live in. Personal relationships are critical to get things done.
WM: During my 47 years of leadership in government for this city and region, I have earned the reputation of being an accessible leader who approaches issues with an open mind. I value the input of our citizens and will always remain open and accessible to my constituents. I will continue to support transparency in city government and will direct city staff to continue its efforts in public outreach and education. I will continue to work with my colleagues on the council, and I will support healthy relationships and dialogue to bring the councilmembers together to address the challenges that face our city.
What new projects or initiatives would you like to spearhead?
EF: While working at the County, I was a lead staff on the issue of Community Choice Energy. The work we did to help get it off the ground by partnering with multiple jurisdictions from San Luis and Ventura counties to conduct a feasibility study needs to continue. For the 5th District in particular, I want to look at new uses for the abandoned army facility on the corner of State Street and Las Positas Road. Transforming this property from an abandoned building to a community asset would truly enhance the uptown area.
WM: I plan to address the revitalization of our business communities, preservation of our neighborhoods, enhancement of our arts and cultural districts, and improvement of our public safety to include enhancements to our sub-par 9-1-1 cell-phone emergency call system.
How would you work to ease the housing shortage?
EF: While the State of California requires us to build our share of housing, we must also recognize that we will never be able to build enough units to satisfy demand. In order to reach our state mandate and not lose local control of our planning process, we need to modify the AUD ordinance to make sure any new units meet the needs of our community. This includes looking at long-term covenants to ensure rentals remain rentals; the elimination of excessive amenities, such as those at the Marc, which drive up the cost; and implementing a mix of both market-rate and affordable units. It also means reversing the premature decision of the current council that limited this program to 125 units per year. In addition, we must invest in alternative transportation that connects commuters from Ventura and North County to their jobs.
WM: Work with the Community Development Department to streamline the process to provide user-friendly customer service. Promote the influx of workforce housing in the downtown core of the city. Support ADUs while preserving family-oriented neighborhoods, and enhance the downtown State Street area to accommodate a multimodal transportation system.
What steps would you take to preserve Santa Barbara's history and character?
EF: We owe a debt of gratitude to previous generations who created Santa Barbara's iconic architecture and commitment to an incredible urban landscape. The next City Council has a responsibility to continue this legacy. New units should be considered in strategic locations, such as the old Macy's building, while also considering the impacts to neighborhoods. Investment in city infrastructure is also a key component of preserving our heritage. Many of our most iconic buildings and assets are publicly owned, such as the library, the Cabrillo Arts Pavilion, and our urban parks. We need to maintain them properly.
WM: I am a fourth-generation resident who values the history and character of our community. I was very proud to have my granddaughter represent our city and historic culture as the Spirit of Fiesta. I will work hard to direct commissions to preserve the character of our community in the historic architecture, and I will support our arts and cultural programs that bring our character to the forefront.
What would you do to revitalize State Street?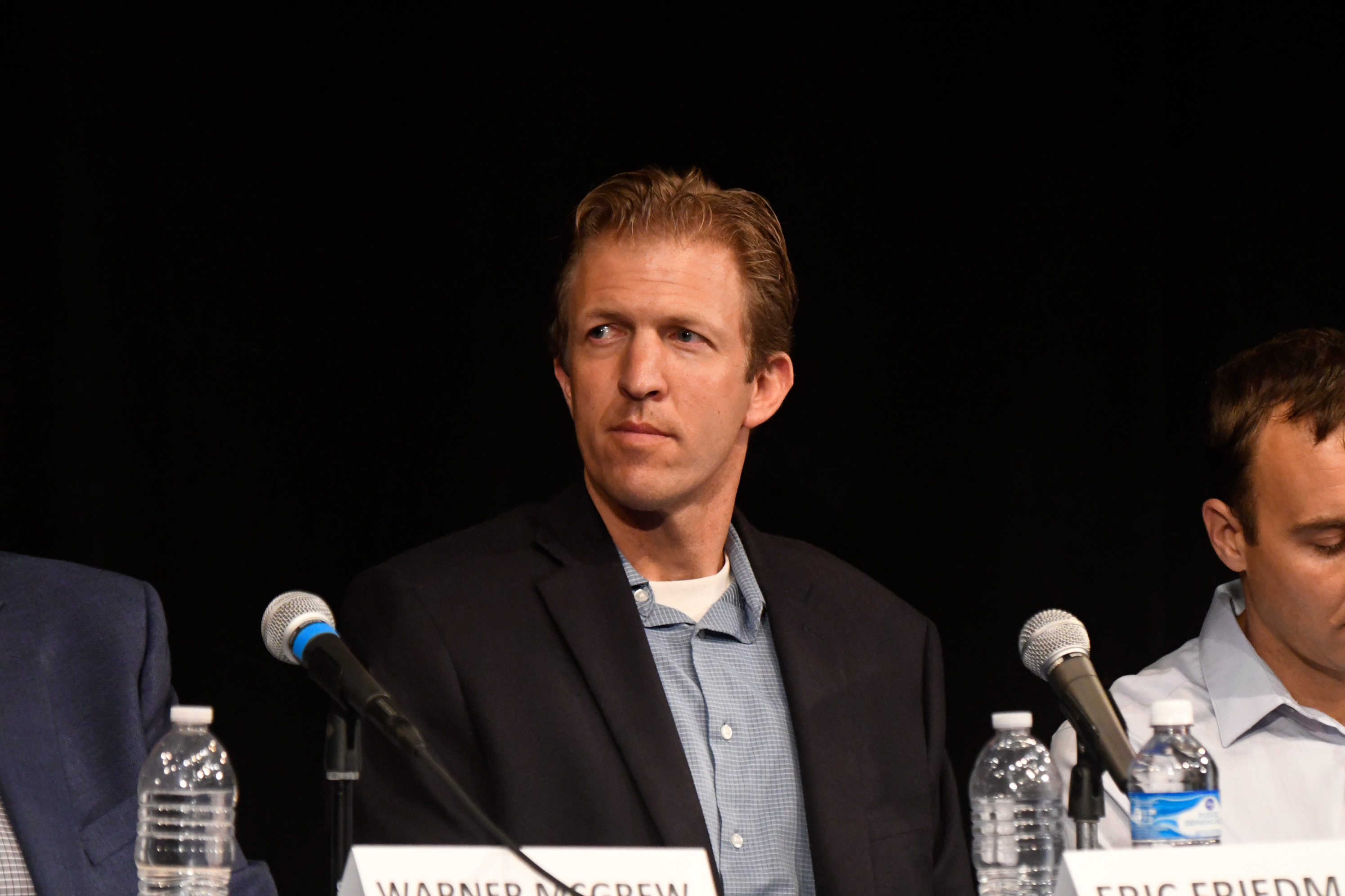 EF: I support efforts to build housing in the downtown corridor. Having a vibrant community that lives in this area would change the types of business that would thrive in downtown. Retail is in decline worldwide so we need to adapt with service- and experience-oriented businesses. I also want the city to work with the arts community to develop a Cultural Arts Master Plan that takes advantage of our world-class performing and cultural arts venues. A recent study found that the arts contribute nearly $200 million annually to the economy of Santa Barbara County, with a majority of this in the South Coast and City of Santa Barbara.
WM: We must direct the Community Development Department to streamline regulations and processes in order to enhance the mixed-use concept of vacant buildings, and we must look to models that can serve as the catalysts for an effort that will make State Street a fun and enjoyable experience.
How would you address homelessness?
EF: We have a duty both morally and ethically to take care of the mentally ill who are homeless and living on the street, many with co-occurring alcohol and/or drug addiction. As your councilmember, I will invest more in community policing as well as properly trained outreach workers with the goal of getting individuals into supportive services and housing. I also will have the city take a more proactive approach to working with the county to fully implement Laura's Law, which requires additional services to those who are most service resistant. As for aggressive panhandling, we need to fully understand the implications of the 2015 U.S. Supreme Court Decision of Reed vs. Town of Gilbert, Arizona before enacting a policy that could set us up for expensive litigation. We also need to identify and implement strategies to stop money from being handed out. This includes working with the cruise ships and local hotels on a campaign to promote referrals to services instead of giving out cash.
WM: I will enhance the current Restorative Policing Program, which has a proven history of addressing the homeless issue in a compassionate manner. By reducing unnecessary positions and programs in the city and shifting to a service-based budgeting philosophy, I will support increasing the number of trained police personnel allocated to address this problem. This will enhance their efforts to assist the service-resistant mentally ill and those with drug and alcohol addictions. It will also enable the police to better address the criminal element. It is essential to provide first responders the ability to triage medical needs in the field, such as with the use of firefighter paramedics and some form of support from County Mental Health staff. Today too many victims are sent to the wrong facility at an enormous cost to the medical-emergency-response platform, which includes admission to local hospitals when a victim should be sent to a sobering center [or] mental-health facility or simply incarcerated.
Where would you increase, decrease city spending?
EF: In addition to infrastructure, our city parks and libraries are a priority for me. As a parent and having served on the City Library Advisory Board and as past president of the Library Foundation, I have seen firsthand how these facilities build community. To reduce expenses, we need to look at high-end administrative costs, reduce the use of outside consultants, and avoid costly litigation.
WM: I will direct city staff to switch from a revenue-based to a service-based budgeting model. Government's first priority is to provide service to our citizens. There are many misuses of city funds that need to be corrected, such as intra-city service funds and $300 oil changes for city vehicles. This money is siloed into accounts that do not serve our city well. I will also reduce the city positions that have increased during the decline of essential positions, such as public safety and police personnel.
What are your ideas to promote economic development?
EF: A new vision for downtown that includes housing, a Cultural Arts Master Plan, and looking at the types of businesses that will emerge from the decline in retail. In addition, I have been meeting with the management of La Cumbre Plaza to understand its vision, and I am encouraged by its new direction. As the 5th District councilmember, I will continue to engage with LaCumbre Plaza management and work with them to ensure area residents have input in the process. I also will include a focus on the Green Economy.
WM: There are models that can be used to provide a pathway to a successful outcome (S.L.O., City of Palm Springs). The Santa Barbara City Council needs to work with the Santa Barbara Chamber of Commerce to develop this important endeavor.
Do you support the proposed sales tax increase? Why or why not?
EF: I support the sales tax measure and the decision to let the voters decide. However, I would have preferred a 10-year sunset clause to ensure accountability on how the funds are spent. Should the sales tax pass, I am committed to using it only to invest in our infrastructure. Furthermore, we need to maintain current infrastructure funding levels to ensure that the sales tax is an addition to what we currently allocate and not just a replacement.
WM: Yes, I support Measure C. It is important that we invest into our infrastructure ― resurface city streets, build a new police building, support a combined City Fire Station with a USFS facility, repair of sidewalks, and restore parks.
How should we prepare for the next drought?
EF: There is a misleading perception that Lake Cachuma is now a four-year lake. It's not. It is a seven-year lake that was mismanaged into a four-year lake. Fortunately, we now have a one-time opportunity to change this. The 25-year contract between the county and the Bureau of Reclamation to manage Lake Cachuma expires in 2020. The next City Council needs to advocate for a contract that will properly serve us for the next 25 years. In my opinion, this contract is the single most important action we can take to properly manage our largest source of local and reliable water. In addition to Lake Cachuma, we need to diversify our water supply, particularly via groundwater recharge using treated wastewater.
WM: In a 2014 News-Press article written by Michael F. Hoover, a geologist and hydrologist in Santa Barbara, he addresses the need to properly manage our water resources. Between state, ground, and desalination water, we currently have the proper water resources available to sustain our city's needs. We must review our management approach to the storing, use, and handling of this precious resource.
What is your position on the Highway 101 widening project? Do you feel it is ready to move forward?
EF: It is time to rebuild trust between the voters and our council by electing a council that will actively support the timely widening of Highway 101. A third lane is a critical safety measure since Highway 101 is not just a local thoroughfare, but one of only two routes that connects Northern and Southern California. With the high-volume of semitrucks that traverse our region, a middle lane will improve safety by allowing trucks to avoid driving in the on- and off-ramp lanes. In addition, we must continue to find a path to implement commuter rail from Ventura County, which was part of the Measure A package.
WM: Yes, but I feel that some thought must be given to the impact of traffic on Milpas Street and the size of the off-ramps currently proposed. It would cause a safety issue if backup were to occur on the highway.
How would you continue Santa Barbara's legacy of environmentalism?
EF: I am proud to have the endorsement of the Sierra Club and a number of local community members who have spent decades working to protect and preserve our environment. I started volunteering years ago with our local Surfrider chapter doing beach cleanups and organizing to protect the Gaviota Coast from development. Santa Barbara needs to be a leader in bringing Community Choice Energy to the Tri-County Region. We also need to enhance partnerships with the business community and our academic institutions to develop a Green Business Plan that puts Santa Barbara at the forefront of promoting the new Green Economy. This includes coordinating efforts to create affordable workforce housing to keep our young entrepreneurs here. Santa Barbara also needs to develop a long-term vision for how we are going to address sea-level rise.
WM: As fire marshal, fire chief, and command staff member of national fire disasters, I have been responsible for the environmental impacts of large-scale fires, hazardous materials spills, and wildlife protection. I have a proven record in working with local, state, and federal agencies to provide our community with a safe and protected environment. I value our coastal region and will continue to protect our environment as a city councilmember and policy maker.
How would you connect with the city's Spanish-speaking community, and how would you address gentrification concerns?
EF: It is important that all residents have a voice and are represented by their elected representatives. As a councilmember I will work to ensure the city has adequate translation services at public meetings. I will also engage with community groups and associations that work with the Spanish-speaking community to ensure their concerns are heard. Gentrification is an issue that needs to be addressed within the context of the major issues previously discussed, in particular affordable housing, economic development and neighborhood preservation. As a councilmember, I will look at public policy decisions both comprehensively and long-term to gain a full understanding of the benefits and impacts of any decision the council makes.
WM: I will represent all constituents fairly and promote diversity in our city. I will be sensitive and responsive to the needs of the Spanish-speaking community. I will continue to forge important relationships and will direct staff to continue its outreach and education programs, such as the Spanish-speaking Citizens Academy. I will support ADUs in order to provide workforce housing, and prioritize public safety to allow for safe streets and schools. I will always take into consideration the impacts of ADUs to preserve family-oriented neighborhoods and carefully consider the displacement of any lower-income families.