Cover Story
The Fab Five: Inside Santa Barbara's Mayoral Race
In the Crowded and Competitive Field, Every Candidate Has a Chance
Every election is important, but this year's Santa Barbara mayoral race is especially consequential ​— ​and unusual.
The field is incredibly stacked. Each of the five qualified candidates has a legitimate chance of victory, and the political dynamic is full of intrigue ​— ​three evenly matched Democrats wrestling for the liberal vote while competing against a Republican veteran and an exciting independent newcomer. It's going to be a tight race, made even narrower by the expected low turnout during an odd-year election that could crown the winner with as few as 4,000 votes.
The new mayor, elected by the entire city, will be the first to preside over a council fully transitioned to the new district system. He or she will shepherd Santa Barbara through this historic change, representing the city as a whole while navigating with the hyper-local idiosyncrasies of the six new districts.
Wielding only a single vote but possessing the deceptively simple powers of setting agendas and running meetings, our new mayor will also confront Santa Barbara's most intractable issues ​— ​homelessness, water, the 101 ​— ​and crisis-level difficulties ​— ​State Street, housing, infrastructure.
The decisions made now, and the leadership that comes with them, will matter for many years ahead. It's a tough job, but someone's got to do it.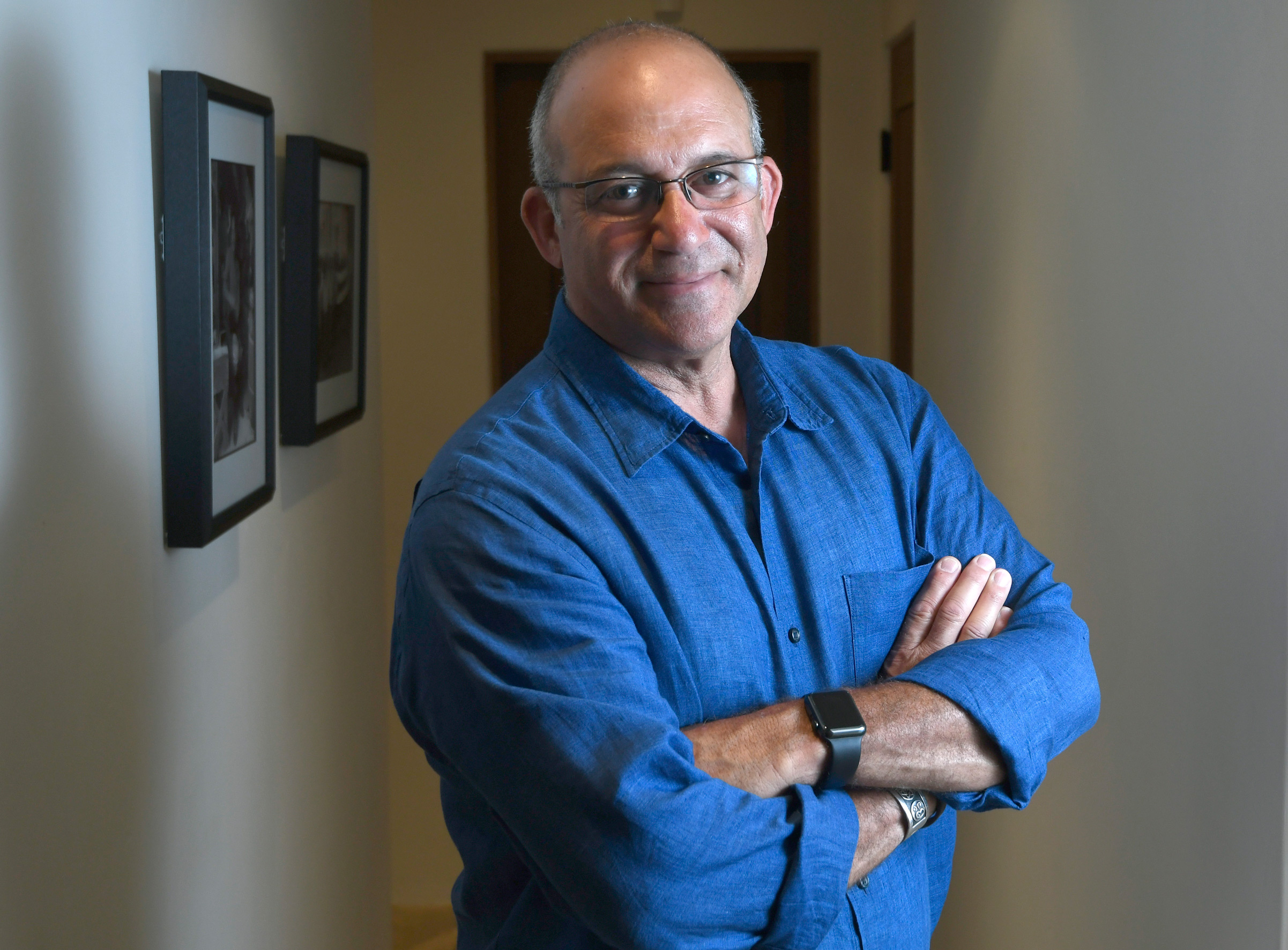 The New Guy
Angel Martinez
Angel Martinez is a bright, shiny, new wrench thrown into the gears of Santa Barbara's political machine. Largely unknown to the public before the election, the former Deckers CEO has intentionally disrupted the current contest of four other candidates, all of whom have been longtime City Hall insiders. Martinez has successfully positioned himself as the centrist, business-savvy outsider who alone possesses the knowledge to tackle the city's financial challenges. He's focused most on revitalizing State Street by cracking down on aggressive panhandlers and teaming with business leaders to foster a healthier mix of local-friendly retail stores, boutiques, restaurants, and housing.
After straddling the fence for months, Martinez made up his mind to run for mayor on Earth Day after an uncomfortable conversation with political consultant Jeremy Lindaman on the back patio of the University Club. "This is verbatim because this was burned into my brain," Martinez recalled last week. "[Lindaman] said: 'No one gets into politics in this town without my approval. You don't know anyone, you have no name recognition, you're not going to raise any money, and it's Bendy's turn.'" (Lindaman, who declined to comment, is a longtime advisor to Democratic allies Mayor Helene Schneider and Councilmember Bendy White.)
Instead of backing off as Lindaman intended, Martinez went all in. "Because that's what's wrong," he said. "Who decides there's a little treadmill on which someone puts in their time, serves on a million committees, has a million meetings, but doesn't get anything done, and then it's just their turn?" Martinez said the buzz and momentum his candidacy has generated ​— ​which is substantial ​— ​is fueled by a desire for change at City Hall. "People are tired of the same unkept promises, the same platitudes," he said of intractable issues such as the housing shortage and limited job opportunities for college graduates. "They want new creativity, new thinking, new leadership."
A Cuban immigrant raised in the Bronx, Martinez was a lifelong Democrat until he switched his political party affiliation to decline-to-state prior to this year's election. He describes himself as an "Eisenhower Republican" who supports the person over the party. Republicans try to pigeonhole him as a Hillary Clinton–loving liberal while Democrats claim his wealth ​— ​he reportedly earned $5.7 million a year in total compensation as head of the Deckers board until he stepped down last month to focus on his campaign ​— ​makes him blind to true working-class needs. He's campaigned alongside Jay Higgins, the most conservative City Council candidate, as well as Warner McGrew, a registered Democrat. Initially circumspect about his position on Measure C, Martinez recently came out in support of the sales-tax increase.
His own disappointing dealings with City Hall while at Deckers ​— ​and, more recently, the frustrating experiences of his son, Julian, owner of Barbareño restaurant, with city staff ​— ​inspired Martinez to also run on the promise to eliminate unnecessary red tape blocking new business and development ventures. "For top pay we deserve top service," he said of the city's average public employee salary of $86,000 compared to the average private sector salary of $56,000. "And what someone gets when they apply for a building or business permit is not top service."
Martinez has taken considerable heat from critics for only moving within city limits last year. He counters that for years he's lived throughout the greater Santa Barbara region ​— ​San Roque, Summerland, Montecito, Hope Ranch ​— ​and has been involved in public affairs through his participation on a number of boards, including those of the United Boys & Girls Clubs, UCSB's Bren School, the S.B. International Film Festival, and so on. He also calls his fresh perspective on City Hall an asset. "Not being an insider? Hallelujah," he said. "Nowhere in the city charter does it say you have to have been born at Cottage Hospital to be mayor."
Having raised more than $215,000 — $50,000 of which he loaned himself ​— ​Martinez leads the pack in campaign fundraising. His yard signs, TV ads, and social media campaigns have so far outpaced his rivals' in number and frequency. Among Martinez's biggest supporters are Lynda.com founder Lynda Weinman ($20,000) and Montecito resident John MacFarlane ($10,000). He's also received backing from Funk Zone developers and investors, real estate brokers, downtown business owners, and philanthropist Paul Orfalea. Martinez earned the coveted endorsement from the Santa Barbara Chamber of Commerce last month.
Woman of the People
Cathy Murillo
Passionate and principled, Cathy Murillo has made it a point of pride that, in the almost six years she has served on City Council, she has organized or participated in a dizzying number of community meetings ​— ​everything from neighborhood-watch workshops to business-creation roundtables to environmental study groups. She's at every city-sponsored groundbreaking, ribbon cutting, and public proclamation, and, as the current representative of District 3, never misses the chance to rub elbows with her fellow Westside renters.
The first ever Latina elected to the Santa Barbara City Council, Murillo takes her role seriously as the most reliably progressive voice on the dais in support of working families, immigrants, and young people. "It's a very important job," she said. "None of this is easy or to be taken for granted." She's backed by the full might of the county's Democratic Party, most labor unions, and the grassroots army of environmental and social-justice activists.
Murillo, a UCSB graduate and former journalist who worked for the Los Angeles Times and the Santa Barbara Independent, was first drawn to public service by the issues of homelessness and gang crime. She's pushed hard for a fully staffed restorative policing team to break street people out of a revolving jail door, and, as the vice chair of the Central Coast Collaborative on Homelessness, she is brokering much-needed cooperation between the county Public Health Department and city service providers.
For nearly two years, Murillo was the only member of the council to oppose the proposed gang injunction, a proposal that eventually was abandoned. She argued it unfairly stigmatized Latino neighborhoods and Latino teens. Instead, she founded the Pro-Youth Movement, a gang prevention community forum that convened weekly. Since then, gang crime has dropped by as much as 75 percent. "I can honestly take credit for that," said Murillo, "for going out into the community as a councilwoman and putting time and energy into this. I'll do that as mayor, too."
Also on Murillo's action list: She fought to restore opening hours that had been cut to the downtown and Eastside libraries, worked on the city's Climate Action Plan, lobbied City Hall to extend the contract with the Boys & Girls Club, helped ban single-use plastic bags, and was instrumental in bringing a Westside neighborhood committee back to life. More recently, she's resisted efforts to slow the city's Average Unit-Size Density (AUD) program and tried to steer conversations about State Street's struggles away from predictions of doom and gloom. "State Street is still the heartbeat of the city," she said. "It doesn't help the businesses that are there to say negative things about it, so I won't. I'm optimistic."
Her priorities in the years ahead include prompting job creation and economic growth by getting tourism interests and local business owners talking at the same table, implementing the Bicycle Master Plan, and forging better relations with our North County neighbors in the name of water security and better public transit. "I live off of this salary," she said. "So this is my work, and I'm looking at the next eight years as dedicating my life to public service."
Murillo has been endorsed by State Senator Hannah-Beth Jackson, Supervisor Janet Wolf, Santa Barbara Unified School District Board President Kate Parker, the local Sierra Club chapter, UCSB Democrats, and many others. So far, she's raised $145,000, with donations pouring in from all over ​— ​the Planned Parenthood Action Fund; developer Ed St. George; The Canopy (the city's newest medical marijuana dispensary); the owners of Wildcat Lounge, Super Cucas, and Mesa Café & Bar; MarBorg; Carpinteria flower growers; Judge George Eskin (ret.); and former mayor Marty Blum.
Speaks Softly, Carries a Big Stick
Harwood 'Bendy' White
Throughout 32 years of public service ​— ​first on the Water Commission, then on the Planning Commission, and now on the City Council ​— ​Harwood "Bendy" White has consistently played the part of polite pragmatist, waxing wonky and effective on all manner of city planning topics. Never one to bask in the limelight, White prefers to hang behind the scenes and quietly chip away at the major issues ​— ​housing, water, the budget, and so on. He's spent decades wrapping his head around these knotty subjects, and he understands them.
Often the swing vote on the council, White, a Democrat, describes himself as a social liberal and fiscal conservative who's weathered a love-hate relationship with the county party, which appreciates his institutional knowledge on environmental protections and affordable housing but has occasionally disapproved of his hard-line salary negotiations with city workers' unions.
White was one of the chief architects behind the city's Average Unit-Size Density (AUD) program, but now he is leading the charge to rein it in, worrying that the density experiment is moving too fast and producing rental housing too expensive for the city's needs. "It's all about adaptive management," he said. "If the program isn't doing exactly what we want it to do, then let's have the flexibility to be able to change it." White supports capping the number of AUD units built annually at 125 and creating a scoring system for middle-income units to encourage competition among builders.
"Let's start with neighborhoods and make sure they're protected," said White of his recent efforts to concentrate AUD projects downtown, which would fulfill the dual goals of keeping large apartment complexes out of single-home neighborhoods and creating new live/work/shop areas on State Street, now suffering from dozens of empty storefronts. "There's a way to concentrate on our jugular," said White. "If we have a common cause with the development community, residents, and businesspeople, I think we can make some amazing things happen."
White, the only mayoral candidate born in Santa Barbara, was a half-step away from retiring before he threw his hat in the ring at the 11th hour. It was a desire to shepherd the AUD program to a better place and to oversee Measure C expenditures that inspired him to stick around City Hall. White insists the sales-tax increase is absolutely necessary for the city's future, and he believes the public will be more trusting that the $22 million a year it will generate will be spent on infrastructure improvements if he's sitting in the mayor's seat.
Every two years before a city election, White said, he'd hold a public review of the tax to see how it's being allocated and whether a sunset date should be enacted. "It will be an opportunity for public feedback and to hold the council's feet to the fire to make sure this thing doesn't get too sloppy."
White is characteristically modest about some of his major wins over the years, such as his role in preserving Veronica Meadows from development, getting the hydroelectric plant restarted, and during the drought negotiating a hard-won truce between dueling water agencies when the Cachuma Lake pumping barge needed to be moved at great expense. "I don't do anything by myself," he said.
While White's supporters see his voting record as evidence of an independent conscience not beholden to a party or special interests, some political insiders view his flexibility as personal opportunism, especially on housing issues. For his part, White thinks the give-and-take is just part of the job. "Maybe this city will always be split over growth and no growth," he said. "And maybe that's healthy. I believe we should take the Hippocratic oath on this one and do no harm ​— ​measure twice, cut once." A land-use agent by trade, mostly overseeing projects in the City of Goleta, White said he's quickly winding down his consulting work.
After lending himself $40,000, White has racked up a total of more than $94,000 in campaign contributions. Those who've given include former mayor Sheila Lodge, Wendy Foster, dozens of private retired citizens, a host of architects and contractors, developer John Price, and the owners of Buttonwood Farm Winery, Pierre Lafond, and 7-Day Nursery.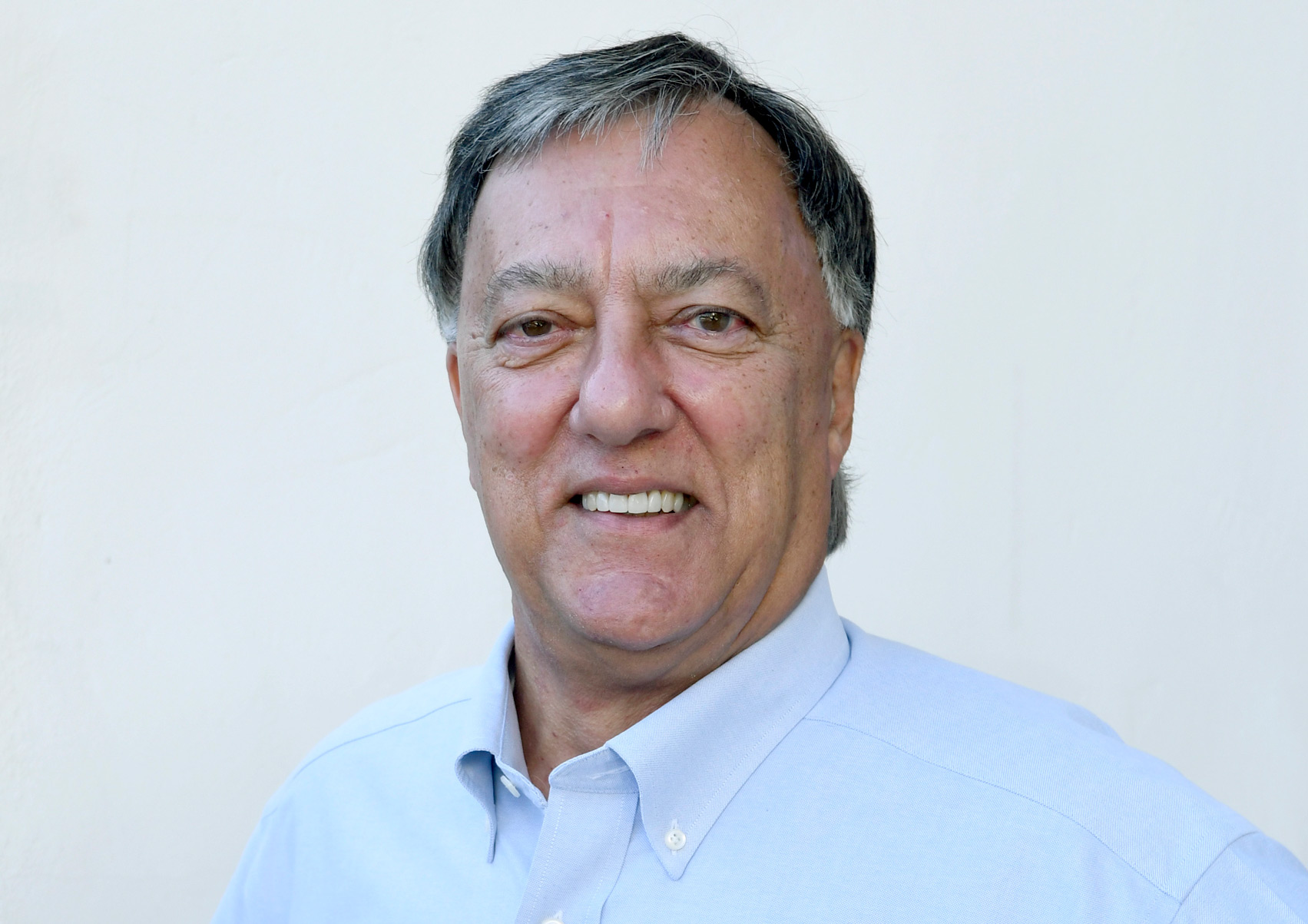 The Visionary
Hal Conklin
Hal Conklin is no coward, but he's nervous. "The institutional memory of Santa Barbara is fading," he said. The former councilmember and mayor, who was first elected to public office in 1977 and then took a 23-year hiatus from politics after term limits forced him to step aside, worries that the knowledge and appreciation for the city's history is slipping out of public consciousness and that the council is devolving into an isolated blue-ribbon commission of knee-jerk reaction rather than a governing body with a long-term vision. "We need to know where we're going."
Conklin had been considering another mayoral run for some time ​— ​reportedly soliciting support even two years ago ​— ​but it was listening to his fellow mayoral candidates talk about their qualifications on the campaign trail that thrust him back into the political arena. "I don't necessary disagree with them on the issues," Conklin said of fellow Democrats Bendy White and Cathy Murillo, "but I don't want to hear what committee you're on. Tell me what your plan is."
As a former public affairs executive for Southern California Edison ​— ​and a decorated environmental policy maker who started the city's first recycling program, which became the model for California's entire waste-management system ​— ​Conklin has a clear line of sight for the city to achieve 100 percent renewable energy by 2030. The first step, he said, would be for Santa Barbara to withhold its waste stream from the Tajiguas Landfill until the county adopted a better, cleaner project to extend the dump's lifespan, which would also help the city reach its goal. The city could also develop a buyback system to shave peak demand through battery power purchases, as well as make a deal with Edison to grease the skids for the utility to shore up its end-of-the-line Santa Barbara infrastructure, as long as it then assisted the city in powering a new, fossil-free system.
Conklin grew up in Oakland, where he was heavily involved in the civil rights movement. "Economic injustice was really important to me," he said. He opted out of the draft by taking a job in Santa Barbara to help Vandenberg Air Force Base reduce its waste production. This was shortly after the 1969 oil spill, and President Nixon was keen on enacting environmental protections. He later teamed up with Paul Relis and Bob Klausner in their work for the fledgling Community Environmental Council. More recently, he's taken part in humanitarian and reforestation efforts around the world, served on a number of arts boards and commissions, and played a leadership role in his Free Methodist Church.
Conklin wants to help Santa Barbara government return to a dynamic of soliciting, then actually considering, community buy-in. He recalled a failed effort by the council in 1983 ​— ​when State Street was in the midst of a retail slump similar to today's ​— ​to push through the development of a Bullock's department store. The public rejected the plan as too big for downtown, but then embraced the design for a much larger Paseo Nuevo shopping mall after community groups spent two years meeting with city staff and submitting design feedback. "People were in favor of Paseo Nuevo because it was their plan, not City Hall's plan," said Conklin. "Most councils in history were somewhat irrelevant. When the city actually succeeded, it was because it resourced citizen groups."
Santa Barbara should do the same as it tweaks the Average Unit-Size
Density program, continues to address the housing shortage, and comes up with a new plan for State Street, Conklin said. "People need to know these are their plans." Conklin acknowledges he's been out of the City Hall game for quite a while ​— ​a fact his opponents are quick to point out ​— ​but he's confident in his longstanding relationships inside and outside government to get things done. He's still got the knack for leadership and consensus building, he said.
Though Conklin didn't secure the official Democratic endorsement, he does have some big-name liberals in his corner: Lois, Laura, and Todd Capps and 1st District Supervisor Das Williams. He loaned himself $40,000 in campaign cash and has $64,218 total to work with. Conklin's donors include Anne Towbes, Bruce Corwin, and Jane restaurant, as well as a number of artists, teachers, and environmentalists.
Mr. Right of the Aisle
Frank Hotchkiss
It bodes well for Frank Hotchkiss that he's squaring off against three Democrats and a decline-to-state candidate who will more than likely split the vote. Otherwise, he'd be in trouble, and he knows it. "If there were only one or two other people in the race, I'd be a dead man walking," he said. "But the fact that there are four on the other [liberal] side of the fence gives me a real shot."
For eight years, Hotchkiss has held the conservative line on the council, representing a counterpoint to an agenda set by the progressive majority of his colleagues. Despite their differences, they've always found ways to disagree politely on housing density, alternative transportation, budget decisions, and so on. "We really get along," he said. "I've never been on a council where I sensed there were hard feelings."
Hotchkiss was the only councilmember to vote in June against the city initiative to switch over to 100 percent renewable energy by 2030. He cited concerns over spiking rates and spotty reliability. "It was a lose-lose deal, and the vote was politically driven," he said. "I don't think political agendas should get in the way of people's well-being." Later, he would discuss his doubts that human activity has an appreciable impact on climate change.
A former journalist, actor, and publicist and now a real estate agent and author, Hotchkiss moved to Santa Barbara 20 years ago and was elected in 2009 as part of a successful push by Republicans to boost their presence on the council. After Michael Self failed to win reelection in 2011 and Dale Francisco termed out in 2015, Hotchkiss was left the last GOP man standing. He'll term out of his seat this year. Among his accomplishments, Hotchkiss takes credit for increasing the number of cruise ships visiting Santa Barbara, opposing the installation of parking meters in the downtown historic district, removing RVs from Cabrillo Boulevard, and rallying support to save the State Street Christmas tree when Edison pulled the plug.
The self-described "law and order" candidate, Hotchkiss doesn't mince words when condemning the concept of sanctuary cities and criticizing aggressive panhandlers. He was a strong supporter of the proposed gang injunction. "It didn't pass, but the message got out," he said. "We wanted the gangbangers to know we were serious." Again in the minority on the council, Hotchkiss recently voted against an ordinance to ban smoking throughout much of the city, arguing it was an intrusion on personal liberty and bad for tourism. "I've always felt the purpose of government is to act as an umbrella under which people are free to lead the lives they want," he said. "And the Chinese and Japanese smoke like crazy. We don't want them getting off the boat and someone saying, 'You can't do that.'"
Looking forward, Hotchkiss has promised to fight for more off-street parking and against rent control. He's also expressed hesitation over any water deals that would sacrifice drought supplies to endangered steelhead trout. "We're not going to divert huge amounts of water meant for Santa Barbara in the unlikely prospect of saving a few fish," he has said. To shore up State Street, he's suggested the Chamber of Commerce court new anchor retailers like Nike around which smaller stores could accumulate.
Hotchkiss feels especially passionate about Measure C and is the only mayoral candidate against the proposed sales-tax hike. "There's really no control over how the funds will be used," he said. "The present council may want to use it a certain way, but the present council has only a few more months of life. After that, it's completely up to future councils." What if, he asked, down the road the city starts using the $22 million generated every year to pay down its $250 million pension liability? "There's a lot of temptation," Hotchkiss said. "We need to control that." He's instead advocating for a special tax with a sunset date.
So far, Hotchkiss has raised $61,000 to support his campaign. Donations came from the Santa Barbara Rental Property Association, the owner of a storage company, the operators of a hotel booking website, and a number of developers, attorneys, and Realtors. Author Erin Graffy gave, as did the owners of Santa Barbara Home Improvement Center, former supervisor Brooks Firestone, and the publisher of the Montecito Journal.