Food
Eating Up Los Olivos
Tasting at The Doggy Door, Wine Merchant, and Waylan Wine Co.
Quaint pastel stores line the main street of Los Olivos, a small wine town fit for a romantic comedy. During my first visit ever to this wine-country hub a few weeks, I stopped by three establishments to get unique tastes of the Santa Ynez Valley.
Link Love: The Doggy Door
Erin and Andrew Scherer own The Doggy Door, one of the few eating establishments in a town brimming with wine tasting rooms. Inside of a water tower that they've transformed into a trendy food stand, the Scherers are paving their own path by tapping into the alternative business of artisan hot dogs.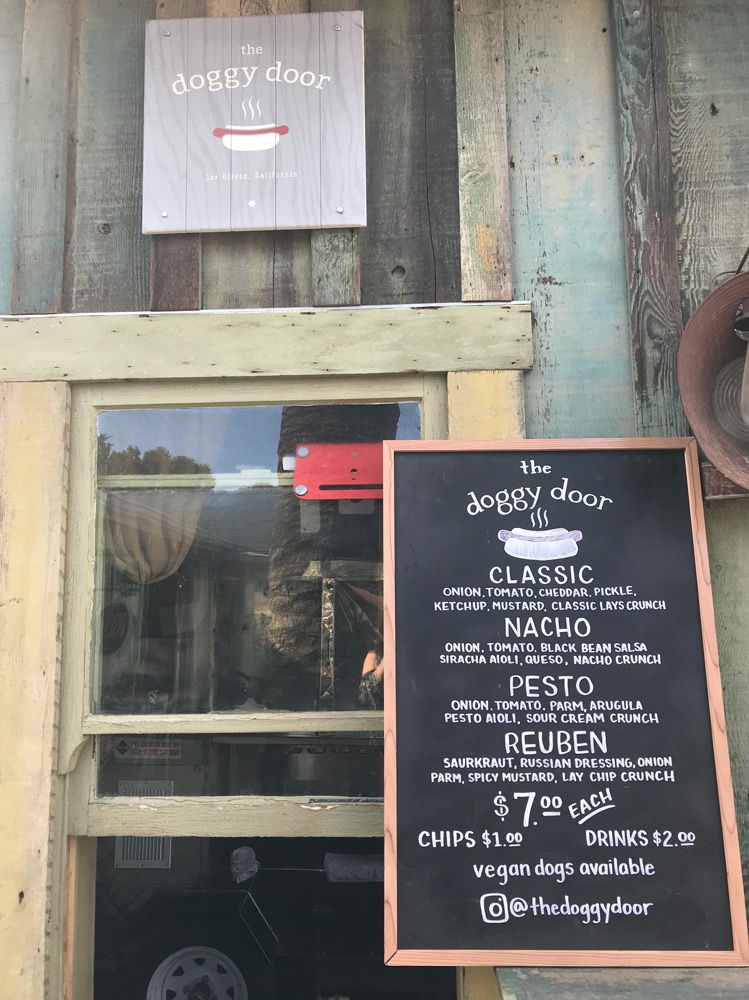 Although only open since April 2016, The Doggy Door is quickly becoming infamous for serving hot dogs "on steroids," as one local put it. Erin brings out the "Classic" hot dog for me: a juicy, steaming hot dog underneath a pile of onions, tomatoes, cheddar, and pickles with Lay's chips sprinkled on top. She also shares her personal favorite, the Pesto hot dog covered with Parmesan, arugula, and sour cream crunch chips, all drizzled with pesto aioli. Cue my stomach growling.
We head to Community Craft, the wine and beer shop that they own behind the hot dog stand, where you can order drinks to complement the beast of a hot dog. "We wanted to do something for when people are starting to get hungry after a day of drinking, but we wanted to make it more fun than just a normal hot dog," said Andrew, who also currently offers a Reuben hotdog, with sauerkraut and Russian dressing, and the Nacho, with black beans, Sriracha aioli, queso, and crunchy tortilla chips. "Also, there is no other food option for under $10, and all of our hot dogs are only $7."
Erin and Andrew independently moved to Los Olivos some years back and fell in love with the small town — and then each other. "Actually, the table right behind you is where we first met," said Erin with a smile. "It used to be a brewery, and I came in right after the longest hike ever looking awful, and Andrew said, 'Hi, I just moved here. You hike?'" The local sitting at the bar next to me teases Andrew: "Great pickup line, man." Andrew laughs and kisses Erin's hand replying, "Hey, it worked."
Indeed, it did: the hot dogs are the best I have ever tasted. Andrew suggests pairing the Reuben with a glass of Habit wine, or any of the hot dogs with their lighter beer on tap, the Silva Kolsch lager. Whatever you decide on, it'll lead to more Los Olivos trips in the future.
2446 Alamo Pintado Ave.; (805) 338-1403; doggydoordogs.com
Classic California: The Los Olivos Wine Merchant Café
If you are wandering Los Olivos searching for a place with a gentle, classy ambiance serving fresh Californian cuisine, the Wine Merchant is the perfect spot. Owners Sam and Shawnda Marmorstein's seasonal menu focuses on regional, organic produce, and they even planted their own organic farm in recent years.
"It has always been about local wines and local foods," said Sam. "With the farms we buy from and the produce we use, you can really taste the freshness. It is really nice and gives you a taste of what the Central Coast is about. It is cool — what we have picked that morning is often what we eat that night at the restaurant."
Sam recommends the spinach salad picked fresh from the café farm for lunch paired with the Storm sauvignon blanc, or the salmon salad with lentils, fresh greens also harvested from the farm tossed with light mustard vinaigrette. He brings me grilled flatbread with tapenade, muffaletta, and hummus, all of which are crafted in house and for sale at the restaurant — a delicious appetizer for only $10. The Wine Merchant is the ideal spot to fill your stomach before commencing a day of wine tasting.
2879 Grand Ave., (805) 688-7265; winemerchantcafe.com
Sons of Saarloos: Waylan Wine Co.
One of the newer tasting rooms in Los Olivos, Waylan Wine Co. is run by brothers Greg and Brad Saarloos, who grew up surrounded by the vines and wines that their well-known family has grown and made for years.
After backpacking throughout France and getting more exposure to the world of wine, "we just fell in love with the industry," said Brad. "We had an epiphany on the plane ride back, and we started writing a business plan literally on a Moleskine journal." In 2015, they put that plan into action and opened Waylan Wine Co. — a combo of their middle names Wayne and Alan — this past November.
Inside their sleek, modern tasting room, Brad poured me a deliciously smooth mourvèdre from Curtis Vineyard. "This grape is generally not stand alone, so it is our most unique wine because it is 100 percent mourvèdre," said Brad proudly, who also sources fruit from the Happy Canyon, Los Olivos District, and Ballard Canyon appellations.
Currently, they offer a tasting of six wines for $15, which may also include chenin blanc from Jurassic Park Vineyard, grenache from McGinley Vineyard, and a cab-syrah from multiple vineyards. Despite being merely four months old, Waylan Wine Co. is definitely a worthy addition to your list of wine tastings for the day.
2963 Grand Ave.; (805) 693-2193; waylanwines.com