Visual Arts
Karina Sanchez Adds Color to Buellton Barn
Artist Paints Mural on Outbuilding
Talented artists possess the ability to look uniquely at the world, and Karina Sanchez fits that description to a T. A graduate of Dos Pueblos High School, Sanchez has lived and traveled all over the world, moving to Chile from Santa Barbara when she was 10 and returning in 8th grade. Sanchez said her international experience is a big part of her artistic inspiration, as it allowed her to develop "a strong, open-minded mentality, which allows me to show different types of creativity."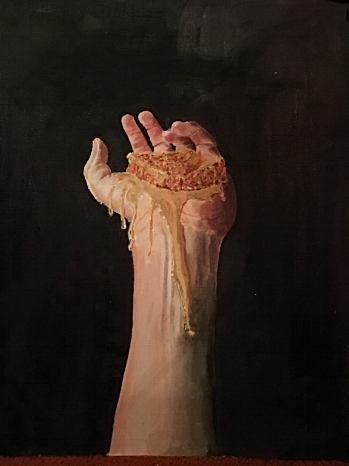 After graduating cum laude from Ithaca College's Department of Theater Arts with a degree in lighting design, Sanchez returned to S.B. and has spent the last eight months establishing a faux treatment service — i.e., paint finishes that replicate marble, wood, or stone — with her father's company Santa Barbara Stone Masters, a natural-stone restoration company. In addition to stone faux finishes, Sanchez's rich portfolio also includes fine and scenic artwork, including a series of five striking paintings titled "Anxiety" (I-V) and, most recently, a texture-rich mural of the American flag on a barn in Buellton.
For her Anxiety series, Sanchez "asked people what they do with their hands when they feel anxious. I think that hands can really show the power of this emotion," she said. Each oil-on-canvas painting depicts the gripping, wringing, and clenching that many do when anxious, the intensity of each brush stroke adding to the emotion conveyed. Sanchez's knowledge of dramatic lighting is also essential to the paintings; her use of shadows accentuates the mood of each piece.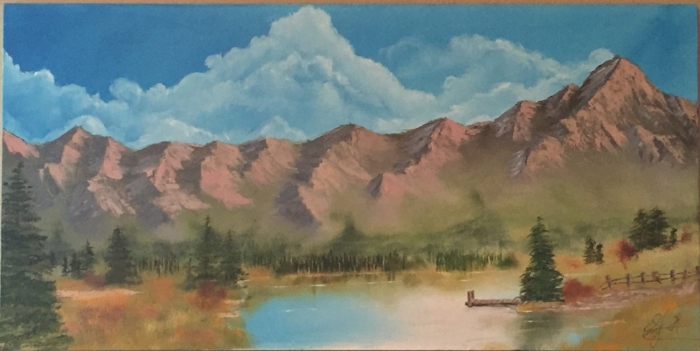 Sanchez's understanding of lighting is visible in her faux treatment work, as well as her recent mural project — a skillfully realistic rendition of the American flag painted on the side of a barn in Buellton, California. The mural's texture and rendering create an optical illusion that gives dimensions to the work. "Fabric is a subject I love to paint and draw. I have my own process and technique to provide that signature satin look," Sanchez explained. Indeed, the piece looks as if one could reach out and feel the silk.
Sanchez hopes this mural is the first in a series of projects. "I've been getting lots of requests, which take a long time to [follow] through … but I'm very excited about them," she said. Many families in Buellton have barns, said Sanchez, and she is looking forward to a countryside blooming with paint.