Sports
Clean Baseball Between Dos Pueblos and Santa Barbara High
Report from Great Series Last Week; Plus College Baseball, Tennis, Track, and More
It is refreshing to see a baseball game where the pitchers throw strikes, the batters swing away, and the defense makes plays. Such was the case when Santa Barbara High hosted the Dos Pueblos Chargers last Wednesday and Friday.
The week began with the Dons posting a 5-3 victory at the DP diamond, the Chargers' first loss in 17 games. Coach George Hedricks said that put his team in "100 percent must-win" mode when the series moved across town to Eddie Mathews Field. The Chargers responded by winning a pair of games, 6-2 and 4-1, edging ahead of the Dons at the top of the Channel League standings.
Neither game was easy for the Chargers. "They chip away at you," Hedricks said of the Dons, but he had two ace pitchers, Dylan Kelley and Isaac Coffey, to keep them under control.
With the score tied 2-2 in the first game, Kelley induced a double-play grounder to get out of a bases-loaded jam. It was 3-2 in the fifth inning, and when the Dons put two runners on, Hedricks sent Coffey in to quell the rally. In the sixth inning, a pinch-hit double by Nico Martinez that hugged the right field line gave Dos Pueblos a 6-2 cushion. "Everybody took a deep breath," Hedricks said. Solo home runs by Coffey and Mason Boelter capped the victory.
Santa Barbara took a 1-0 lead in the third inning of Friday's game when Frankie Gamberdella singled, was bunted to second by Nick Oakley, and scored on Bryce Warrecker's single. Pitcher Derek True carried a shutout into the fifth inning, but DP's power stuck again, with Chris Abbott smashing an 0-2 pitch over the fence. The inning continued with DP catcher Evan Kling driving in the go-ahead run and Kelley's bases-loaded rip adding two more runs.
Coffey went the distance on the mound. He said he felt tired at first, having thrown three innings in relief earlier in the series, but he got stronger as the game went on, mowing down the last seven batters.
"To pitch three times shows the heart that kid has," Hedricks said.
Coffey has committed to play college ball at Oral Roberts in Tulsa, OK. "They'll let me play two ways," said the dual-threat pitcher (7-0 win-loss, 1.24 ERA) and hitter (.437). "I don't know which one I like better." He's happy Shohei Ohtani shows it can be done in the major leagues. "I'm an Angels fan," he said.
Dos Pueblos, 19-3 overall and 7-1 in the league, has to get through four games against Buena and San Marcos before the finish line of the league race. Santa Barbara (13-8, 7-2) has three games remaining against Ventura.
COLLEGE BASEBALL: Luke Coffey, Isaac's older brother, plays third base at Westmont College and has been named to the All-Golden State Athletic Conference team. The junior also received a Gold Glove award. The Warriors (33-14) headed into the GSAC Championships at Costa Mesa this week as the No. 2–seeded team. … SBCC won its final game to finish second in the Western State Conference North and secure its eighth consecutive berth in the Southern Cal Regional baseball playoffs. The 13th-seeded Vaqueros play a best-of-three series at No. 4 Mt. San Antonio College in Walnut. … After winning the first two games of their Big West series over UC Riverside, UCSB blew a 10-4 lead Sunday and lost 14-10 in 11 innings. The Gauchos, who fell three games behind first-place Cal State Fullerton, take on Cal State Northridge at home this Friday-Sunday.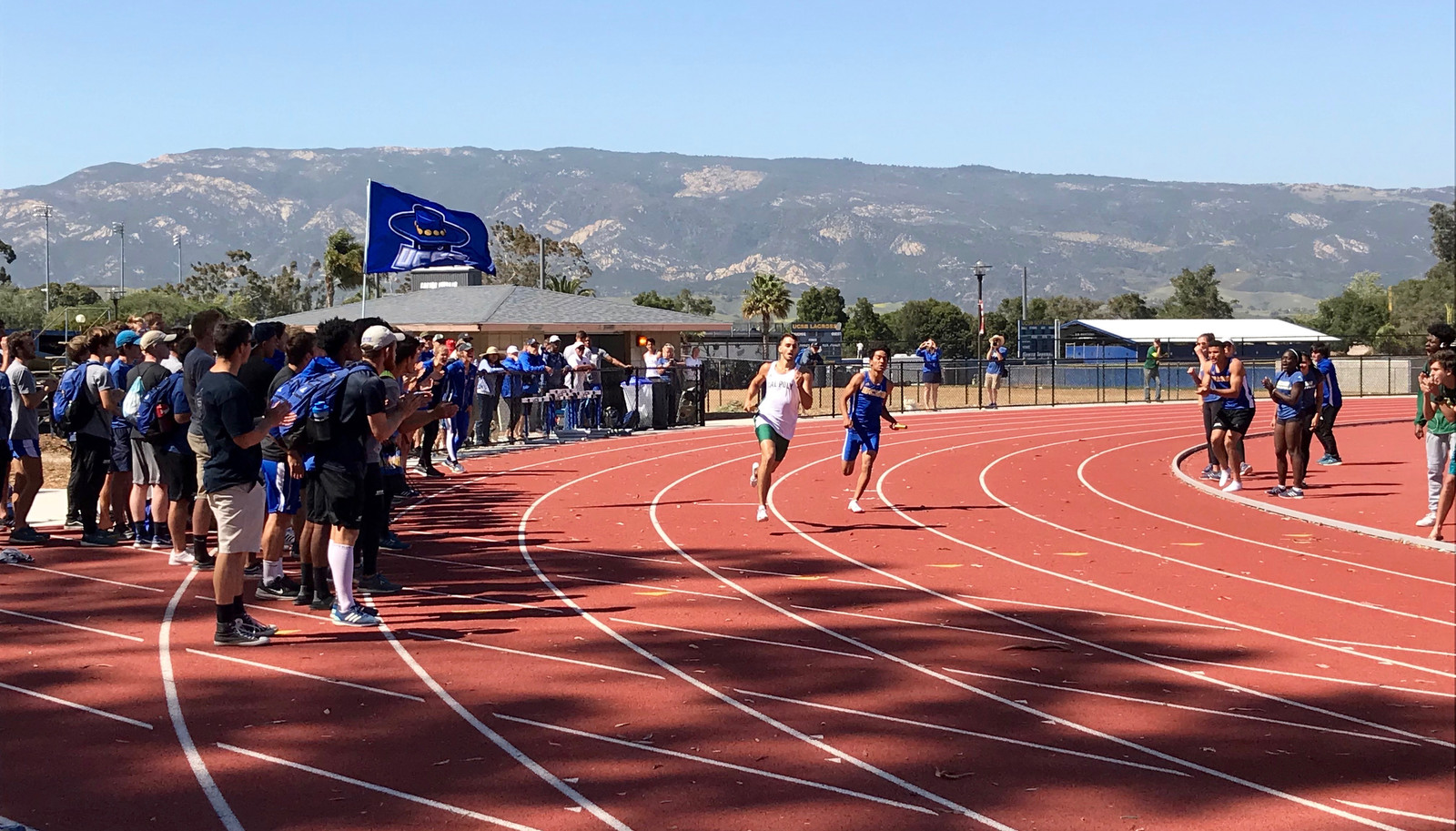 MAKING TRACKS: Westmont dominated the GSAC Track & Field Championships, winning both the men's and women's titles and producing the Most Valuable Performers: Anthony Cota, who won the high jump and javelin and scored in three other events, plus two winning relays; and Madison Herrera, first in the women's long jump and 100-meter hurdles, second in the 100 and 200 sprints, and also sharing a relay gold. … Hosting a home meet for the first time in nine years on a shiny new surface at Pauley Track, UCSB outscored Cal Poly in both men's and women's duals. Highlights included Hope Bender's swift victory (11.89 seconds) in the women's 100 and first-year Chase Tarr's 64.29-meter (210′11″) javelin throw. … SBCC's Marie Kimumba is the WSC champ in the women's 400 (58.00).
CLEAN SWEEP: In men's tennis, UCSB won its fourth consecutive Big West championship at Indian Wells last weekend and will be moving on to the NCAA tournament. With their 4-0 victory over Cal Poly, the Gauchos finished off their seven conference opponents by a cumulative 43-0 margin.
CHIA POUNCES: Santa Barbara boxer Francisco "Chia" Santana scored a stunning victory in the Jose Sulaiman/WBC World Invitational welterweight tournament last Friday night. Facing the top-seeded Félix Díaz, a former Olympic champion, Santana earned a solid 10-round decision. Santana (25-6-1) advances to the semifinals, date and site to be announced, against Brad Solomon (28-1), who outlasted Paddy Gallagher in his quarterfinal bout. Santana's manager, Chris Jay, said his fighter, previously unranked, could move into the WBC's top 10 after ousting the No. 8 Díaz.