News
Montecito Recovery Center Remains Open
Mental Wellness Nonprofit Secures Lease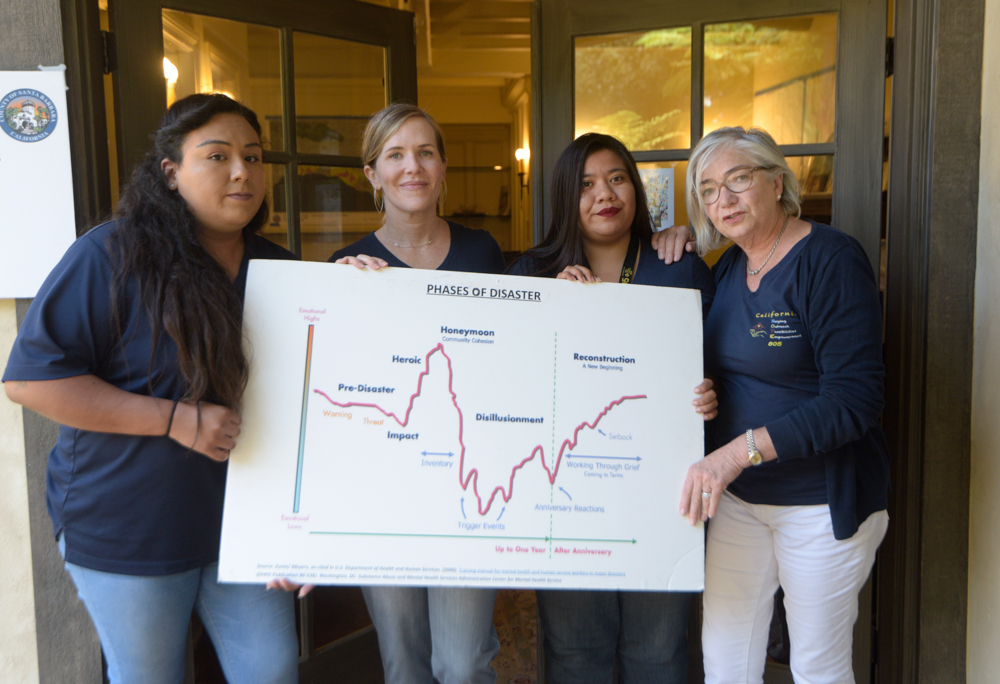 The Montecito Center for Preparedness, Recovery and Rebuilding, located at 1283 Coast Village Circle, remains open to provide space for several nonprofits in the wake of last winter's record-breaking Thomas Fire and catastrophic 1/9 Debris Flow. Santa Barbara County opened the center in March, with a six-month commitment to helping residents navigate a range of needs, from insurance claims and federal recovery assistance to housing leads and mental-health counseling.
"People respond to trauma in different ways ​— ​some are just now beginning to process," said Annmarie Cameron, CEO of the Mental Wellness Center, which teamed up with the county's Department of Behavioral Wellness last spring to launch HOPE 805 to provide upward of a dozen crisis counselors, including Eunice Jaramillo, Alexis Henderson, Jatzibe Sandoval, and Michelle Drum. "As the full impact [of the disasters] is becoming more clear, people are confronted with decisions they're not ready to make," Cameron said. For example, some families had fully intended to rebuild their homes and get back to a normal life as soon as possible. But some are now having second thoughts, especially as anxieties flare up concerning rainfall potentials this coming winter.
Cameron said her nonprofit secured a month-to-month lease to keep the doors open. "We're hoping to continue as long as we can," she said. "The County of Santa Barbara is to be commended for opening the Montecito Center; it went far beyond what government is expected to do in a disaster recovery effort. We are thankful to have the opportunity to continue this collaborative model."
Since March, the center has also provided space for representatives with Habitat for Humanity, Women's Economic Ventures, the American Institute of Architects, and Supervisor Das Williams's office, among others.