Columns
Full Belly Files | Foodie Fun in Temecula & Palm Springs
A Report from the Frontlines of Food & Drink in the Desert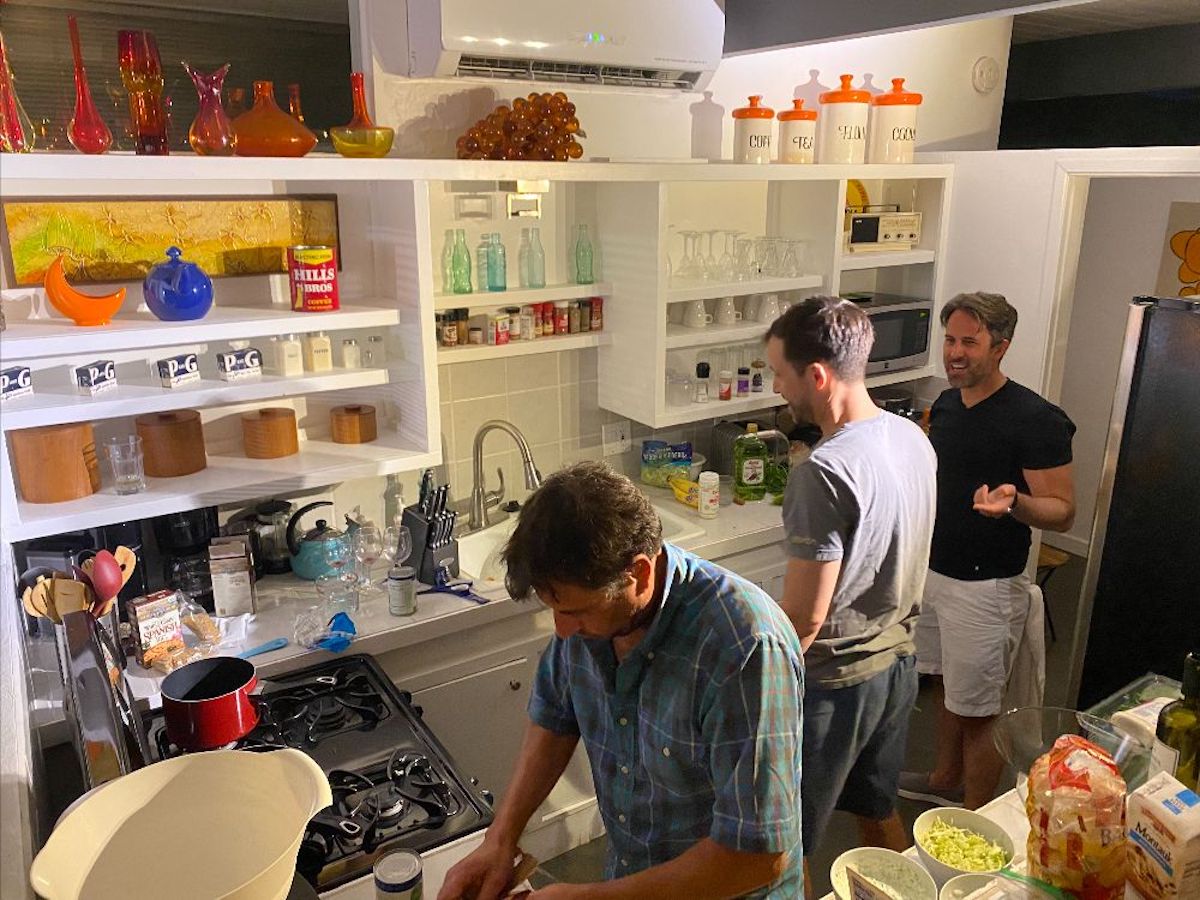 It's hard for me to actually recall exactly the late-night origins of the name KIA — shorthand for "Keep It Awesome" — that now labels our group of traveling friends, but I'm certain on the key attribute for this merry band: We've known each other now for most of our lives, with some ties going back to 1st grade at St. John Vianney on San Jose's Eastside, most culminating during high school at Bellarmine College Prep, and some picking up amid our UCSB days. 
After more than a decade of meeting up annually — and more often when weddings and bachelor parties came into play — the last time we'd all hung out together was March 2019 under the uncommonly wet snows of Breckenridge. We'd done snow before, hitting Taos one year from Santa Fe, and then Banff in Canada, when we got barreled with blizzards while whitewater rafting and via ferrata-ing on what was supposed to be Alberta's first summer weekend.
But winter fun is not the through line — if anything, good food and fine drink serve as our collective calling card, whether we're making dinner in an epic Three Rivers pad near Sequoia National Park or tackling a stymying string of bars and restaurants while in New York City.
For 2020, we rented a pad for April in New Orleans, which would have been our second time there. (Only N.Y.C. can claim us twice currently.) And then came COVID, canceling that trip and so many others as we embarked on a global stay-at-home adventure.
By the time we seriously considered 2021 (roughly last spring, prior to the rise of the Delta variant, which would later cause more concerns), we surmised that something close-ish and simple would suffice. Though many have lived across the globe throughout the years — London, Greece, Michigan, Chicago — only one core member lives out of state now, and that's in Charlottesville, Virginia.
So Palm Springs it would be, perfect for outdoor fun in the cooling fall months, packed with restaurants of all types, and rather COVID-safe, given its liberal leadership.
First, Temecula
But before we even met up, I had a work trip to tackle in the Temecula Valley, whose wines I cover as part of my job for Wine Enthusiast. It had been at least three years since I'd visited at all — that was for this unique angle — and four years since I did the proper winery-by-winery check-in protocol. Prior visits like that resulted in this 2020 feature.
My Monday began with lunch at Avensole, where the crispy katsu fried chicken sandwich by Chef Armando Cota was the star alongside the old-vine Lytton cabernet sauvignon. Over at Gershon Bachus Vintners, I enjoyed their Erato cabernet franc the most, as that peppery variety can retain freshness in the region's warm climate. 
For dinner, the chef's tasting menu at the Spanish-themed Bolero Restaurante — part of the ever-growing Europa Village project — impressed from start to finish: jicama-wrapped Caesar rolls followed by the gastronomic modern olive followed by a super crunchy croquette atop braised beef. I was pretty full when the strip steak appeared, atop romesco, topped with fried onions, and then about to pop when the seafood paella emerged, only able to stomach a scallop, shrimp, and saffron-spiked rice. Of course, when dessert was delivered, I opened back up for churros but particularly the Best Breakfast Ever Ice Cream: an icy vanilla-bean base loaded with cornflake cookies and Jack Daniel's. 
The next day, I got a sneak peek at the open-any-day-now Altisima Winery, a true architectural gem in a stark white style, though I haven't yet tried the wines much. I did get to sip quite a bit at Akash Winery and was impressed by the well-considered creativity and youthful energy of owner Akash Patel and winemaker Renato Sais, a relative veteran for this region. The sparkling zinfandel and sauvignon blanc are just two indications of what's coming from there, and there's a dedication to keeping freshness in the wines, which is not exactly common in Temecula yet. 
Lunch was at Leoness Cellars, where co-owner Rebaux Steyn and longtime winemaker Tim Kramer talked about an emerging vision for modernizing viticulture throughout the region. I encouraged organic techniques as much as possible, and to consider breaking down special parts, like De Luz, into sub-appellations. But it was a little hard to pay attention, given the waves of food that came our way: bacon fries followed by mushroom- and flower-topped halibut and a thick chunk of steak surrounded by asparagus and pickled coriander. This was all from the kitchen of Palau-raised Chef Teddy Johnson, who's definitely one to watch in the years to come. 
I always enjoy my time with Jim Hart at Hart Winery, the oldest family-owned producer in the region and still one of the best. He messes with arneis, albariño, montepulciano, and a range of more traditional varieties, but we tend to get stuck talking about history. He's been pulling mission grapes from nearby reservation lands for a long time and is a student of that area's history, which may have the oldest "true" mission grapes in California. 
At this point, I joined a larger group of journalists and influencers to partake in the familiarization tour that Temecula Valley Winegrowers Association puts on each year. Get ready for that organization to become ever-more effective, as Temecula was the first region in the country to approve a tourism business improvement district, or TBID, on their wines. Santa Barbara would have been first, but our vintners opted out over mostly philosophical and/or political objections. Expect that relatively painless funding idea to spread to many other places very soon — Livermore and parts of Sonoma are likely next — likely leaving Santa Barbara further in their forward-thinking marketing dust.  
Our large group settled into sips of Italian varieties at Bottaia Winery, where much love was expressed for the verdicchio, fiano, and aglianico, among other wines. Visitors can pair wines with food, tour the winemaking facilities, and even create your own blends there, or settle in poolside and down cocktails while the kids swim.
Bubbles at Carter Estate were next, where I reconnected with winemaker Javier Flores, who's worked his whole career alongside master winemaker Jon McPherson, a regional sparkling pioneer who started in 1986. This is where we also witnessed a "balloon glow," in which the hot air balloons that fly the skies every morning are lit up at night for a visual show.
Dinner was Argentinian asado-style at Doffo Winery, where second-generation proprietor Damian Doffo encouraged us to try grilled tripe, sweetbreads, and blood sausage as well as empanadas. We washed them all down with a collection of bottles provided by a number of wineries, from Fazeli Cellars to the first tastes most anyone has had of Altisima.
The following morning, I led the group in a presentation about the wines of Temecula, the region's history, its challenges, and the positive steps being made. We then tasted a panel of 12 wines under the banner of "What's Classic and New in Temecula Valley," from South Coast Winery's verdelho and Wiens Cellars' fiano to meritage by Baily Winery and "Double Down" cab by Lorenzi Estate. 
My trip ended with tasting and lunch at Robert Renzoni Vineyards, where I've become friends and supporters of the eponymous owner and his winemaker, Olivia Bue. Over heavenly sticks of fried eggplant and a series of pizzas — which one experienced food writer said were among the top five of his life — we listened to Renzoni's stories of connections to Fano, Italy; to Buffalo, New York; to bootlegging; to Robert Mondavi (hence his first name); and even to his tenure as the singer in a rock 'n' roll band that, among other highlights, opened for Blues Traveler. Their Italian-style wines continue to command most of my attention, and it was great to see the eyes of my media colleagues open toward that reality. 
Check my Instagram highlight reel of the entire trip here. 
---
Sign up to get Matt Kettmann's Full Belly Files, which serves up multiple courses of food & drink coverage every Friday, going off-menu from our regularly published content to deliver tasty nuggets of restaurant, recipe, and refreshment wisdom to your inbox.
---
Now, Palm Springs
My hour-long drive into Palm Springs was going swell until a poor soul drove off of Highway 74 and they closed the only way into town at that point for more than three hours. After being stuck there for one hour of truck-not-even-on traffic, I turned around to drive nearly two hours through Idyllwild, where I then got stuck behind a slow-moving house on trailer wheels for about 20 minutes.
By the time I made it to Palm Springs, the other two who'd arrived early were gearing up to go to Workshop Kitchen & Bar for dinner. After ogling their inside bar and dining room, we settled into  an outside table and started with their M-80, a tequila- and mezcal-fired cocktail loaded with spicy ginger. We shifted to my buddies' wines as the food came: a solid Cascina Bruciata barbaresco, then an eye-opening 2016 Paulliac from Chateau Latour, a k a the "Baby Latour." 
Goat cheese pierogi, chicken-fried oyster mushrooms, plus beets and citrus for some health started the meal, and then we shared a doro wat chicken and grilled pork chop with bacon shallot marmalade. Unfortunately for our friends who arrived later, my buddy dropped one box of our leftovers on the street; the late team wound up eating Jack in the Box, one of the few options in town past 9 p.m., apparently.
The following day was golf, followed by nondescript sit-down Mexican food, followed by some of the best tacos I've ever had in my life: Prepared by our Greek correspondent, they were crispy and filled with ground lamb, and they went down like candy. I grilled some citrus-salt-pepper chicken as well, and it was decent too, especially with the pepita-hot chili-roasted tomato salsa I spun together. But the goat tacos were an epiphany, and we're already in casual talks with a winery to throw a pop-up sometime next year.
Following the de rigueur and certainly worth it Palm Springs Aerial Tram to the top of the San Jacintos, where you hike through pine forest in mountain air, our next big outing was the classic: Melvyn's at the Ingleside Inn, land of tuxedoed servers, tableside flambé, and James Bond–style vespers. We did all that and more and more, though I stuck to the Gibsons, enjoying those marinated onions more than other accoutrements. 
Saturday midday found us at Norma's, the colorful brunch spread at the Parker. (Coincidentally, my great-uncle Merv Griffin once owned that place when it was called the Givenchy. I've got some Robert Downey Jr. stories for another time.) People-watching was all-time, which was required, since the wait for our reserved table took forever. 
There were drinks — our Virginia friend was so bold as to have martinis for brunch, while I stuck to the special aperol-aided Sunrise something-or-other — and there were eggs, mine coming with "flat as a pancake" crab cakes, which was mostly true. I'm sad to report that no one ordered the "zillion dollar" lobster frittata, which, even with the super-sized amount of caviar, is a mere $1,000.
We lost our Bay Area contingent that afternoon, as they flew out fearing the bomb cyclone/atmospheric river combo coming that Sunday, but us four remaining eaters found our most satisfying meal of the entire trip that evening at Roly China Fusion. Owned by Palm Springs events/catering/restaurateur extraordinaire Chad Gardner, and inspired by his husband, Roly, the restaurant is a simply delicious spin on Chinese cuisine, with various Asian, American, and Mexican influences. 
We went pretty wild on the drinks and the eats: blood-orange ritas, pork and shrimp shu mei, crispy pork pot stickers, shrimp dumplings, and then various Shanghai noodles and pineapple fried rice and Mongolian beef and Mandarin chicken. Then we did some of that again.
For Californians who grew up eating food that was something like this on a nearly weekly basis, there's a unique comfort in these sorts of Chinese dishes. Everything is shared, so there's no challenge in finishing some big steak, and everything is familiar enough, so there's no need to expound tremendously on the mysterious wonders of each dish. This cuisine makes the perfect platform for commiserating, and they're just undeniably delicious, especially when eating outside in the desert air, alongside a shimmering pool, as a neon sign proclaiming "The Twist" floats above.
We'll have more of that any day.
---
Support the Santa Barbara Independent through a long-term or a single contribution.
---