Make Myself at Home
Historic Sophistication in Samarkand
Step Back in Time with This Spanish Revival Stunner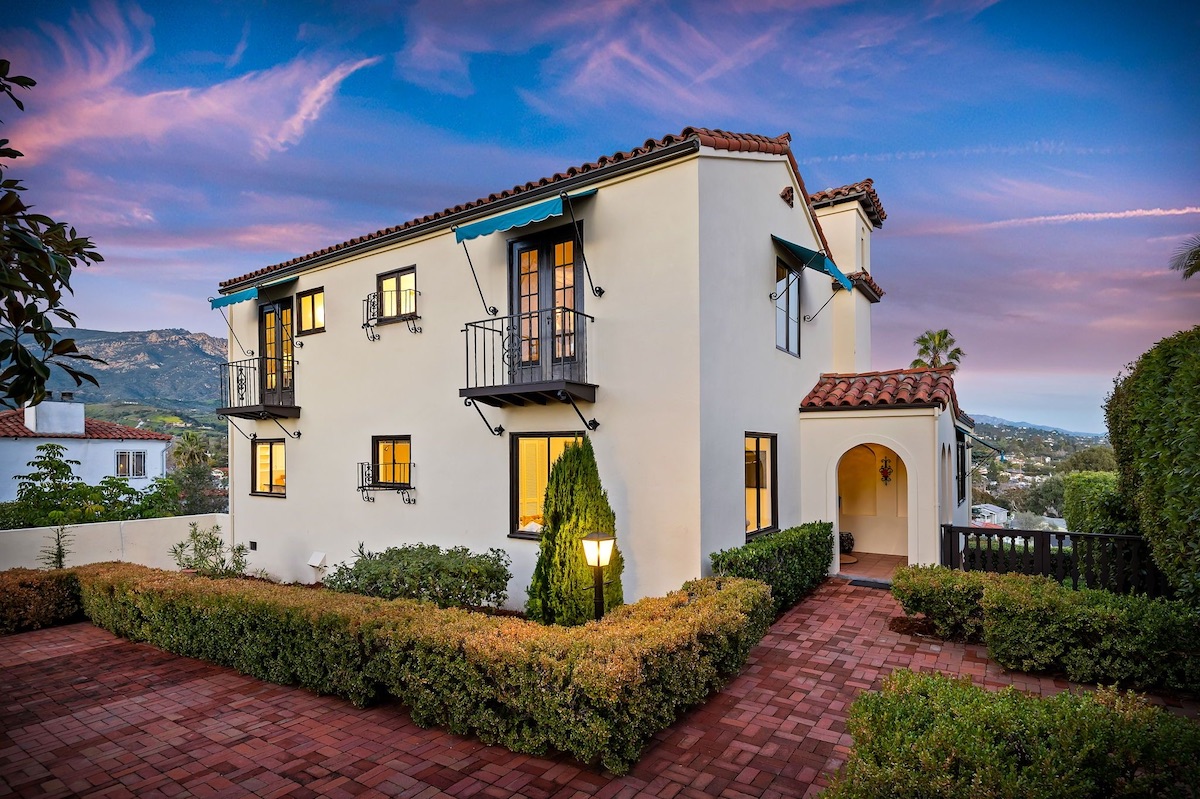 Status: Sale Pending
Address: 2726 Cuesta Road
Price: $2,895,000
Most houses have a spot that functions as a natural gathering place. A room that friends and family gravitate toward: the "heart of the home." The house at 2726 Cuesta Road in the Samarkand hills has several.
When I visited last week, I followed my friend Deborah through the side entrance. We lingered in the sunny corner kitchen longer than we intended, sipping our lattes and catching up. When we finally did start our tour, pocket doors from the dining room led into a spacious living room, where the views from the home's hilltop location stopped me in my tracks. My gaze panned from the mountains in their colorful splendor over the foothills to the Mission and Santa Barbara's other landmark buildings, then to the ocean and Channel Islands beyond. I decided that if I lived here, the living room's covered balcony is where I'd spend my leisure time, hypnotized by the spectacle, enjoying the breeze day or night.
I changed my mind when we got upstairs. A charming sunroom off the primary bedroom offered the same mesmerizing vista from an even higher vantage point. My new favorite spot in the house also provided a view of the beautiful pool down the path in the terraced backyard. I knew that the private, sunny pool and pool house surrounded by a hedge would be another area I would find difficult to leave. I was smitten.
Throughout the home, period details such as wrought-iron fixtures, original tilework, and carved archways have been lovingly preserved and meticulously maintained. Architectural elements like Juliet balconies and the recently upgraded mission-clay-tile roof welcome visitors and beg to tell this stately home's story.
Fortunately, local historian Neal Graffy did exactly that. At the request of the owners, Graffy researched the home and its history, and reports the following:
[The house at] 2726 Cuesta was the first house built on Cuesta Road, and the third house constructed in the Samarkand Hills. The first owners of this house were John and Harriett Brown, who lived here from 1927 to 1941. John Wallace Brown was born in Scotland in 1850 and came to the United States when he was 2. Though records show he only had an eighth-grade education, he was a marine engineer specializing in designing dredges. He invented one of the first dredges used in building the Panama Canal.
Brown retired in 1910 when he was 60 and spent the next several years studying art in England, Holland, and Italy. In 1921, he married Harriett Gresiinger, and the couple moved to Santa Barbara. Mrs. Brown had been a professor of music at the University of Kansas and applied her skills throughout the Santa Barbara community as a concert pianist for numerous recitals and organizing and training choirs.
Meanwhile, Mr. Brown's art was noteworthy enough to be exhibited at the Bohemian Club in San Francisco, Santa Barbara City Hall, and the Santa Barbara School of the Arts. His work was featured alongside the greats of Santa Barbara's famed art colony, including Ed Borein, Alexander Harmer, Colin Campbell Cooper, and Carl Oscar Borg.
In 1927, the Browns purchased lot #63 in the Samarkand Hills for about $1,250. The estimated construction cost was $7,000, and the 77-year-old Brown was both the architect and contractor. The house was finished in November 1927. Harriett passed away in April 1941, and John died a few months later at age 91.
The home is now 95 years old and has only had four owners, including the current owners, who have lived here 46 years.
It's no wonder that this beautiful home has changed hands so few times. It has an ambience and aura — not to mention those vista-filled gathering spots — that has charmed its owners, and everyone who visits, to fall in love and to stay for a while. In fact, when I talked to Deborah just a couple of days after our visit, she reported that an offer has been made and accepted; this magical home may have found its fifth owners-to-be.
---
2726 Cuesta Road is listed for sale in Santa Barbara by Deborah Samuel of Berkshire Hathaway HomeServices California Properties. Reach Deborah at (805) 570-6680 or deborahsamuel@bhhscal.com.
---
Support the Santa Barbara Independent through a long-term or a single contribution.
---