Sports
UCSB Defeats Cal Poly 64-54 and Advances to Big West Conference Tournament Semifinals
Gauchos Muster Second-Half Rally to Eliminate Rival Cal Poly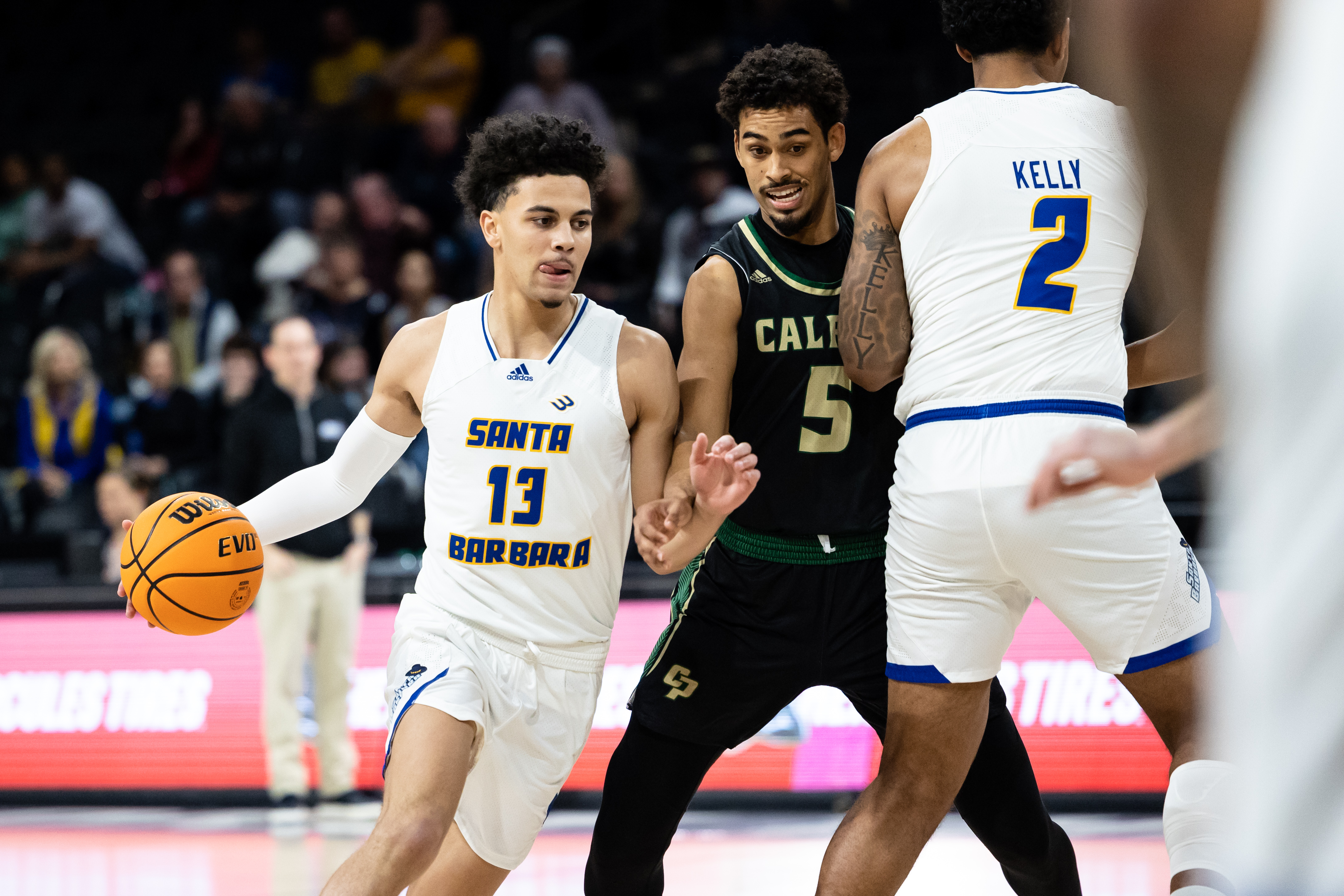 An inspired Cal Poly team fresh off a drubbing of Long Beach State one night earlier would have loved nothing more than to end UCSB's season, but the Gauchos shrugged off a flat first half to meet the challenge.
Ajay Mitchell scored 21 of his game-high 24 points after the break, and UCSB surged ahead to defeat the Mustangs 64-54 on Thursday night and advance to the Big West Conference Tournament semifinals.
"We knew it was going to be a really tough game; a dog fight," said UCSB head coach Joe Pasternack. "I thought in the first half we were kind of shocked. We were in a new arena, we didn't get good shots, and defensively we didn't play well, but I thought in the second half it really flipped and shot at 54 percent while holding them to 34 percent. That was huge."
Despite a well-documented 18-game losing streak going into the Big West Tournament, Cal Poly proved throughout the season that they could stay in ball games and keep the score close against tough competition, and the Mustangs controlled the action in the first half.
A basket inside by Alimamy Koroma at the 7:04 mark of the first half gave Cal Poly its largest lead 22-12.
"As you can tell, our staff does an unbelievable job of preparing our guys to be in every game," said Cal Poly head coach John Smith. "We just have to find the right pieces moving forward and continue to build it."
A short jumper by Andre Kelly just before halftime cut the UCSB deficit to 32-26. The Gauchos went on to quickly rip off the first five points of the second half on a Mitchell three-pointer and another basket inside by Kelly, who finished with 11 points, eight rebounds, and three steals. 
Mitchell connected on seven-of-eight shots in the second half after starting the game one-for-five. Coming up huge in clutch situations is nothing new for the Big West Conference Player of the Year.
"I didn't have a good first half, but I was more worried about winning," Mitchell said. "I was just like, 'Let's find the open man.' I had to take some shots, so I took them and made them."
The Gauchos took their first lead since the opening minutes of the game, 38-37, on a Miles Norris jumper at the 14:13 mark of the second half.
UCSB pulled away as the second half progressed, and a basket by Mitchell with 2:32 remaining served as a dagger, increasing the Gauchos' lead to 60-52.
The Big West Conference Tournament continues at the Dollar Loan Center Arena in Henderson, Nevada, as UCSB will take on UC Riverside in the semifinals on Friday, beginning at 8:30 p.m.