Sports
UCSB Men's Basketball Wins Big West Tournament Title
The Gauchos Punched Their Tickets to March Madness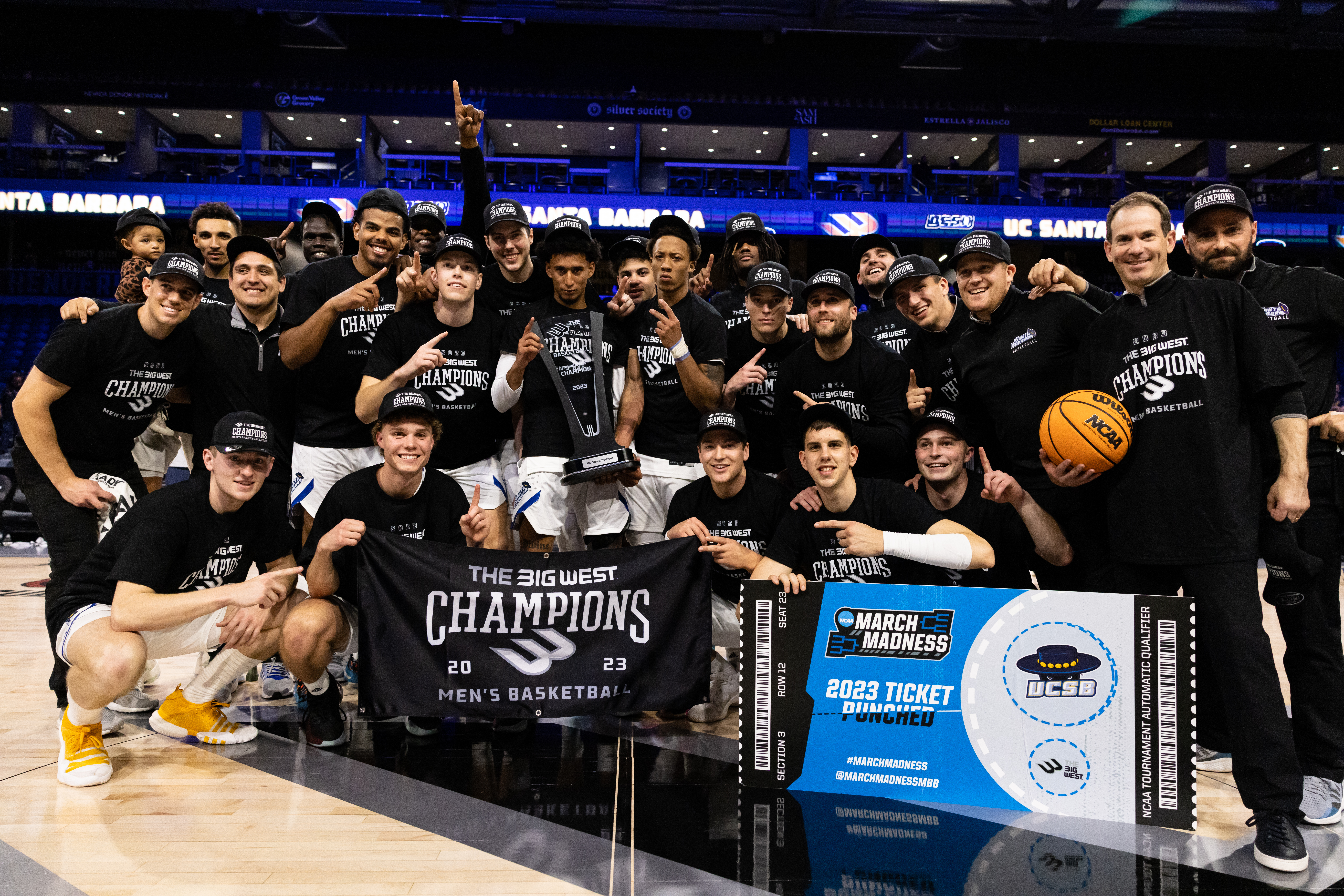 Henderson, Nevada – The journey back to the top of the Big West Conference was not for the faint of heart, but the UCSB men's basketball reached the summit on Saturday night with a 72-62 victory over Cal State Fullerton in the Big West Conference Tournament final.
Ajay Mitchell was an unstoppable offensive force, scoring 20 points on eight-of-12 shooting from the field on his way to Tournament MVP honors. It is UCSB's second Big West Tournament title in the last three seasons.
"I am just so happy for our players to be able to experience March Madness; it is the greatest spectacle in all of sports, in my opinion. With the adversity our guys went through this season: losing two of our top six players due to injury and losing three straight games because of that. The way our guys responded to that shows so much character and competitive spirit."
A basket by Cal State Fullerton's Max Jones cut the UCSB lead to 55-54 with 5:18 remaining. From that point forward the Gauchos outscored the Titans 17-8 to pull away for the victory.
A three-pointer by Calvin Wishart with 1:37 remaining capped off an 11-2 UCSB run that extended the Gauchos lead to 66-56 and put the game away.
"In the last half to play our best defensive half of the season, holding them to 39-percent, that was huge," said Pasternack of his team's play down the stretch.
Wishart scored 17 points, grabbed seven rebounds and dished out four assists. Cole Anderson added 12 points, including three-of-four shooting from three-point range. Miles Norris scored ten points and was named to the all-tournament team.
"Everybody played their role," Pasternack said. "That's what makes team sports so special."
With the victory the Gauchos claimed the automatic berth out of the Big West Conference into the NCAA Tournament. UCSB will discover its March Madness opponent during the NCAA Selection Show, which begins on Sunday at 3pm
"Since I was a kid I've been dreaming about this and going dancing. It's amazing," Mitchell said. "We have a special group of guys, i'm so proud of the team and the coaches. I just feel very good right now."