Sports
SBART Press Luncheon: Ava Bennett Receives Scholar Athlete Award for Dos Pueblos
Stella Borgioli is the Phil Womble Award Recipient for Santa Barbara High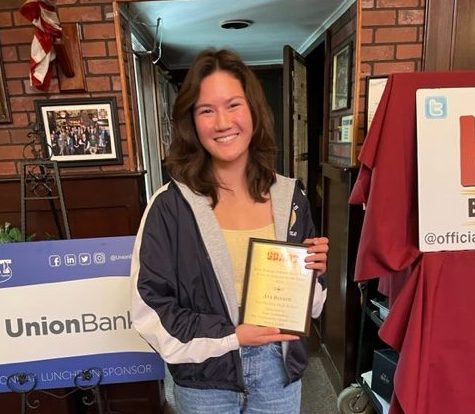 After a spring break hiatus the Santa Barbara Athletic Round Table press luncheon reconvened on Monday at Harry's Cafe.
Four student athletes were recognized as athletes of the week, including honorees from the previous week Joe Talarico of Dos Pueblos High baseball and Maddie Nees of Dos Pueblos girls' Lacrosse.
For the current week Braylon Katers of Bishop Diego boys' volleyball and Caitlyn Early of San Marcos Softball also received Athlete of the Week awards.
Talarico singled in the only run of the game in the first inning and then pitched the final 2.1 innings of relief to secure a 1-0 Channel League win over rival Santa Barbara. He is a two-sport athlete who led Dos Pueblos on the hardwood and is similarly valuable on the baseball field.
Nees made 13 saves to lead the Chargers to a crosstown win over San Marcos, 11-3. Her coach Anais Jimenez touted Nees as a coach on the field, who's experience is instrumental to the development of her teammates.
Katers recorded a double-double of 14 kills and 18 digs in a key win over Foothill Tech to give Cardinals sole possession of 2nd place in Tri-Valley League. At Surf City Invite, he led the team with 37 points in six matches. Bishop Diego finished in fifth place.
In two games at the Camarillo Tournament, Early went 6 for 9 at the plate with two home runs, two doubles, six RBIs and five runs scored.
"She leads us in home runs, she leads us in RBI's, but more importantly than the statistical side is what she offers us at shortstop," said San Marcos softball coach Jeff Swan. "She controls the infield, she is one of our team captains and she does a great job of helping to manage our expectations and helping to motivate our team."
Scholar Athlete Award
Ava Bennett competes in water polo and swimming for the Chargers. As co-captain of the water polo team, she helped DP reach the final of the Channel League Tournament and advance to the quarterfinals of the CIF-SS Division 1 playoffs this past season.
Bennett received the Scholar Athlete of the year award for Dos Pueblos High at Monday's press luncheon. She carries a 4.881 grade point average while taking several advanced placement classes.
"She is incredible in both the classroom and the pool," said Dos Pueblos water polo coach Chris Parrish. "Her work ethic, there isn't a better one that I've seen and I've been coaching for quite a long time. She's just an incredible person overall, and I'm just incredibly proud of what she's accomplished."
Phil Womble Award
Indoor and beach volleyball player Stella Borgioli received the Phil Womble Ethics and Leadership award at Monday's press luncheon.
Borgioli helped lead the Dons to a Channel League championship in indoor volleyball this past season.
Stella is the embodiment of what we would want a Santa Barbara scholar, athlete and community member to be," said indoor and beach volleyball coach Kristen Hempy. "She really is the trifecta and she embodies it all."