Full Belly Files
Full Belly Files | Eating Mean in New Orleans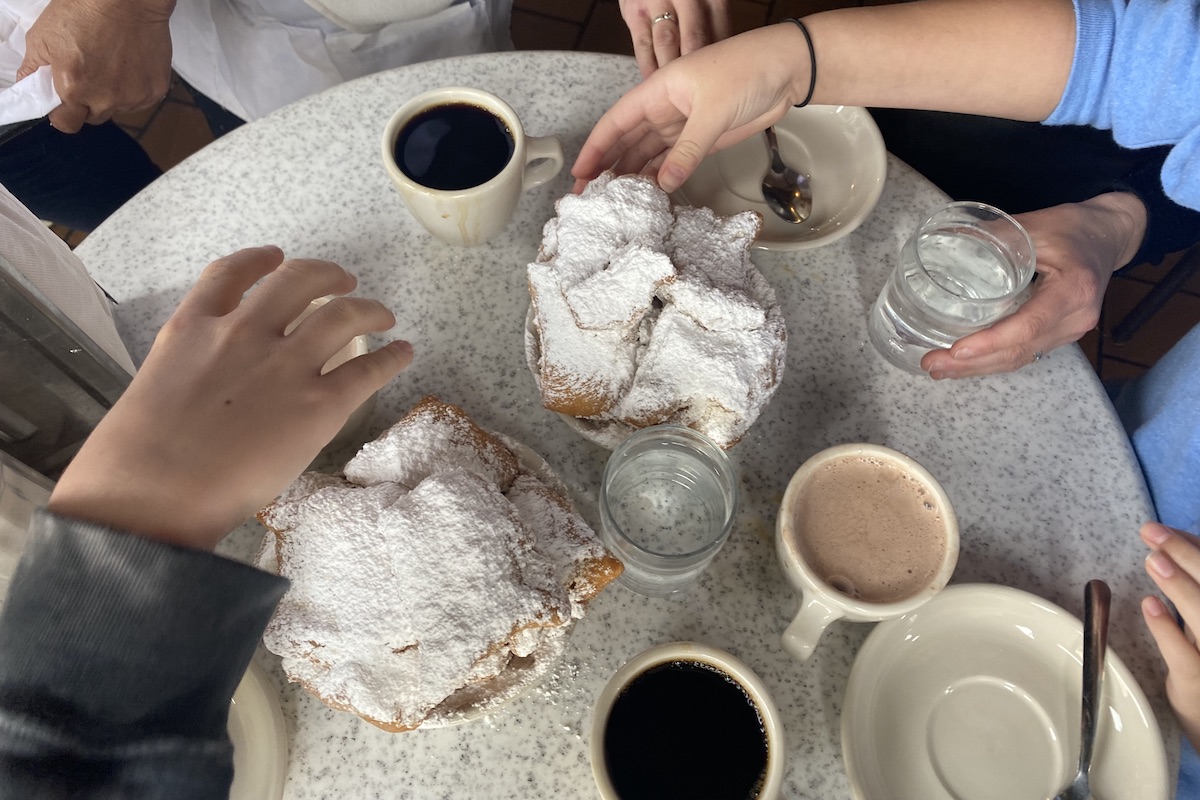 This edition of Full Belly Files was originally emailed to subscribers on January 20, 2023. To receive Matt Kettmann's food newsletter in your inbox each Friday, sign up at independent.com/newsletters.
As my son pondered whether the Nova Scotian oysters were more briny than those from Alabama, my daughter tucked into a creamy bowl of crab-fat agnolotti, and my wife slurped up the Basque cider-spiked broth of the mussels Normande, I took a moment to lean back in my seat and enjoy a bit of pride in the scene. It was our first night out in New Orleans, where we'd taken the kids for their spring break, and it finally dawned on me that this was really my family's first food-focused vacation, in which eating out topped our to-do list.
In an era where pickiness reigns supreme in so many households, we had somehow employed the right parenting strategies — and no doubt benefited from ample dumb luck — to guide our kids into lives of culinary curiosity. This was just the first meal of our trip, at Le Chat Noir in the Warehouse District, just a few blocks from our room in the Higgins Hotel. But the days that followed would be consumed by consumption, whose caloric impacts we mostly offset, thankfully, by miles and miles of walking each day through the city's culture-soaked neighborhoods.
I'll be writing a travel feature that covers the blow-by-blow of our mission, including non-food things like Vue Orleans, a ghost tour, and Audubon Park. But I'll keep this newsletter focused on a cheat sheet of edible highlights, in order of how we found them:
What would I advise to parents looking to instill a similar fondness for all sorts of foods in their children? I don't really know what exactly worked for us, as kids are unpredictable little monsters. But using all sorts of fresh ingredients at home, eating out at various places from a young age, and just being excited in general about what and how we eat are strategies that seemed to benefit us.

You can check out the Instagram highlights of our trip here, and stay tuned for a story that includes visits to numerous museums and other tourism highlights.  
NOLA Crawfish in Carpinteria
You needn't copy my itinerary or even hop on a plane to experience New Orleans this month.
Instead, head to Little Dom's Seafood in Carpinteria, where Chef Brandon Boudet — a NOLA native — is hosting two Crawfish Boil Saturdays on April 15 and 22, 11 a.m.-4 p.m. He's celebrating "mudbug season" by selling crawfish by the pound and a range of other classics, like po' boys, gumbo, and snowballs, and serving them atop newspaper-lined picnic tables.
Little Dom's is located at 686 Linden Avenue in downtown Carp. Call (805) 749-7400 or see ldseafood.com for more info.
Wine Week Is Coming
Following in the footsteps of multiple years of successful Burger Week and Burrito Week promotions, the Independent is hosting our inaugural Wine Week from April 27 to May 3, when participating tasting rooms, restaurants, and bars will be pouring selected glasses of wine for just $10.
More than 20 establishments are participating in the week, which is being sponsored by Visit Santa Ynez Valley, and we'll be unveiling the entire lineup as the cover story of our April 27 issue.
To add an educational angle to the affair, we've partnered with the Sta. Rita Hills Winegrowers Alliance to host a couple of panels during the group's Saunters & Sips event at the Presidio on April 29, 2:30-5:30 p.m. I'll be moderating casual chats with a handful of vintners inside the chapel that afternoon to discuss chardonnay and sparkling wine, while everyone else gorges on pinot noir in the sunshine outside. The panels are a free bonus for attendees.

Click here for info and the $129 tickets.
From Our Table
Here are some stories from Independent.com that you may have missed: