Herb McElwee is an ambulance chaser, and he not only admits it, but he's very proud of it.
The former Montecito Fire District Fire Chief says, since 1990, he has been in hot pursuit of ambulances, along with fire trucks, fire hoses, or any other kind of fire equipment that might be heading into retirement. Once targeted, McElwee rescues the out-of-commission apparatus, and then arranges for it to be donated to communities in Mexico.
"For many towns in Mexico, this equipment serves a great need," McElwee explained. "There is equipment that is out-of-date by our firefighting standards here in the United States, but it still serviceable."
McElwee's recycling program began in 1990 when he was still Chief of Montecito Fire District. On vacation in the small fishing village of Puerto Penasco in the Mexican state of Sonora, McElwee visited the local fire station. He was taken back by what he saw. "They had nothing," he said. "I knew right then it would be a nice gesture to try to help them out."
On his return from vacation, McElwee went to work to arrange for a retired Montecito Fire District fire engine to be donated to Puerto Penasco. Later, a second truck was delivered with nearly heroic results. During a restaurant fire, the second truck enabled the Puerto Penasco fire department to swiftly contain the fire. "The Fire Commandant told me if they had only had one fire truck, they would have lost a half a block," McElwee said.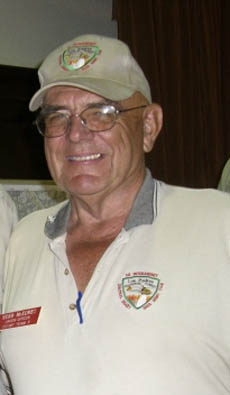 By J'Amy Brown