It's an unhappy land that is in need of heroes, to paraphrase writer Bertolt Brecht. Fortunately, Santa Barbara does not have that problem. In fact, The Indy's list of Local Hero nominees grows each year; the challenge is in paring it down.
After much deliberation, 20 folks were selected this year based on their inspiring actions. There is the fellow who donated a kidney to his coworker, and the man who gives food, shoes, and other essential items to the homeless, paid from his own pocket. There are folks who are making sure we treat our city-and planet-kindly, those who are bringing people together to help neighbors and animals, and those who provide a unique and essential service to our community.
Each year we are humbled by the giving nature of the group of Local Heroes honored. We take comfort, however, in a line by Will Rogers: "We can't all be heroes, because somebody has to sit on the curb and clap as they go by."
Lynn Seigel-Boettner: Community Gardener
Although more than 20 types of fruits and vegetables surround her home, Lynn Seigel-Boettner isn't just growing one of Santa Barbara's coolest front-yard gardens-the longtime teacher is also cultivating a community of harvesters who stay connected under the banner of S.B. Food Not Lawns, the organization and Web site (sbfoodnotlawns.org) that enables garden exchanges from Carpinteria to Goleta. "I encourage people to grow as much as you can and then share what you grow with each other," said the mother of two, who also helped found Art From Scrap and takes students on bicycle adventures with her husband, John.
Seigel-Boettner began hosting such exchanges-in which people from a particular neighborhood gather on a weekend morning to share the bounties of their gardens with each other, learn about what grows best where, and even do some gardening together-on the Mesa nearly three years ago. Since then more than one dozen regular events, some of them attracting as many as 100 individuals, have gotten started. "I wouldn't say I started the whole idea," explained Seigel-Boettner, "but, for the last three years, I have kept the Web site and information up." By keeping a low profile, empowering others to carry the torch into their own neighborhoods, and then just getting out of the way, Seigel-Boettner's casual leadership has resulted in Food Not Lawns' proud sense of group ownership.
"It's like kindergarten," said the Vieja Valley School kindergarten teacher, where she's also started gardens for the kids. "It's teaching people how to share with each other. It's an umbrella to invite people to play."
Captain Brian Bulger: The Life-Saving Hero
Given the horrendous conditions of the Jesusita Fire-wind-driven flames attacking clustered communities, narrow roads lined by deep canyons, no escape routes-it's a miracle that no one died. Well, a miracle, and the work of Captain Brian Bulger, the Ventura County firefighter who risked his own life to pull two colleagues out of the firestorm.
With his crew assigned to Spyglass Ridge, where the fire "burned up canyon and down canyon at the same time," Bulger, 57, got a call over the radio that some firefighters whom he knew "very well" were taking refuge in a home. Minutes later, "Their voices were pretty elevated," said Bulger, who's been a Ventura County firefighter since 1978. "They said they can't get out of the house and they're trapped. Things escalated from there." So he drove into the flames, which were so bright he couldn't see. "Everything was just fire," said Bulger, who suffered smoke inhalation injuries that he's still reeling from.
Wandering through the 100-foot flames and 50 mph winds with visibility at five feet, Bulger stumbled upon firefighter Robert Lopez, 44, and found Captain Ron Topolinski, 51, in a burning fire engine. He saved their lives, and they are both expected back on the job after recovering from their serious burns.
"It's not something you think about," said Bulger, who was back on the job within a month. "They had no choices, and I had one. You look at the mission, and you just do it."
Susan Rakov and Vince Semonsen: School Saints
Susan Rakov and Vince Semonsen always knew they would take an active role in their children's education. They also liked the idea of walking the kids to school. That meant sending them to Harding Elementary, just five blocks from their lower Westside house.
Six years later, Harding has become a focal point for the entire family. Though Rakov and Semonsen both work, they also volunteer hundreds of hours at Harding every year.
"It's a public resource," Rakov explained, noting that many other families in the Harding area sent their children elsewhere. "How do you get a neighborhood which has in large part turned away from the school to come back?"
In order to answer that question, Rakov joined the Harding PTA, but soon recognized the need for a body that could more easily receive major grants. She helped found the Harding School Foundation, which to date has raised more than $100,000 for a new playground and new preschool program. Semonsen chairs the school's environment committee, which has built an organic garden and commissioned an ambitious master plan.
Since their daughter Emma started at Harding, Rakov and Semonsen have seen the cafeteria become a zero-waste facility and helped reorganize street parking to make pick-ups and drop-offs safer. The school recently launched an International Baccalaureate program and began collaborating with UCSB on educational research. Neighbors now visit the campus every Wednesday to buy fruits and vegetables at the Harding Farmers Market. That's a lot of change in a short period of time, and Rakov and Semonsen have had a hand in most of it. But Rakov credits the teachers with the real heroics. "The ability of the teachers to put themselves in each child's shoes makes Harding pretty extraordinary," she said. "It's how you'd want a school to be."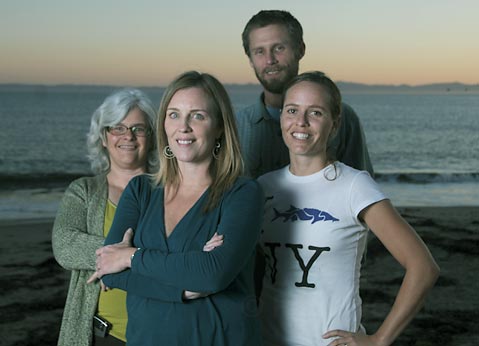 By Paul Wellman