L.A. LOGBOOK: When the categorically Great American Jazz Pianist Keith Jarrett confronts his muse, his ego, and a good Steinway in the glaring self-inflicted light of the solo format—and in an accommodating venue—there's nothing quite like him in the music world. Such encounters are worth making a trip, and sometimes tolerating Jarrett's neurotic concert behavior (if coughing is frowned upon, taking photos is shat upon), to be party to the wonder of what he can cook up on a good night. It was a mostly good night, and occasionally brilliant, when Jarrett played a rare solo piano concert recently in Los Angeles, in the lucid majesty of Walt Disney Concert Hall.
Jarrett's relationship to the unique challenge of an all-improvised solo recital goes back to the '70s, and includes, believe it or not, a solo performance in the Santa Barbara High School auditorium. Since then, he has swerved in and out of solo concerts, but with a more intensive interest recently, releasing recordings from Carnegie Hall and a brand new three-disc set, Paris/London: Testament (ECM). This Disney Hall concert was also recorded, and could be coming to a music outlet or portal near us one day. If so, there would be at least an inspired hour's worth of good material from the 2.5 hours of Jarrett's Disney night. In the New Solo mode, Jarrett plays shorter pieces, usually in a particular mode or mood, rather than the morphing extended improvisations of old.
That said, however, the clear highlight of the L.A. show came first, in the form of a gripping, extended suite-on-the-spot, with Jarrett seemingly plugging into models of 20th-century classical influence. He moved from knotty self-arguments suggesting the influence of Elliott Carter to Stravinsky-esque muscular melodicism to iridescent chromatic effects à la Messiaen. Was Jarrett channeling the classical essence of this venue, one of the nation's finest and most live-sounding new orchestral halls? Or maybe ears exposed to much great "serious music" in this room ferreted out half-projected classical resonances.
Following that remarkable piece, however, Jarrett moved to the right, stylistically and attitudinally, falling into familiar grooves and emotive sculpturing, from gospel-flavored passages to rubato, lyrical ballads, all sounding like instant classics. At some points, we had the old reflexive wariness when Jarrett moved over to the microphone: Would this be a wise gem or a scolding taunt? Both occurred, as he hailed Steinway for never changing since the 1880s, and chided a photo-taker at night's end ("You should apologize to yourself, not to me."). But the chance to hear Jarrett doing what he does, like no other living pianist, is worth small sacrifices and performance protocols violated.
At encore time, someone yelled out, "Love you, Keith!" We half expected a derisive comeback, but the pianist quipped, ruefully, "That's all you need, right? Hard to find." It wasn't hard at all to find transporting beauty in his music.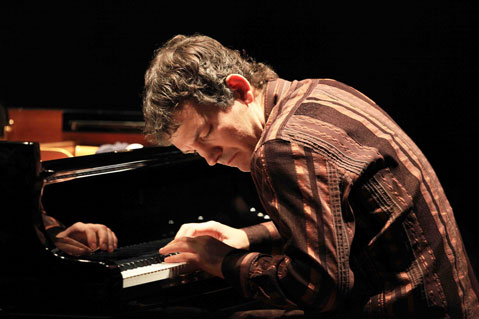 IMN