In an evening of culinary highlights, perhaps the happiest words we heard on a warm night in a backyard on Santa Barbara's Westside this past summer were these: "I have these little presents to give out." So said chef Danny Douglas as he presented the 10 of us with his main course, succulent halibut filets cooked in paper and just this side of done, served alongside asparagus, bok choy, and shiitake mushrooms. "Wow," said The Indy's food editor, George Yatchisin, our host for the night. "That smells great without even opening it."
It tasted great, too, especially when paired with some of Monterey County's finest chardonnays, pinot noirs, and other wines. That was the goal of our little gathering: to run through a sample package that Monterey reps had sent us; and then they decided to join us, as well, to explain what's going on a couple hours up the coast.
"These wines are not overripe," explained Linda Parker, who does public relations for the Monterey County Vintners and Growers Association, whose viticultural vigor comes from being adjacent to the "Blue Grand Canyon" beneath Monterey Bay. "It's a very cool-climate expression, especially the pinot noir and chardonnays, that I think are the true expressions of the fruit."
Whatever the reasoning, all of the wines went down easy, sometimes stupendously, with Douglas's gourmet menu, for which we each chipped in a mere $25. Sorry you weren't there, but here's the menu and wine list for you to host your own backyard Monterey wine country–inspired dinner.
Menu
• Creole beer-boiled shrimp spiced with paprika, lemongrass, mustard seed, and Samuel Adams Summer Ale, served alongside a creamy Dijon cocktail sauce
• Farmers' market field greens salad with roasted corn, cauliflower, and a balsamic vinaigrette
• Halibut en papillote with asparagus, bok choy, and shiitake mushrooms
• Pismo Beach honey panna cotta with roasted hazelnuts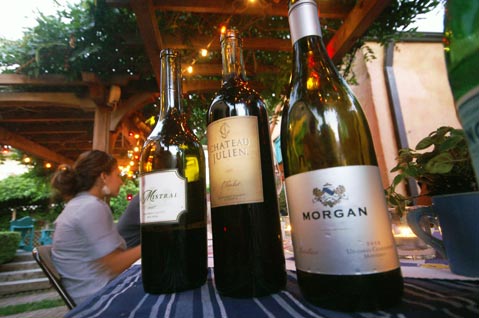 By Matt Kettmann