It all happens in a matter of seconds. A chute door opens, and a steer, usually a 500-pound longhorn or corriente, bolts for the middle of the rodeo arena. In the blink of an eye, behind the steer comes a cowboy on horseback, charging hard, dirt flying as he tries to close the gap on the escaping steer. His horse galloping flat out, the cowboy lowers himself off the side of his saddle as he approaches, his body floating perilously above a whirl of pounding hooves and horns. Then, just as his horse pulls even with the target, the cowboy lunges from his position, grabbing hold of the steer's horns. For a brief moment, the steer and the cowboy and the horse are all one big hurtling mass of momentum. The cowboy redoubles his grip as he comes completely out of his stirrups, twisting the horns and leaning his weight back as he falls to the ground, his boots digging into the ground fighting for purchase. Then, in one fluid motion, the cowboy violently throws the steer's head across itself and down, stopping the animal dead in its tracks and dropping it to the arena floor with all four legs up in the air. A nearby official waves a flag marking the end, the time is noted, and the steer is released, trotting off as the cowboy picks himself up from the dirt, collects his hat, and dusts off his jeans. If the cowboy is any good, the whole ordeal should have lasted no more than four or five seconds.
The sport is called steer wrestling, or "bulldogging," as rodeo regulars know it, and, when it comes to competition, there is no bigger name in the steer-wrestling universe than Los Alamos' Luke Branquinho. At 32 years old, Branquinho is the sport's current reigning Professional Rodeo Cowboys Association (PRCA) World Champion, a title the Santa Ynez Valley Union High School alum has enjoyed three times since turning pro in 2000.
He is a markedly humble and handsome and accommodating sort of champion, one who always seems to have time for a reporter's one last question or to sign one last autograph for the kid at the back of the line. He loves his large extended family, and during interviews, he talks often about his wife, Lindsay, and their two boys, Cade and Jameson. His phone plays Tom Petty's "Running Down a Dream," and he does a classic little ass-shaking celebration shimmy (think the gopher from Caddyshack) when he makes a particularly fast time in the arena.
Headed into this week's Wrangler National Finals Rodeo (NFR) in Las Vegas, the Champ has a decent shot at winning yet another world title. This hasn't been his best performance year on the rodeo circuit, but in the last few months, things have been looking up for him. In his usual direct-talking, word-economical way, he summed up his chances a couple of weeks ago at his family ranch, located a mile outside of downtown Los Alamos: "I've been on a pretty good run lately," Branquinho said. "Hopefully, I can keep things going when we get to Vegas."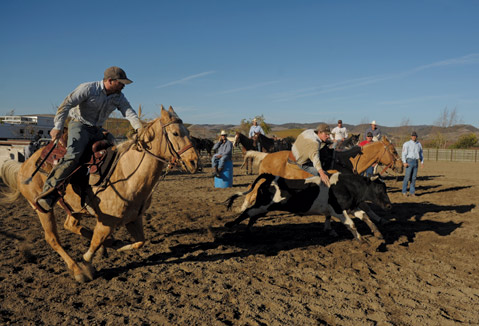 By Paul Wellman