The implications of Title IX were not realized in 1973, when I wrote a series of articles in the Santa Barbara News-Press about the efforts to establish meaningful interscholastic sports programs for women and girls. I found that UCSB was allocating $5,000 for the operations of five women's sports; men's sports received $90,000. I found that the budget for girls' sports at a typical high school was $1,000, compared to $32,000 for the boys. There were even inequities in physical-education classes. UCSB's male students received freshly laundered gym outfits every week; the women had to wash their own.
The jury was out on whether it was healthy or desirable for females to engage in competitive athletics. A high school PE teacher told me: "We don't push athletics for girls as much as a relaxed, recreational type of thing. Our uppermost idea is that they are ladies rather than athletes." San Marcos High had a coach, Judi Evert, who crusaded against that notion. She organized a track-and-field team that won the first CIF-sponsored girls' championship in 1973.
It was alleged that strenuous exercise would permanently damage a woman's reproductive organs. That was news to Santa Barbara schoolteacher Lyn Carman, who started running marathons in the 1960s ​— ​in defiance of the half-mile limit put on women's races by the amateur athletic rules of the time ​— ​and bore four children.
Gradually, over the next several decades, myths were exploded, impediments were eroded, and inequities abated. Title IX, coming up on its 40th anniversary, has provided strong legal backing for the people ​— ​athletes, coaches, administrators, and parents ​— ​who have brought sports for women and girls into the mainstream.
Old-School Approach
Santa Barbara High did offer some after-school sports programs before Title IX. Nan Seed Verkaik, who graduated in 1971, participated in all of them. It was a fulfilling experience, although the coaching was suspect. "When we won the league swimming championship, we celebrated by throwing the coach in the pool," Verkaik recalled. "We found out she couldn't swim."
In her freshman year, girls' basketball was played by the old rules of six on a team, only two of them allowed to cross over the midcourt line. "We played on the outdoor asphalt courts," she said. "The boys had the gym. Nobody went to the girls' games. It didn't bother us. We just wanted to play. It was a good time. Everybody was in sports because they enjoyed playing. There wasn't the pressure to get a college scholarship. In a way, it's too bad that's been lost."
Supported by her parents, she went to University of Puget Sound, which had a generous athletic program. "I wanted to become a coach, and I figured the more sports I learned, the more opportunities I'd have," she said. Verkaik earned 20 varsity letters in five sports ​— ​field hockey, basketball, volleyball, softball, and track and field.
She returned to Santa Barbara in 1977, taking a job as a teacher and coach at her alma mater. "Title IX has helped the coaching improve," she said. "That's been one of the most important outcomes of the law." Verkaik coached the Dons' swim teams and both the boys' and girls' volleyball teams.
In 2004, Verkaik became the fourth athletics director in Santa Barbara High's history, and the first female to hold that position. She worked hard at it and took particular pride in some big events she directed, including a CIF championship soccer game between the Dons and Dos Pueblos that drew 9,000 fans to UCSB, and the alumni football game between the Dons and San Marcos Royals in 2010.
"It's a difficult job," said Cara Gamberdella, who served as the San Marcos AD for one year in 1998-99 before she went back to teaching at her own request. "It's even harder now with all the fundraising and administrative skill that's required."
Verkaik will be relinquishing those chores soon. SBHS principal John Becchio has named Joe Chenoweth, a former city recreation supervisor, to take over the Dons' athletic department on July 1. Verkaik will remain on the staff and teach PE. She is taking the change in stride. "I'm still going to be working with kids," she said. "That's why I got into this in the first place." If her students dare to throw her in the pool, one thing's for sure: She'll be able to swim her way out.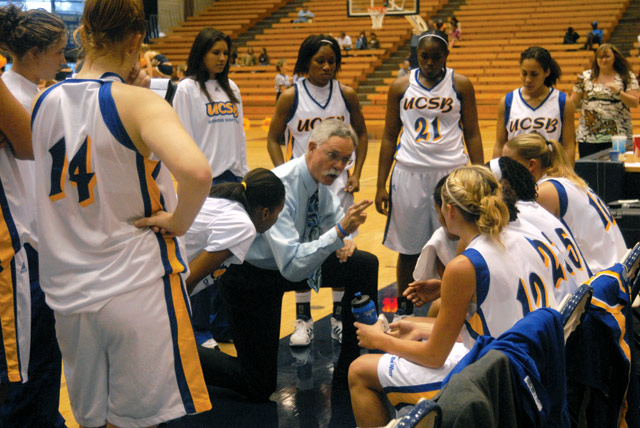 By Paul Wellman (file)