Mike Senzamici and Robin Sager are quite the car-collecting couple. Among their engined gems are a 1948 Greyhound bus that was made into a motor home, a 1941 Packard limousine originally owned by the McCormick family of Montecito, and a rare four-seater 1971 Manx Dune Buggy. With the bus and limo set for public showing during this weekend's Wheels and Waves event on State Street, we asked Senzamici a few questions about his obsession with rad rides.
How'd you get into collecting cars? My older brother. When we were young, he would show me the changes each car company made every year: bigger fins, less chrome, different grill. As I got older and was able to drive, I always drove something different because to me, cars are functional art. Then I met my wife [Robin Sager]. She also had to have something different to drive and we just started collecting for the last 32 years. We went through a British-car phase, and, for the last 10-plus years, it's been old American iron, mostly Mopar (Chrysler).
Your collection is quite eclectic. Were you shooting for a wide array, or was that all coincidental? Definitely coincidental. Like I said, we like to drive something different — not only different from what you see on the freeway, but different from what you see at car shows, as well. No '55, '56, '57 Chevys here. I love them, but they're somewhat common as far as classic cars go. Give me a 1958 Isetta or an Amphicar (boat car), and I'm in heaven. I love driving our 1948 restored Greyhound bus. In my other cars, people on State Street give you a double take. In the bus, they give you a triple take. It's a work of art.
You also seem to have a lot of Santa Barbara history in these vehicles. Tell us about that. Most of our cars are local, unrestored survivor cars. They've survived because of the weather, low mileage, or just being well maintained.
Do you actively use any of these vehicles? Yes, they are all actively used. I wouldn't have them if I couldn't use them. My wife drove our 1950 Plymouth Suburban station wagon to work every day. It got to the point where I finally suggested that she found a newer car, but still keep the '50 Plymouth, because I was nervous having the '50 sit in the county parking lot every day. She came home one day and said she found a newer car. It was a 1962 Plymouth Valiant, two-door with a push-button automatic. That's been her daily-driver for about five years now.
We've also used the bus, which was actually made into a motor home inside in 1959 by a boat builder. That was long before people took buses and converted them into motor homes. We try to take it camping at least once a month. Last month, it was used in a music video as a band bus, and we've done other movie work with it, as well. Nothing sits around here — cruise it or lose it.
If you don't know anything about cars, is there still a way to get involved with collecting them? Oh yes. One way to get into any hobby is throw a bunch of money at it. I don't suggest that. The only way we can do this is to not only maintain our vehicles ourselves but do any major work we can on them ourselves. We have a private shop with everything we need short of a spray booth. Some things we need to farm out, but very little. The best way to get into this is start simple, never stop asking questions, do as much as you can yourself, and be willing to get dirty. It's just like any hobby where you create something like a painting, sculpture, or photography. Start simple, ask questions, get dirty, and then stand back and look what you've created.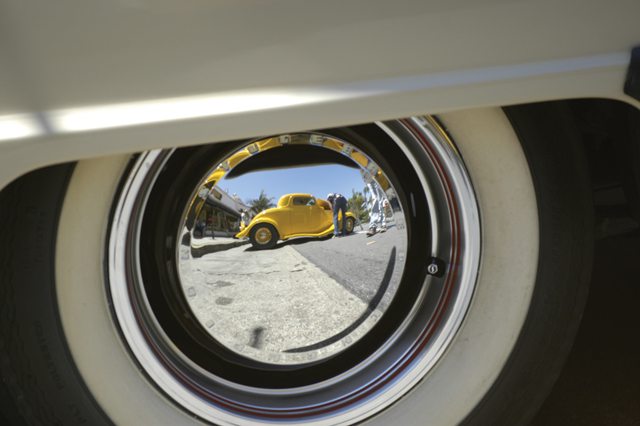 By Paul Wellman