At first blush, it might seem counterintuitive if not outright self-serving. Developer Neil Dipaola says he wants to keep the "funk" in the Funk Zone. How? By building a four-story mixed-use development with a new rooftop hotel, bar, and swimming pool. This is funky? It's easily the biggest proposal to hit the city's industrialized waterfront neighborhood in 20 years. But it's not the mere size that amazes. It's the ingredients. The most striking being the roofline, which is audaciously original and whimsical beyond anything city planners had ever seen. Instead of traditional hotel rooms, Dipaola has proposed that guests stay in sailboats ​— ​real ones ​— ​installed on the top floor, along with Airstream trailers and industrial storage containers.
Sailboats on Rooftops?
Neil Dipaola is definitely Santa Barbara's next new big thing.
Dipaola (pronounced dee·powla) first gained notice several years ago, winning approval from California's notoriously protective Coastal Commission to build the biggest, flashiest, and most environmentally innovative private mixed-use development in Isla Vista history. Then, Dipaola and his partners, Matthew and Wally Hofmann, installed the first Airstream hotel in downtown Santa Barbara, locating five shimmering aluminum retro-chic coaches at the front of the historic Santa Barbara Autocamp mobile-home park on upper De la Vina Street. Impressively, they did so without evicting any of the tenants ​— ​many elderly, blue collar, and on fixed incomes. It's been a huge success. Today, that same partnership, Autocamp, is poised to airlift many more Airstream hotel rooms onto underutilized parking garage rooftops in Los Angeles and San Francisco and to launch what's been billed as "the world's largest Airstream hotel" in a sleazy section of downtown Las Vegas long dominated by meth heads and crack houses.
When otherwise not occupied, Dipaola surfs, scuba dives, flies helicopters, skis, and runs 36-mile marathons along back-country trails linking Goleta and Montecito. He sits on the boards of the Environmental Defense Center and the Community Environmental Council, and helps direct a private family foundation ​— ​started when his two older brothers sold their online advertising company ​— ​that doles out about $5 million a year.
This past year, Dipaola turned 30.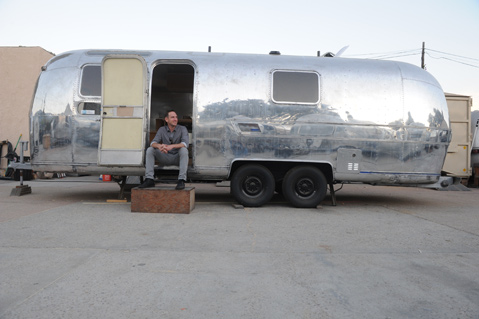 By Paul Wellman