Scooter Dealership
Ooty's Scooters
629 E. Haley St., 965-8101, ootyscooters.com
For the family behind Ooty's, the scooter revolution began during a six-month trip to Europe. Owner Chris Neely and his wife, Kathy, came home from that holiday on fire with the idea of helping spread the scooter gospel in their hometown, and soon enough, Ooty's was born. "From the beginning, it has been about finding an alternative way to get around town that uses less gas and requires less bulk," says Neely. Since opening in 2008, Ooty's has converted some 2,000 Santa Barbarians to the pure and practical kicks of scooter life with new scoots and helped fan the flames of scores more with their repair-shop services. Though Neely has recently turned the daily operations of the store over to his son Ryan, the revolution is in no danger of slowing. "In Santa Barbara, riding a scooter is just too much fun."
Finalist: Ducati of Santa Barbara
Taxi Service
Uber
Much to the chagrin of area cabbie outfits, Uber is once again king of the Santa Barbara taxi hill ​— ​without actually owning a single car. Relying on a small army of loosely professional and independently contracted drivers whom you contact via an app on your cell phone, Uber often gets you where you need to go for a few dollars less than their traditional and fully permitted counterparts, albeit in a ride that looks like any other car on the road. And, of course, there is the fact that a trip with Uber never requires cash or card in hand; all you need is your phone, and Uber's ever increasing ubiquity.
Finalist: Lyft
Motorcycle Dealership
Ducati of Santa Barbara
17 W. Montecito St., 884-8443, ducatiofsb.com
And now this from the Not What You Expected Department: the Dunne family's Ducati showroom here in S.B. is the oldest Ducati dealership in the United States. The celebrated high-performance Italian motorcycles have been available around these parts since 1978 thanks to the Dunnes, their shop serving as a cultural hub for motorcycle heads. "We are a big-kids toy store," said Carlin Dunne. "We are third-generation motorcycle racers, so this is really a labor of love for us. It feels good to be recognized by the readers again this year because we really do put our heart and souls into it every day."
Finalist: Santa Barbara Motorsports
New Car Dealership/ Used Car Dealership
Toyota of Santa Barbara
5611 Hollister Ave., Goleta, 572-1130, toyotaofsantabarbara.com
Be it a brand-spanking-new ride or a reliable used rig that you are after, Toyota of Santa Barbara is the place to find it, according to Indy voters. Why? Well, to hear the dealership's general manager, Mike Caldwell, tell it, it is a combination of "the best product available new or used" and a customer experience that is, by design, devoid of awkward haggling or weird salesperson games of bluff. Nobody works on commission at Toyota of Santa Barbara, so you can rest assured that you are getting the best price available. "Buying a car is not always the best experience, and we know it," says Caldwell. "We've realized that if we get out of the way and don't screw it up, and just work to make the process as enjoyable as possible for the customer, then it usually works out well for everybody."
Finalists: santa barbara auto group (New Car DealERship)
Milpas Motors (Used Car Dealership)
Car Wash/Detailing
Educated Car Wash
3735 State St., 687-8800, educatedcarwash.com
First off, this place has a gift shop and some of the most consistently low-priced gasoline pumps around. And while these two things would sweeten any car-washing setup to potentially award-winning levels, at Educated they simply sweeten the pot on what is already an aces operation: a 100 percent hand-washed service, bio-degradable soaps, lamb's wool washing mitts, tasty and quick eating options nearby, and a mind-blowing pace of service by the dudes washing your car. They attack it as a team and get it done quick. It can actually be enjoyable to watch.

Finalist: Fairview Car Wash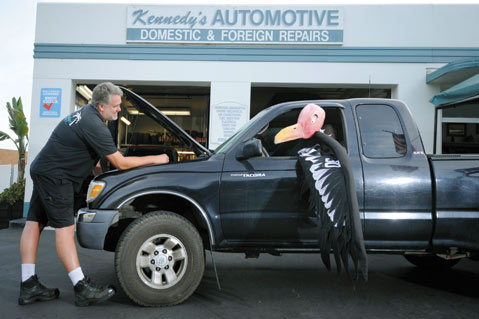 By Paul Wellman