Nail Salon
Aqua Nail Bar
3455 State St., 687-8483, aquanailbar.com
Claudia Cordova and her parents opened Aqua exactly 10 years ago, and this year marks the ninth time they have been #1 with our readers. And while all-natural manicures and pedicures are their primary draw, they also have a full menu of spa services that, starting this month, will be featuring their own line of skin-care products. "We have a philosophy where we won't use anything that is carcinogenic to our employees or our clients, but we have had a hard time finding products that meet those standards, so we have developed our own. We are pretty excited about it," beams Claudia.
FINALIST: ANGELS NAIL & SPA
Barber Shop
Richie's Barber Shop
1187 Coast Village Rd., 845-9701, richiesbarbershopsb.com
It has been five years since Richie flew the coop from Montecito Barbers and made good on a longtime dream to run his own barber shop, and things couldn't be better. His flagship space is a slick and polished little number that oozes fine man-cave style with exposed brick walls, black leather couches, and good-looking employees and customers. More telling is the fact that he has grown from being a one-man band to a shop with four chairs and seven barbers working for him, as well as having an "annex" location in downtown S.B. inside the men's clothing boutique Wolf's Head. Offering straight-razor shaves and hot-towel wipe-downs in addition to their cuts and trims, Richie's is, as the man himself says, "a classic barber shop that gives a classic haircut experience."
FINALIST: MONTECITO BARBERS
Hair Salon
Darin Jon Studio
1428 Chapala St., 962-1884, darinjonstudio.com
People become incredibly attached to a good hair salon when they find one. When done right, they are much more than just a place to have your hair cut, colored, or styled. They are a living, breathing social scene that cares about you, caters to you, and sends you home looking like a movie star. Darin Jon and his team have perfected this recipe and then some. His in-house "Protégé" program takes freshly minted cosmetologists and guides them through an eight- to 10-month training period, where they take their established skill sets to even higher levels while working on Darin Jon clients at a reduced rate.
FINALIST: WALTER CLAUDIO SALON SPA
Day Spa • Place To Get a Facial
Cielo Spa Boutique
1725 State St., Ste. C, 687-8979, cielospasb.com
"We never win," exclaims owner Roxanne Zbinden, a born-and-raised S.B. native. "I know we do a great job, but this is certainly a pleasant surprise." This coming January will mark 10 years in business for Zbinden and her crew. Located in a "cozy three-bedroom cottage," her by-appointment-only spa boutique does massage, facials, salt scrubs, waxing, and much more, all of it with a commitment to giving clients the time, space, and pace that they need. "The most customers we will ever have here at once is four," explains Zbinden of the spa, which features a couples room. "This allows us to give everyone the personal attention they deserve."
FINALISTS: FLOAT LUXURY SPA (DAY SPA)
SKIN DEEP (Place to Get a FACIAL)
Medical Spa
Evolutions Medical & Day Spa
350 Chapala St., Ste. 103, 576-7214, evolutionsmedicalspa.com
Botox, tattoo removal, platelet-rich plasma injections, and hair-loss correction are but a few of the many services Evolutions' Dr. Terry Perkins and his staff offer. With over three decades of experience ​— ​Dr. Perkins was one of the first doctors to help get Botox approved for cosmetic use ​— ​you can rest assured that you are in good hands with Evolutions.
FINALIST: THE G SPA
Thrift Store
Alpha Thrift Stores
Many locations, alphasb.org/thrift-stores
From couches and cutlery to clothes and computers and everything in between, any one of the three Alpha Thrift locations has what you need (albeit in a slightly used form) with a price tag you will like. Daily deals make things even sweeter for the savvy shopper. And the karma points are high when you use Alpha, either for shopping needs or to donate your used stuffs, as they are a money-making wing for the Alpha Resource Center of Santa Barbara, an agency that provides critical support and services for developmentally disabled children and adults.
FINALIST: GOODWILL
Consignment Store
Jessica's Fine Consignment
2008 De la Vina St., 687-2755, jessicaconsignment.com
Growing up with five sisters, Jessica Cashman learned the many tricks and upsides of the secondhand clothing hustle early, a skill set that has served her well over the past 26 years of running her namesake consignment shop. "I have been in this game from the time I was a little girl," laughs Cashman. With a self-described "super comfortable girls' club type of feel," Jessica's Fine Consignment has a regularly rotating collection of assorted designer clothes, high-end shoes and handbags, casual beach styles, and a whole lot more, depending on who is looking to turn their closet contents into cash. Insider tip: The back sale rack changes every week.
FINALIST: THE CLOSET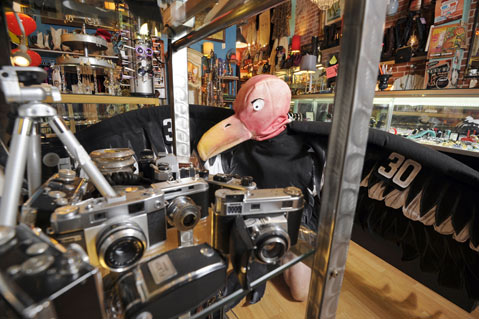 By Paul Wellman