Gallery
Sullivan Goss, An American Gallery
7 E. Anapamu St., 730-1460, sullivangoss.com
For the past three decades, Sullivan Goss has been both presenting and representing some of the biggest and brightest from the American art universe spanning the last three centuries. Led by its namesake owner, Frank Goss, the gallery has amassed a celebrated collection of American-made paintings, sculptures, drawings, and watercolors. Its public exhibitions, some 20 of them a year, run the gamut from hyper-local solo shows to internationally noted historical affairs and everything in between.
Finalist: Museum of Contemporary Art Santa Barbara
Dance Club
Wildcat Lounge
15 W. Ortega St., 962-7970, wildcatlounge.com
As the night stretches out toward tomorrow, the Wildcat invariably heats up: whirling lights, deejays, thumping beats, scantily clad go-go dancers, plush red-pleather booths, a smoke-friendly back patio, and a dance floor that's always at the epicenter of the action. For the ninth year in a row, the affectionately named "Shitty Kitty" is our readers' pick for grooving, moving, and gyrating the night away. Visit on a Sunday night, and our town's most consistent weekly party will be popping off as the club hosts Gay Night, an occasion that, over the years, has grown to include many bar/restaurant-industry workers and assorted cohorts looking to have some true fun before sleeping in on Monday morning.
Finalist: EOS Lounge
Museum
Santa Barbara Museum of Art
1130 State St., 963-4364, sbma.net
Located prominently in the heart of downtown Santa Barbara, our Museum of Art lets visitors and citizens alike know that the arts are at the forefront of life here on the South Coast. We take this stuff seriously. Home to more than 5,000 years of human creativity, the museum balances a robust permanent collection of, among other things, contemporary American painting and photography, 19th- and 20th-century American and European art, and the antiquities of Asia, especially China, with a commitment to traveling international exhibits and public educational outreach. "We look forward to continuing this mission in 2016 as the museum celebrates its 75th anniversary and begins a renovation project that not only addresses critical needs but also increases gallery space and improves the visitor experience," says SBMA Director and CEO Larry Feinberg.
Finalist: Santa Barbara Museum of Natural History
Dance Company
State Street Ballet
2285 Las Positas Rd., 563-3262, statestreetballet.com
Fresh off a nine-week tour through China with 34 performances in 24 cities and already starting to gear up for the company's annual Nutcracker shows, State Street Ballet Associate Artistic Director Leila Drake Fossek was noticeably pleased with the dance company's win this year. "It is certainly good news to come home to," she beamed before quickly pointing out that the support from the performing-arts community at large here in S.B., such as the S.B. Symphony and the Choral Society, are a big reason for State Street's success. "We couldn't do it without our collaborating partners," said Drake Fossek. "And, of course, the people of Santa Barbara voting for us is great. I mean, that's our audience."
Finalist: Santa Barbara Dance Arts
Theater Company
Ensemble Theatre Company
33 W. Victoria St., 965-5400, ensembletheatre.com
Upon moving into their new digs at the much renovated Victoria Theatre just two years ago ​— ​it's even called the New Vic now ​— ​the Ensemble Theatre Company tackled everything from Metamorphoses and Amadeus to Tom Waits's Woyzeck and this fall's Sweeney Todd with what Executive Artistic Director Jonathan Fox describes as "a dedication to eclectic productions that often push the envelope." This approach has, once again, assured the professional company unwavering support from our readership. And already they are looking tough to beat next year, as well, with the West Coast premiere of Wendy MacLeod's comedy Women in Jeopardy this December and I Am My Own Wife and Bad Jews on the stage early in 2016.
Finalist: out of the Box
Classical Ensemble
Santa Barbara Symphony
1330 State St., Ste.102, 898-9386, thesymphony.org
Under maestro Nir Kabaretti, the Santa Barbara Symphony has become the bridge it was always destined to be between our community and the international music scene. Attracting world-class soloists like Ingrid Fliter, André Watts, and Lynn Harrell is only part of the picture; the rest is the dynamic and adventurous programming ​— ​who can forget Ted Atkatz and the Rouse Percussion Concerto with its dueling trap sets? ​— ​and the extraordinary devotion this orchestra shows to its audience. Whether that's the lively and informative preconcert talks of Saïd Ramón Araïza, the Youth Symphony, or the music classroom on wheels known as the Music Van, you can be certain that whatever the S.B. Symphony presents will be of the highest quality and will represent the latest ideas about creating community engagement with art.
Finalist: Camerata Pacifica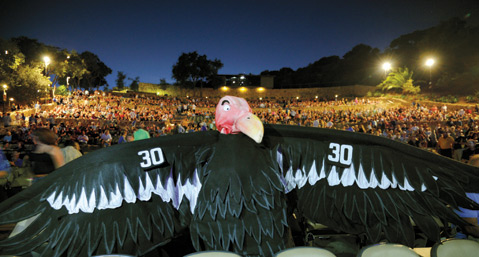 By Paul Wellman