Skateboard Shop
Church of Skatan
26 E. Gutierrez St., 899-1586, churchofskatan.com
You know you have achieved a lofty level of popularity when the Land Shark tour shouts you out to tourists as a Santa Barbara icon. Our beloved area skate shop is just such a special place. Actually ​— ​and brilliantly ​— ​located in an old church, Church of Skatan is the undisputed cultural hub of our extended skate scene. They also have a spectacular mural on their back exterior wall of the kid from Where the Wild Things Are pushing his skate on down the road. "I grew up in Carp and would come here for everything. It was the heart of the skating community," says manager/buyer Naren Porter-Kasbati. "And we still are. Every day it's about our community and all the kids who skateboard."
FINALIST: POWELL-PERALTA
Health Club
Santa Barbara Athletic Club (Swell)
Many locations, sbac.swellclubs.com
There is no shortage of ways to pursue a better version of yourself at the Santa Barbara Athletic Club. You can play in a squash league, swim laps in a heated outdoor pool, lift weights with a personal trainer, take a spinning or yoga or Pilates class, or just hammer a Muscle Up power smoothie at the in-house Earthbar. And all of this is right smack in the heart of downtown. "After recently upgrading the club, it is a great honor to be recognized by the community as the best health club in town," said Swell Athletic Clubs President Janice Lesin. "Our main goal is to create a state-of-the-art product in an environment that is supportive and caring. It is very rewarding to know that our members recognize us for that."
FINALIST: BAY CLUB
Yoga Studio
CorePower Yoga
Two locations, corepoweryoga.com
Relatively new to Santa Barbara's already well-developed yoga-studio landscape, CorePower climbed from second place in last year's readers' poll to No. 1 in only its second year of being open for business. Its centrally located State Street spot (there is also a CorePower in Goleta) has a full schedule of classes from 6 a.m.-10 p.m. every day of the week, making them an ideal fit for virtually anyone's work schedule. "Our approach is to make yoga simple and accessible for beginners and advanced practitioners alike," sums up co-owner Brandon Cox when asked why they have been able to become so popular so fast. As an added bonus, their studios both come equipped with lockers, showers, and several other spa-esque amenities.
FINALIST: YOGA SOUP
Martial Arts Studio
Martial Arts Family Fitness
122 E. Gutierrez St., 963-6233, kickboxers.com
This is the dojo that does it all. From kids' classes to adult programs to kickboxer training to "hyper-pro" courses (think high jumps, flips, twists, and weapons), owners Dave Wheaton and Melodee Meyer have built a house of high kicks that warmly exudes community and, above all else, health. They even do birthday parties. Their intensive, nine-week Kickboxers Ultimate Training class is approaching legendary status around these parts for its ability to bring out the athlete in anyone.
FINALIST: PARAGON BRAZILIAN JIU-JITSU & KICKBOXING
Dance Studio
Santa Barbara Dance Arts
531 E. Cota St., 966-5299, sbdancearts.com
For the greater part of the past decade, Alana Tillim's dance studio has been taking home top honors in this category, and guess what? They have gotten even better. Last year saw them move into a new 9,000-square-foot studio on East Cota. "It is like a Los Angeles– or New York-caliber space," says Tillim. With a focus on building confidence through dance and classes ranging from jazz, hip-hop, and contemporary to ballet, aerial, and beyond, the studio has something for everyone. "We have kids aged 2 to 72 currently enrolled in classes right now. We are a lot more than just a studio space," says Tillim gleefully.
FINALIST: GUSTAFSON DANCE
Outdoor Fitness Program
SWEAT Outdoors
1226 Santa Barbara St., 705-5790, sweatoutdoors.com
Born informally just five years ago from a desire to actively enjoy the bevy of open-air goodness that Santa Barbara has to offer, SWEAT Outdoors has fast become a reader favorite. "Fitness is a challenge for a lot of people, so any way you can make it fun, that is what we are all about," says instructor/cofounder Kayla Johnson. And so 20 times a week, Johnson, partner Jason Baker, or one of their six other trainers is leading a high-octane workout in a city park, on a trail in the hills, or at the beach — maybe even in the water. The equipment-light, hour-long sessions in the sunshine have really struck a chord with Santa Barbarians, but what will happen if El Niño rages this winter? "That's not a problem. We embrace it all," says Johnson. "We are a rain-or-shine company."
FINALIST: JENNY SCHATZLE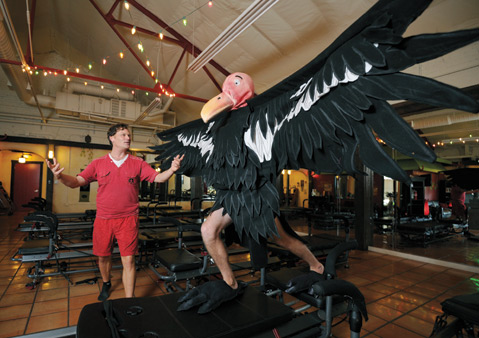 By Paul Wellman