My Dogs,
Lick those chops, and ready your begging game because this town takes the fine art of eating seriously. In fact, so plentiful and powerfully delicious are the options in this fabled culinary landscape that Dot and I have begun to growl at each other about what places are the best of the best for our favorite chowhounds to dine at when they are in town. Pack problems aside, you won't be disappointed if you wind up at any of these spots.
I've always had a bit of a drool problem when it comes to potatoes, so the discovery of Spudnuts has been sublime for this Midwestern pup. A good day always starts with a good doughnut, but a great day needs to start with a Spudnuts doughnut, all of which are made with potato flour. Not a doughnut dog? Trot over to Super Cucas for a breakfast burrito made bigger than some Chihuahuas. It's okay if it takes a while and you don't get there until lunch, because their regular burritos are just as belly-busting and delicious. Not into doughnuts or burritos? (Are you even alive? Just kidding­—my buddy Danger Dog can't eat the stuff, either.) It's no problem as Cajun Kitchen has something on the menu for everyone, from beignets and waffles to jambalaya, cornbread, and gumbo to traditional egg dishes.
It feels and smells like a visit to a fresh farm stand back home in Ohio every time I venture to the bottom of Milpas Street. Tri-County Produce is a green grocer mecca with the informal feel of a quiet country road and a stunning ocean view. My tail wags every time I see owner John Dixon on the floor, ringing up customers and bagging up their biscuits. When I need a broader variety of health-conscious food, I make my way to Lazy Acres on the Mesa and let my inner hippie howl. This place is insanely popular with Australian shepherds and border collie types, as well as some of the prettiest pit bulls I've seen.
As for the standard Dug Daug staples of pizza, burgers, steak, and fried seafood, well, Santa Barbara does not disappoint. The double charburgers with grilled onions and avocado from The Habit are the type of thing you beg all night for and even consider learning a new trick to encourage your human to share with you. They are that good. For steak, it is always the Hawaiian shirts and dimly lit salad-bar ambiance at Chuck's that I prefer, licking my chops over an 18-oz., center-cut T-bone.
My pizza problem gets resolved when I find someone with opposable thumbs and make them call Rusty's to order up a delicious pie and have it brought to our door. The Santa Barbara original has been around since 1969, so they know what they are doing — from creation to the delivery.
And then there is Brophy Bros. I learned long ago, while on vacation along the sandy shores of Cape Cod, that the only surefire way to find good seafood is to head to the harbor. Three thousand miles and many years removed from that lesson, and the truth remains the same here on an entirely different ocean. With a big view of the boats, the sea, the pier, and all of downtown Santa Barbara and the mountains beyond, Brophy's is the place to park whether you are looking for a quick cup of clam chowder, some fish 'n' chips, or a memorable white sea bass fillet with a green tomatillo sauce. Prefer to be the master of your seafood creations? Just walk a few doors down from Brophy's, and check out Brian Colgate and his crew at the Santa Barbara Fish Market for the freshest fruits of the sea imaginable. You can't go wrong when the fishing boats are closer than where your human parked the car.
That's it for my Ruff Guide to grubbing in paradise.
Dot will bark at you next with her preferred chow spots.
Bone appetit, Dug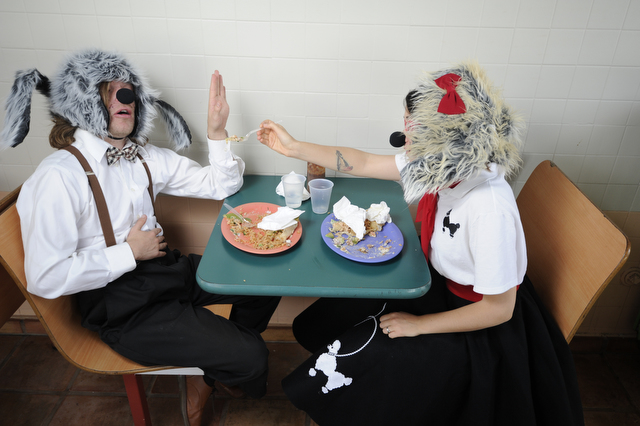 By Paul Wellman