Living
For the Birds
Homes and Baths for the Avian Set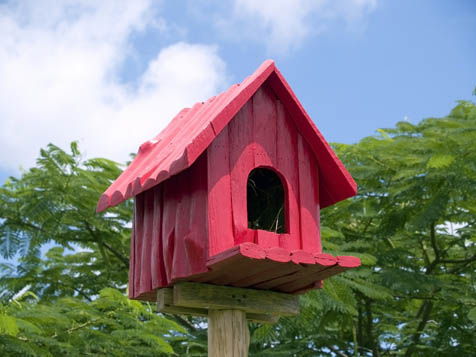 Birdhouses come in as many architectural styles as human houses, from English Tudor to Spanish Revival, as well as rustic barns and thatched roof cottages. They definitely add flair to the garden, but do they actually attract the feathered inhabitants they are designed for? The answer is that most birds that we see in our urban gardens don't nest in anything resembling a birdhouse. The few that normally nest in cavities in trees (originally created by a now-vacant woodpecker) may find a birdhouse to their liking if it has a hole of the right diameter and is situated in a safe spot. These include a couple of European transplants-house finches and starlings. These two species have learned to cohabit with people in the most urban settings. If you live close to more natural types of habitat-chaparral, creek bottoms, or oak woodlands-you may have better luck with some of the native species in our area. Northern flicker, ash-throated flycatcher, western bluebird, mountain chickadee, plain titmouse, white-breasted nuthatch, and Bewick's wren are among those that could be enticed to share your space. Each will have its own requirements for hole size and mounting height. Many prefer to make their nests several to many feet off the ground. Chickadees, nuthatches, and some wrens will find holes 1 inch in diameter to their liking, while bluebirds prefer theirs a little larger-1½ inches. Mountain bluebirds will find a hole 1¹ inches to their liking (picky, picky!). Information about specific birds and their preferences can be found at spruce.net/birds/nesting.
Siting the birdhouse is just as important as the size. Mount it on a metal pole or hang it from a tree branch with slender wire so that predators such as raccoons and cats can't climb up or down to terrorize the residents. Most birds will want a quiet place without too much traffic from people, pets, and other denizens. And facing the hole to the south or east will avoid having the prevailing storms beating at the door. Most birds will prefer some shade so that the nest doesn't heat up too much and making them watertight will also ensure a safe haven. If you are lucky enough to attract a new feathered family one year, you will be happy you included one side that can be easily removed to clean out the old nest and make it available again next season. Migrant birds will be arriving as early as late January, so be ready.
Even if you don't coax any birds to mate and raise their families in your garden, you can certainly offer some refreshment. Birdbaths come in as many styles as there are craftspeople, too. The cast concrete pillar with shallow dish is a classic, of course, but there are many more to choose from. Sculptural metal stands supporting glazed ceramic plates, decorative bowls hanging from chains or weathered stones that have been routed out will all attract birds for a sip or a bath. The first rule of birdbaths is to keep them filled and clean. Once members of your neighborhood flock find their mini-water world, they will come back again and again and you wouldn't want to confuse or disappoint them. Birds bathe not only to cool off in the summer, but to keep their feathers clean and lofty. A clean bird is a well-insulated bird, so don't stint on the water in the winter.
Almost any water-tight vessel will do. It should be only 2 to 3 inches deep with very gradually sloping sides. Birdbaths can get funky pretty quickly if they are not routinely cleaned. A regular blast of the hose will usually suffice, but an occasional scrubbing with a brush will keep them looking ornamental and ensure that no mosquitoes have begun breeding. Place the birdbath almost anywhere, but you may find that it is visited more often if it is near a ready source of cover such as trees and shrubs. Birds also like running water, so shallow fountains with dripping or spraying action can be a center of attention among the avian set. Should you live in one of the zones that sees freezing temperatures in winter, be sure to break the ice daily. There are even specially made heating elements that will keep the water just above freezing (no bird hot tubs, please). A birdhouse or birdbath (or two) can add another element of style to your garden, and it just might prove inviting to your feathered friends.