Best Of
Caffeine to Cocktails
Best of 2008
Iced Mocha
Santa Barbara Roasting Company 321 Motor Wy., 962-0320; 607 Paseo Nuevo, 962-2070
Owner Corey Russell is keenly appreciative of the honor, mostly because it took the coffee shop folks a year with the help of a big Los Angeles company to bring the recipe into focus and get it to taste the way they wanted it. "Mostly, it's the high milk fat content in the recipe we use. It's the difference between tasting skim milk and the real thing," he explained. It's a good seller most of the time, "but it's our number-one seller when the temperature climbs over 80," Russell said. "Some people just don't like hot coffee."
FINALIST
Daily Grind Coffee & Tea Station
Martini
Restaurant more than 25 Years Old
Neighborhood Bar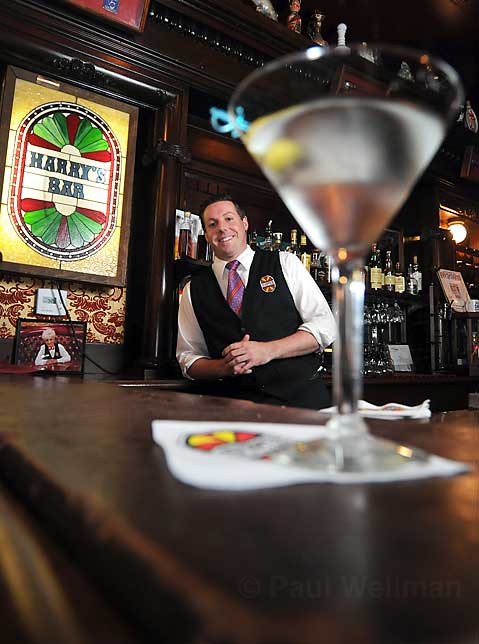 Harry's Plaza Cafe 3313 State St., 687-2800
"We're very excited," said Harry's general manager Kevin Hebert. "Of course we're excited to win any awards, but this is really great. I think the main ingredients to our success are great service, great location, and great food." Then there is the restaurant's well-earned reputation for big, stiff drinks, Hebert reminds us, adding that the martini-and they have a big variety of those-is the number-one mixed drink, followed by the Old Fashioned. With more than 40 years of experience behind them, they can well afford the old-fashioned labels you look for in a libation as well as a neighborhood watering hole, strength, dependability, and a nice Omaha sandwich to boot.
FINALISTS
Martini: Blue Agave
Restaurant more than 25 Years Old: Joe's Cafe
Neighborhood Bar: Elsie's
Tea Selection
Vices & Spices from Around the World 3558 State St., 687-7196
"I think this is the second year in a row we've won," said Blue Booth who co-owns the 33-year-old business with Henry Wildenborg. "I'm very happy. The thing I want to point out is that we sell 90 different types of tea. And they aren't very expensive. Our most expensive ones cost about 35 cents a cup, but most of them cost about 15 cents. Tea is a very good value. I started this business when I was 21, and now both of my kids work here, too. I'm very happy the readers voted for us."
FINALIST
Coffee Bean & Tea Leaf
S.B. County Winery Red Wine
Place for Wine Tasting
Sunstone Vineyards & Winery 125 N. Refugio Rd., Santa Ynez, 688-9463
"We're very honored to be nominated for both awards," said Ashley Peters, who, with her sister Brittany Rice, run the winery their parents first planted in 1989. "The best part is that our wines are 100 percent organic, so I think people feel good about them. Besides, this place is so beautiful," she said. Though they are known for their merlot, Peters believes that the wine called Eros, a blend of merlot, cabernet franc, and cabernet sauvignon is growing popular daily, too. "And I'm crazy about the syrah," said Peters, for whom pride of place is matched by good taste too.
FINALISTS
S.B. County Winery Red Wine: Firestone Vineyard
Place for Wine Tasting: Wine Cask
Happy Hour
S.B. County Brewery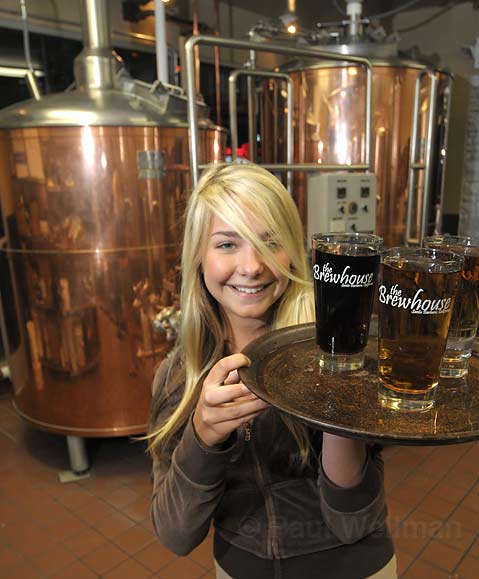 Brewhouse 229 W. Montecito St., 884-4664
Here's a happy happenstance: readers picked the best brewery, which just happens to serve beer at the place with the best happy hour. Coincidence? Happy hour is every day of the week from 4-6 p.m. and includes half-price pints and big deals on wine and well drinks, which this merry establishment also serves. That's not enough? Well there are at least eight menu items under $6, which means you can get a gourmet grog and gruel for such a deal.
FINALISTS
Happy Hour: Aloha Sharkeez
S.B. County Brewery: Firestone Walker Brewing Company
S.B. County Brewed Beer
Firestone Walker Double Barrel Ale 620 Mcmurry Rd., Buellton, 686-1557
If you've never been, you owe yourself a trip to this little brewery/pub right off the 101 in Buellton. Though most of the real brewing gets done in Paso Robles, this beautiful converted warehouse space offers tasting sets of beer and probably the best pub food in Southern California. With legendary Adam Firestone presiding, the family that brought widespread winemaking respectability to the valley proves itself more than capable of producing a golden brew that the readers believe sets the standard.
FINALIST
Santa Barbara Brewing Company Santa Barbara Blonde
Coffee House
Daily Grind Coffee & Tea Station 2001 De la Vina St., 687-4966
It's a big corner lot that used to be a major gas station with a repair shop back in the day. Of course, now it's a coffee shop instead. But this one immediately is identifiable as a cool neighborhood hang-out. With big menus full of specialty drinks, pastries galore, and a stock of sandwiches, it's clearly a one-stop refueling center. The best part, though, is how comfortable the old gas station turned beanery is-on a bright and sunny day, it's full of chattering friends, and when it's gray outside, they serve high-test caffeine to perk up your nerves.
FINALIST
Santa Barbara Roasting Company
Margarita
Carlito's Cafe y Cantina 1324 State St., 962-7117
Where better to take in the golden (tinged with green) libation that not only fuels the Fiesta economy but defines the high life in a town near the ocean and soaked in Mexican heritage, history, and culture. The Lopez family basically transformed a site that was once a hamburger stand for teens cruising the 1960s and made it into a casually posh launching spot for folks headed off to movies or advanced forms of live culture at the magical Arlington Theatre. Carlito's-which should be as famed for their sauces as their sauce-keeps the long-developed recipe a secret, but generously serves up their reader-approved festive atmosphere in a salt-encrusted glass.
FINALIST
El Paseo Restaurant
Stiffest Drinks
Joe's Cafe 536 State St., 966-4638
"I guess you could call it a tradition," said Joe's manager Giuseppe Ricci, "but really, the strong drinks are just something we normally do, and we've been doing it so long." Long enough for at least three generations of Santa Barbarians to nod knowingly when the terms "Joe's" and "drinks" are mentioned in the same boozy breath. The best sellers reflect that old-school charm: "We sell a lot of martinis and a lot of margaritas," said Ricci. And that's just what they normally do.
FINALIST
Harry's Plaza Cafe
S.B. County Winery White Wine
Firestone Vineyard 5000 Zaca Station Rd., Los Olivos, 688-3940
"It's quite an honor," said Chad Munsey, sommelier and director of operations at Firestone Winery, the brand that put the Santa Ynez Valley on the oenophilic map. "It's probable they are voting for either our sauvignon blanc or the riesling," he explained, adding that even though the winery was sold last year and a lot of the top management changed hands, most of the production people remain the same. "But I think the main thing the readers are responding to is our consistency. Of course this is a great piece of property with great vines, and winemaker Kevin Willenborg does a great job, but I also think that people have come to expect a certain level of quality that we are doing our best to preserve. We put almost a million dollars into the winery and we want it to stay the best."
FINALIST
Sanford Winery & Vineyards
Beer Selection on Tap
Zodo's Bowling & Beyond 5925 Calle Real, Goleta, 967-0128
It's a bowling alley with a bar and restaurant with a Jetsons' sense of nostalgia built right into the walls. The bar itself serves more than 40 beers on tap and there are happy hours twice a day with discounted drinks and tons of cheap pub grub. It's strikingly hard to dislike a sport that gets better with drinking, and this bar never spares on variety.
FINALIST
Brewhouse
Restaurant Wine List
Wine Cask 813 Anacapa St., 966-9463
Charlie Rosenson's not sure this is the best wine list in all of California, but he might just be modest. "Besides this fine award, we were just awarded one of the best 13 wine lists in the state from Wine Spectator," he said. Maybe that's because the restaurant long associated with the wine store has a cellar with 2,500 wines and lots of "verticals," meaning the same wine in different vintages. "We also have a warehouse of wine as well," he said. "We have a plethora." With his brother, owner Bernard, the Rosenson brothers are trying to keep the reputation of the restaurant they bought pristine. So far, the readers think they are having a very good year.
FINALIST
bouchon