Books
Young Adult Novels Set at UCSB
Soterians Author Jacquelyn Wheeler Recasts Undergrad Life with a Sci-Fi Twist
"I took a deep breath and summoned fire in my core. It rose into my chest, spreading an intense heat throughout my body until it erupted from my hands as a fireball that flew straight at the truck's rear tire."
These words end the short prologue of Rising Shadow, the first of five novels in the Soterians Series by UCSB alumna Jacquelyn Wheeler. Aimed at young adults, the book follows Ashlyn Woods, a transfer student to UCSB who is told by her professor that she is a Soterian, a person who gains superhuman powers only when the balance of Good and Evil in the world shifts too far in Evil's favor. And she has just discovered she can fly.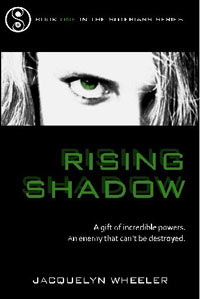 The author, who studied geography and trained as a technical writer, makes no bones about the fact that she uses language in an unpretentious, not-particularly-literary manner. "I consider myself a storyteller, not an author," she writes in her blog. "If you like to savor the words in a book as if you were eating an especially fine meal, you'll be reaching for the salt when you read my book." However, she's fast: The idea for the novel "dropped out of the sky" on September 1, 2008, she says, and a year later, Rising Shadow was "in my hands, all printed and looking ever so lovely."
Wheeler introduces us to Ashlyn just before she transfers to UCSB, sketching out Ashlyn's disappointment with her current job and personal life, her anticipation of change, and her attempts to transform herself as she adjusts to a new town, new classes, and new people. "I wanted to include the message that you are empowered to start your life over at any time," Wheeler explained during a recent interview conducted via email. "That's why Ashlyn goes to UCSB as a transfer student instead of straight out of high school."
Wheeler, who graduated in 1991, said she set the novel at UCSB because it was "such a powerful and transformational experience for me, it seemed like the ideal backdrop for the story." She describes the university's easy-going atmosphere, fascinating classes, and interesting population as "the perfect environment for broadening my horizons and reinventing myself." In Rising Shadow, "Ashlyn and her friends go through a much more blatant transformation, but I think the idea of going off to college and discovering your hidden talents appeals to most young adults."
Wheeler also hopes to use the series of novels to encourage more volunteerism. "The characters learn that by working for a cause that's greater than their own personal gain, they grow and develop in magnificent ways." She wants to send people the message that they empower themselves through actions to better the world around them. "[Y]ou don't have to be born with special powers to be extraordinary," she said. "Giving your time and energy to a good cause is incredibly fulfilling and helps you keep your priorities straight."
To that end, she donates 20 percent of all her royalties to charity and has made the novel free for download to spread readership. "Once I let go of the idea that sales were the only measure of success and opened up to the idea of just getting the story out there to whoever wanted it," she said, "I felt as if a weight had been lifted from my shoulders." Wheeler's Web site lists the various charities that receive her donations, including Santa Barbara-based Direct Relief.
4•1•1
Rising Shadow is available at Amazon and can also be downloaded from Wheeler's Web site www.soterians.com where you can also find more information about the books and links to bulletin boards and her suggested charities.