Courts & Crime
Jail Put on Lockdown After Stabbing
Third Major Violent Incident in Recent Weeks
The Santa Barbara Sheriff's Department is still investigating a stabbing at Santa Barbara County Jail last Friday morning, the third major violent incident in the last few weeks.
The stabbing, which left an inmate with "pretty significant" injuries that required a trip to the hospital and stitches, led to a weekend lockdown of the facility, said a department spokesperson. Authorities still haven't determined who was behind the stabbing and have not recovered the weapon.
The stabbing came in the midst of a melee in one of the jail's housing units. Several of the 18 people in the unit were fighting, and during the course of the fight the man was stabbed. Investigators are "still interviewing people trying to determine who saw what," department spokesperson Drew Sugars said.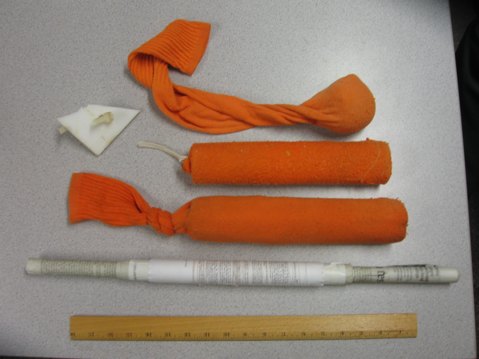 On March 16, two inmates, allegedly Roberto Barrera and Arturo Pimentel, jumped a third in the shower and severely beat him. The two were arrested and charges — assault with force likely to produce great bodily injury and battery with great bodily injury — have been recommended to the DA's office. According to previous news accounts, Barrera is facing a murder charge from a case in Buellton, while Pimentel was arrested in late 2009 on suspicion of having a concealed dagger and violating felony parole.
A couple days after the March 16 incident, one inmate "stomped" another, leaving him with broken bones, injuries which required a trip to the hospital. Sugars had no other information on that attack.
Because of the severity of the most recent attack and the escalation of violent incidents in recent weeks, the jail went on lockdown shortly after the fight Friday morning. The entire jail was searched, as custody staff spent 14 hours Saturday and 14 hours on Sunday doing strip searches of inmates and searches of the cells. No drugs were found, but a variety of weapons, from sharpened Plexiglass to a very tightly rolled newspaper used as a club, were confiscated. While a lockdown of the entire jail is not common, a lockdown of portions of the jail is more normal.
Sugars said the jail has a complex classification system which tries to keep enemies — whether they be rival gang members or individuals with bad blood between them — away from one another. "It's a constant chess move of keeping people away from each other," he said.
The number of assaults in jail has remained pretty consistent over the years, Sugars said, but the severity of the assaults is increasing. The makeup of inmates has changed in recent years given the jail's overcrowding. Because many misdemeanor defendants are being released, the jail is often left with people accused of serious offenses and many defendants who have been to state prison in the past. Roughly 10 percent of the jail's population are inmates currently facing murder or attempted murder charges.