Briefs
Sheriff's Department Unveils New Rapid Decontamination System
Uses Micro-Mist Compound to Eradicate Potential Biohazards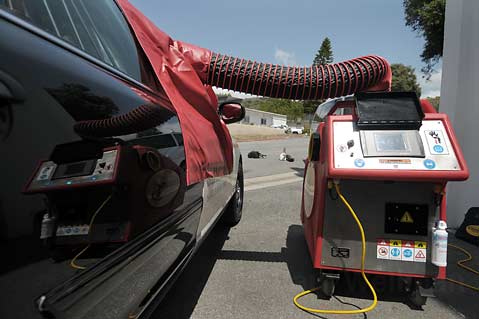 A state of the art sanitization system was unveiled by the County Sheriff's Department on Wednesday, April 14. The unit is designed to be used in areas that have been potentially contaminated with biohazards including, among other, influenza, hepatitis C, H1N1, tuberculosis, and even toxic mold. Although it will be kept at the Santa Barbara County Jail where it's reportedly expected to get the most use, the portable equipment will be available to other county departments. It was purchased using a $25,000 Homeland Security Grant.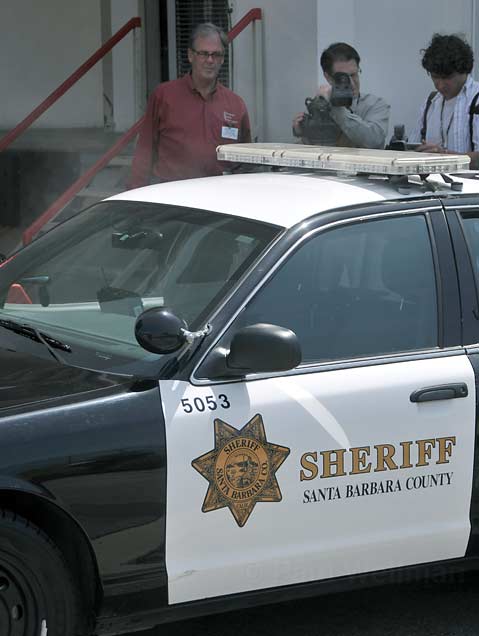 The exhibit on Wednesday featured a ZIMEK system, no bigger than a household gas-powered generator, hooked up to a Sheriff's Department cruiser. The device filled the cruiser with a micro-mist treatment that poured in through the passenger window, and after three minutes the car was supposedly completely decontaminated. Jim Cleary, a representative for vendor JTC & Associates said, "In three minutes a car this size is ready for use. For larger spaces such as a room, the square footage is entered into the onboard computer on the ZIMEK system, and it calculates how long the treatment will take." Cleary went on to explain that "spray and wipe" methods of cleaning are not only more time consuming, but the disinfectants found in these products are unable to access "microscopic surface trenches." The micro-mist compound, say company representatives, is a vapor whose particles are so small that they are able to enter such trenches, as well as leave behind a non-hazardous protective layer to prevent bacteria growth.
Sergeant Ben Castaniero, Jail Maintenance and Supply supervisor, was impressed with the system, and characterized the new method of disinfecting a potentially hazardous area as being very cost efficient. The amount of materials his department goes through, he said, as well as the man hours involved can now be done with a "hands off" approach that takes no more than a few minutes. Larger areas such as interrogation or operating rooms have many different surfaces and crevices that can be overlooked by traditional disinfecting methods, he said.