Briefs
Capps, Hager, and Watson Vie for Votes
23rd Congressional District Hopefuls Finally Face Off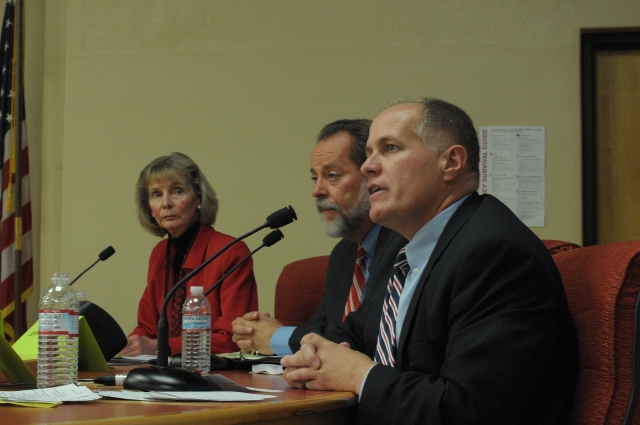 With Election Day around the bend, three candidates for the 23rd Congressional District met for their first and only public debate Saturday afternoon. Democrat Representative Lois Capps faced her challengers, Republican Tom Watson and Independent John Hager, in a Santa Barbara City College lecture hall over capacity with hundreds of attendees. The three candidates delivered spirited talk about the economy, environment, education, health care, and business to a buzzing crowd sporting campaign T-shirts and and gripping homemade signs.
The 12-year incumbent Capps is campaigning for her seventh term. In Congress, she championed Wall Street reform and the health-care bill, she said. "We've come a long way since George Bush was in office," she said.
Hager, owner of a local law firm and unique contender to the race, pledges to represent the district without pressure from partisan platforms. He will not be influenced by campaign finances, he said, and does not accept donations over $250.
"We're in the middle of a bad economy because the parties brought us here," he said. "We have a deep hole of debt that even our grandchildren are not going to be able to climb out of."
Retired naval officer Watson described himself as "a concerned father and husband." He runs a campaign not about party, but policy, he said. "I've never been as concerned for the future of our country as I am right now," Watson said, "because I believe we're being destroyed from within."
Both Hager and Watson criticized Capps for her legislative history. "I feel that we're going down a tremendously bad path," Watson said, "and we don't have the kind of representation we deserve here in our district."
Hager asserted that a representative should be able to face public scrutiny and questions. Hager's aggressive approach was distinct throughout the debate, and he often put Capps and Watson in the hot seat.
On the topic of business, Hager said he had to smile listening to his opponents talk about the private sector. Capps isn't a small businesswoman, and Watson's company receives millions of dollars from the federal government, Hager said. "Included within that is a 1.6-million-dollar earmark sent by Representative Capps herself," he said.
While Capps said her vote for the Wall Street bailout was infuriating, she said she had to do it because economists told Congress it had no choice. But it must be shame that justified her feelings, Hager said, "because she voted for the very laws that allowed that economic disaster to occur."
But Capps and Hager did agree on the importance of ending American's dependency on fossil fuels and investing in renewable energy. Watson disagreed, saying that the future of our competitive economy depends on access to cost-effective energy.
Watson also offered a differing opinion with the "don't ask, don't tell policy." The military's job is to be ready to defend our country, he said, and only the military itself knows how that readiness is impacted. When Hager pressed him for his personal position, Watson answered he wasn't in the military anymore.
Watson called on his naval experience again when rebutting Capps's health-care spending. When he joined the acquisition force, Watson said, he saw the area the government doesn't do so well in — "The part of the government that gives us $600 hammers and $200 screws. And that's the part Ms. Capps wants to run your health care."
The crowd also disagreed with one of Capps's statements regarding health care. Hisses and booes came her way while she discussed affordable coverage for families, striking a chord in mentioning a little girl named Madeline.
Without explaining the child, Capps said that, as a nurse, she learned to stick up for her patients. "I have taken those same skills with me to Congress," she said. "I'll be there for the consumer, for the patient, for the little guy."
Along with protecting health, Capps and Hager agreed about protecting the coastline. But Hager pointed out Capps's inconsistent position on offshore drilling, referring to her support for last year's PXP drilling project. While she defended that the project closed down several offshore operations, Hager said he didn't understand how allowing new drilling ends drilling at all.
The debate recognized no winner. The event was hosted by City College's Associated Student Senate.