Announcement
New Sheriff's Office Web Page Leads to Warrant Arrests
Citizens and Deputies Can Work Together Toward Apprehension
The Santa Barbara Sheriff's Office has a new tool on its website that is already helping deputies track down and arrest people wanted on active warrants.
The Top Ten Active Warrants web page first debuted on the Sheriff's website in November, 2010. Since that time, and despite no publicity, the page has already prompted several tips that have led to three arrests. The most recent arrest occurred on Tuesday, January 11, 2011, when a Sheriff's deputy was interviewing a woman regarding a burglary and recognized her from the Most Wanted Active Warrant page.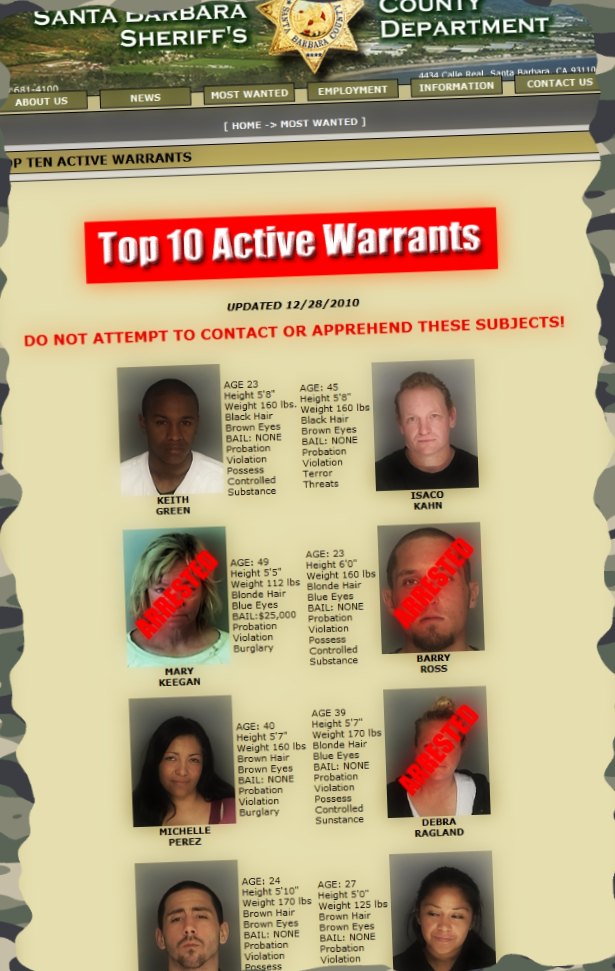 "We planned to go public with the web page after making sure it was operating properly," said Sheriff's Detective Ted Toedte who serves as the Sheriff's Felony Fugitive Extradition Officer, "We know it's a useful tool for our deputies, as the public learns about the site, we expect even more arrests."
A judge typically issues an arrest warrant for individuals who have been arrested for a crime and continually fail to show up for their court dates. In many cases the individual has several outstanding warrants; others may be probation violators who violated the terms of their probation. There are currently more than 19,700 active warrants for people in Santa Barbara County.
The Top Ten Active Warrants web page is similar to the Sheriff's Top Ten Most Wanted Fugitive web page which generates tips from the community. However, often times, the Most Wanted Fugitives have fled the area, and in some case, left the country.
"The Active Warrants" webpage is different in that a large number of these individuals are living right here among us," said Sheriff's Detective Toedte. "If someone has information that helps us, a simple phone call may guarantee justice is served."
Those interested in helping Sheriff's detectives can call (805) 683-2724 or (805) 681-4150. They can also call the Sheriff's Anonymous Tip Line at (805) 681-4171 or submit an anonymous email tip by clicking on a link at the bottom of the web page.