Briefs
UCSB's Associated Students Launch Food Bank
In Light of Tight Pockets for Many Students, AS Food Bank Aims to Alleviate Hunger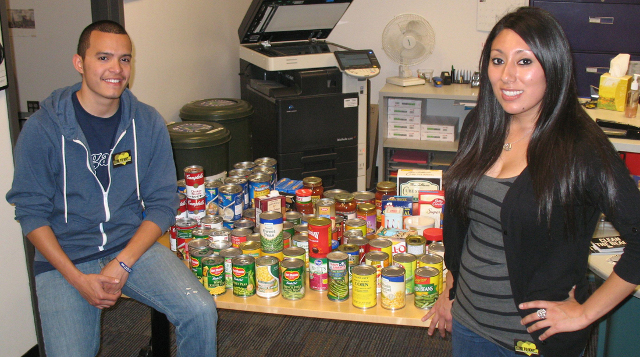 In addition to the current pressure of keeping up with courses, many UCSB students are faced with a difficult question: to eat, or not to eat. But it is not stress or vanity that has forced this Shakespearian conundrum.
"As tuition levels continue to rise, more students are forced to cut back from their daily expenses, which most often happens to be food," said Paul Monge-Rodriguez, Associated Students (AS) Student Body President. "The reported number of students who are dealing with hunger on a daily basis is rising at an alarming rate."
How serious is the problem? According to Monge-Rodriguez, of the 2,131 anonymously surveyed graduate and undergraduate students who participated at random in a Student Financial/Food Need Survey, 22.5 percent (481) find themselves skipping meals every week to save money. 50.8 percent (1,084) of the students stated that their combined income from all sources, including financial aid, scholarships, grants, and employment, is not sufficient in providing for their basic needs at UCSB.
In light of AS's findings, the university has approved establishment of a food bank. It will be open for students beginning Tuesday, April 19. Students who provide valid UCSB identification will be able to shop anonymously for nonperishable items such as canned vegetables, soup, pasta, cereal, and canned meats.
"The university recommended that we begin this way, with nonperishable items," Monge-Rodriguez said. "Once we have an efficient distribution system in place, they will consider letting us distribute items such as fresh produce, fruits, and dairy. Once we receive this approval, we will be reaching out to local organic farmers who would be willing to contribute to this cause."
Distribution days will be bi-weekly, on Tuesdays and Wednesdays 7:30 a.m. – noon and 1 – 5 p.m. The AS Food Bank will initially be staffed by volunteers; however, AS is looking for strategic partnerships to help establish two part-time jobs for students at the Food Bank. Monge-Rodriguez stated, "we are collaborating with UCSB Alumni Association which has been working very hard on a Senior Class Gift donations campaign that will help raise funds to support the AS Food Bank."
The current student plight at UCSB is echoed around the state on other UC campuses. "The AS Food Bank is one of several food distribution sites that have been opening across the UC system," noted Monge-Rodriguez. "It is no coincidence that services like these are emerging at a time when the state has severely reduced its support for public higher education and system-wide administrators continue to rely on raising tuition in order to mitigate the effects of budget cuts. Decision makers overlook the long-term social effects that these kinds of measures have on the lives of students. We have gotten to the point where a UC student must choose between having meals regularly or staying in school, and this is a grave contradiction to what the experience of a student at a world renowned research institution should be."
Anyone from the Santa Barbara area who is interested in making financial contributions to the AS Food Bank can do so online, via PayPal as.ucsb.edu/foodbank.