Announcement
SBCC Faculty Member and Program Win Statewide Diversity Award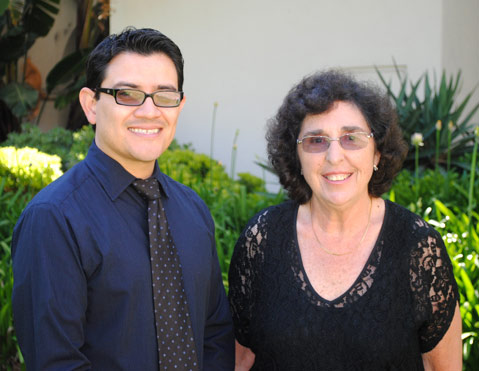 The California Community Colleges Board of Governors named Ignacio Ponce, faculty in the Santa Barbara City College's American Sign Language (ASL) Program and SBCC's Veterans Support Program as recipients in two categories for the 2011 John W. Rice Diversity and Equity Award.
Instructor Ignacio Ponce, the first full-time ASL faculty in the college's School of Modern Languages, has been responsible for the expansion of the program since his arrival in fall 2008. Previously the ASL Program offered only beginning ASL and had an average of 100 students enrolled. Today, it offers beginning to advanced ASL and has an average of 200 students enrolled.
Mr. Ponce has been instrumental in the growth of the award- winning, student-centered ASL Club and served as faculty advisor for three years. He also enhanced the three-day linguistic and cultural ASL Summer Immersion Institute in which all participants, expanded to include campus and community members, communicate only in sign language. Under his leadership and with the help of the ASL Club, SBCC has been offering a variety of events each semester, including the Deaf Panel presentations on a wide range of topics. The Deaf Panels serve as an outlet for deaf community members to voice their experiences living in a hearing world and to clarify myths and misconceptions about being deaf.
The SBCC Veterans Support Program, coordinated by Student Program Advisor Magdalena Torres,
assisted 195 full-time and part-time veteran students in the 2009-2010 academic year In October 2010, the program was recognized as one of the top 101 "Best for Vet" colleges and universities in the U.S. by Military Times EDGE magazine. SBCC was cited for its excellent financial aid, academic policies, and supportive campus culture and student services that assist veterans to make a successful transition from military to college life.
In 2009-2010, SBCC implemented new academic policies to support veterans and became a member of the Servicemembers Opportunity Colleges, a consortium of college and universities which provides
educational opportunities to servicemembers, their families, and veterans. To raise the visibility of veterans on campus, Ms. Torres coordinates a number of special events open to the college and community including Veterans Resource Day in November and Recognition of Women Veterans and Women in the Armed Services in March.
SBCC Superintendent/President Dr. Andreea Serban said, "Ignacio and Magdalena are fully dedicated to the success of our students. Their commitment to promoting opportunities for the deaf and for veterans has helped hundreds of students achieve their educational aspirations. Both ASL and the Veterans Support Program are most deserving of this prestigious statewide award for community colleges."
The John W. Rice Diversity and Equity Award was established in 2001 to honor a community college employee, district, college, or program that has made the greatest contribution towards faculty and staff diversity or student equity. The award is named in honor of former California Community Colleges Board of Governors' member John W. Rice who served on the board from 1992-2000 and was a leader, innovator, and spokesperson for equal employment opportunity and nondiscrimination in the California Community Colleges. This award is named in his behalf as a testament to his strong commitment to faculty and staff diversity, student equity, and his strong support for a multicultural learning experience for all students. His daughter Condoleezza Rice was former U.S. National Security Advisory and Secretary of State under the administration of President George W. Bush.