Briefs
Ducati of Santa Barbara Owner Wins Major Race
Carlin Dunne, 28-Year-Old Rookie, Set Course Record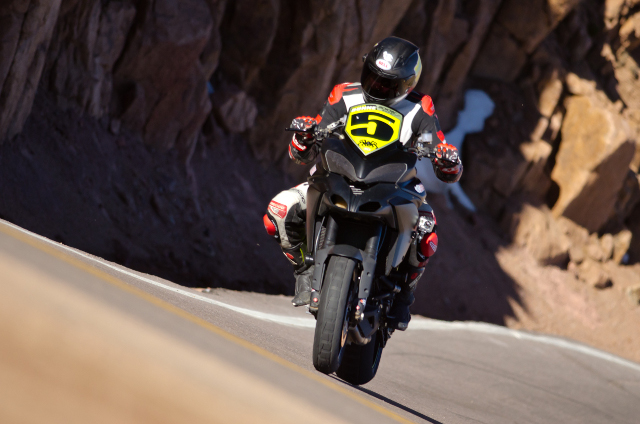 Crossing the finish line on his showroom's demo bike, Carlin Dunne, owner of Ducati of Santa Barbara, topped the time sheets at the Pikes Peak race in Colorado on June 27.
The 28-year-old rookie started strong with the holeshot (the first rider around the first turn) and finished with a time of 11:11.32 to set the course record for motorcycles. Dunne beat out seven other competitors in his class.
The Pikes Peak International Hill Climb is a 12.42-mile race that takes competitors up to 14,110 feet, where the air is thin and saps muscle strength. The mountain is known among hikers and racers alike for its unpredictable weather and a winding road of dirt, asphalt, and more dirt. "There's no safe point to crash in at Pikes Peak. You have 156 turns that could potentially kill you," Dunne said. "It's consistently inconsistent. Not a lot of traction — if you slip up for a moment, or blink, that could be all it takes to send you off a cliff."
Dunne, who started racing at 13, has been itching to compete at Pikes Peak since he first witnessed it in person four years ago. "The 89th running, this last race, is the last course that utilizes a dirt and street course," Dunne said. The mountain roads will be paved in 2012, due to environmental concerns over the gravel that washes off into ponds and wetlands every year. "I felt the essence of the race would be lost after this year, so I had to make it happen."
Much of Dunne's training was purely physical. At such a high elevation, the thin air can "wreak havoc" on competitors. Teams also had critical practice time in the three days leading up to the race. "All this is taking place, keep in mind, at about 3:30 in the morning," Dunne said. Competitors had to complete practice before the park opened to the public at 8:30 a.m.
With most teams spending tens of thousands of dollars on the event — from training to mechanics to glitzy bikes and backup bikes — the team stuck to a rigid budget just to make sure they could afford to fly out to Colorado and make it up and down the mountain. Although the team opted to use the shop's demo bike to keep costs down, they jazzed up the Multistrada 1200 in preparation for the big race. "We had some clever little tricks up our sleeves that we felt would give us an edge over those factory race bikes that have been massaged in every way possible," Dunne said. "So instead of making a fire-breathing machine, we created a motorcycle that was user-friendly, and would help us put together 156 turns, flawlessly."
And while there are "about a million and one" things to worry about, Dunne says the pitfall of many competitors is getting overwhelmed by problems on race week. And no race is without setbacks — the team's race bike blew a transmission on the third day of practice, costing them an extra $4,300 bucks. Sam Swain, the Santa Barbara team's technician, was there to ensure everything went smoothly for the big day. "That took a lot of weight off my shoulders. Being able to trust him helped me to be able to focus on the race quite a bit more," Dunne said.
Dunne and the team will be celebrating this Saturday at 5 p.m. at their location at 17 West Montecito Street. The event is open to the public and includes live music and the chance to check out the race bike.