Briefs
Ride Across America: Take 2
Fifteen-Year-Old Thomas Jessop Bikes to D.C. to Lobby for Half Homelessness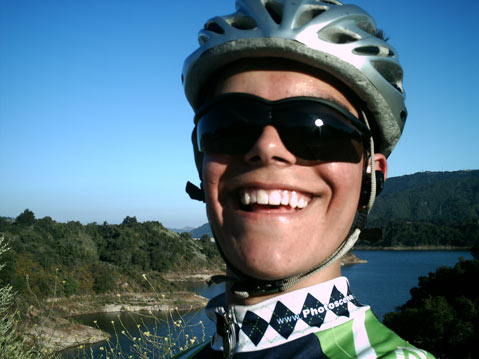 Determined 15-year-old Thomas Jessop has embarked on a journey sure to test his body and lobbying abilities for the second time. Last year, when he was 14, the young Jessop biked from Santa Barbara to Washington, D.C., to raise money to fight childhood obesity. This time, his cause is half homelessness. Being half homeless means living in your car — sometimes the default position of middle-class Americans who fail to transition well after losing homes.
Some luckier half-homeless people take part in a service called the Safe Parking Program, organized through the New Beginnings Counseling Center. The program ensures that people sleeping in their cars can park in an empty lot overnight, where they are legally exempt from police interruption. Otherwise, vehicle laws dictate that sleeping in cars is illegal.
The cause hits home for Jessop, who spent half his young life either homeless or half homeless. His father is a veteran of the U.S. Navy who suffers from post-traumatic stress disorder and is a single parent. He now lives in a converted school bus because he lost his home eight years ago. "[It] was so hard on him, it made me worry a lot," said Jessop. The cause allows a sedentary alternative to people's otherwise hectic lives, "and it means we get to stay in our community," said Jessop. I spoke with him about the trip and the cause.
Where do you get the motivation to bike so much every day for a month?
First of all, I love to ride, but it does get hard day after day. My goal is to be an Olympic athlete so I focus on what that means I have to do today. And I really don't like disappointing my coach, Doug Knox. He demands my best every day.
How has being half homeless affected your life?
It's been hard and challenging in many ways, but like they say, if it doesn't kill you, it makes you stronger; some people call me a "super kid." It is something I wish no kid in America has to experience, but I wouldn't be doing this today without it.
How long is the ride to Washington, D.C., and how will you divide it up?
Google Maps says our route is 3,573 miles. We had to split it into two route plans.
Will your dad be following you in his car again?
Actually, I'm going to be following him this time. We are going to be doing what is called motor drafting. We find it safer and much faster. And it's better training.
Tell me more about the Safe Parking Program.
The Safe Parking Program is a ground-breaking program that helps people living in their vehicles. They register people and assign a spot in a parking lot that is unused at night. It allows them to park in the same place each night from 7 p.m. to 6 a.m. It works because it is so simple, low-cost, and humane.
Will you tell the representatives in Washington, D.C., what you did to get there?
Last time I told them about the problem of the half homeless, and it was news to them. We wanted a law to force cities to have a Safe Parking Program. Representative Capps, Senator Boxer, and Senator Lieberman all suggested a carrot instead of a stick, and so we are setting up a national organization to help cities set up their own programs. So that's what I'm doing.
What is it like training with Doug Knox?
Doug is great; he's family to me. He's been actively cycle racing for more than 40 years. He knows everything and everyone that has to do with cycling. It's a great privilege to have him as my coach. Doug pushes me to be my best and teaches me how to be better.