Briefs
'Philanthrocapitalist' Teams Up to Develop Global Charity Brand
Made For Good a Catalyst for the Social Good Movement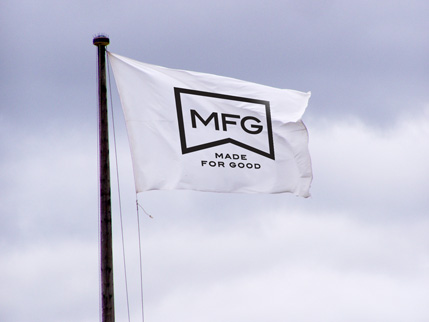 Made For Good is the newest international company to offer consumers socially conscious choices. The company, which officially launched in June, builds consumer product brands with nonprofit organizations, such as Made For Good founder Kevin Murray's Jedidiah surf wear brand, to generate proceeds to each partner's charity.
Santa Barbara resident Krista Treide is Made For Good's chief brand officer and a cofounder. Treide brings 20 years of brand development experience — her lengthy resume includes helping develop Nike's fashion line into a billion dollar business in under three years — to her role in global brand development with Made For Good. An avid traveler, Treide is responsible for securing partners in Brazil, India, and China to serve new global consumers interested in buying socially conscious products.
The Made For Good team describes the nonprofit as a consortium of brands with a quiver, created in an effort to develop long-lasting relationships with partner nonprofit organizations and to generate a recurring source of revenue for the partner organizations, Treide said. Brands Jedidiah, United Artist Network, MusiCares, Beautiful Feet, and RainTees currently comprise the company, which expects to exceed $1 million in giving back funds annually, a robust goal that Treide said the company "can hit rather quickly."
"There is a high response from nonprofit organizations to participate," Treide said. The company's long list of past collaborators includes such recognized and valuable organizations as Invisible Children and Street Angels.
Treide attributes her socially conscious outlook to a life experience that changed the way she viewed business. Following what she calls the "life-altering event" in 2006, she founded Modus, a locally based company focused on developing brands to benefit underserved communities. Shortly thereafter, Treide met Jedidiah founder Kevin Murray, and the two converged their similar-minded companies into Made For Good, along with Santa Barbara resident Andrew Winchester to oversee financial operations.
Social branding, or "philanthrocapitalism," is quickly becoming an essential element to any new business, Treide said. Just look at popular charity brands like Toms and Feed. Although the recent emergence of these companies suggests a new development in marketing, Treide and Murray's combined 13-year background in social branding allows them to "feel the responsibility of this business," giving them "permission to build this model while simultaneously cultivating the model," said Treide.
Made For Good incorporates a line item in each of its brand's financial details to direct money toward its corresponding nonprofit organization. Its unique business model differs from those that simply donate a percentage of sales profits to a nonprofit. "Our model is different, as the give-back is integrated into our entire company, from genesis to financial structure to ethos," Treide explained.
"And to be perfectly clear, our vision is not about competition," Treide said as she pointed out the Starbucks across the street from where we spoke. "Success is about collaboration. The more companies in this space, the more powerful the movement, and as a result, the greater the give."
Treide said the company's long-term goal is to help other companies develop similar embedded cause models into their approaches to business. "Every company has the means to give back inorganically," Treide said. "We want to assist in showing them how to do it properly and really help — and that it is the right thing to do."
San Diego-based Jedidiah — which is currently collaborating with nonprofit organization StandUp For Kids, a nonprofit dedicated to helping children on the streets — has assisted in international and domestic concerns, including an effort this spring that funded the construction of a new trauma recovery center for children who have escaped from the sex trafficking trade in Phnom Penh, Cambodia. (The effort occurred in conjunction with World Vision, a program that facilitates sponsoring of children worldwide.) Jedidiah also promotes local events, like San Diego band Switchfoot's BroAm concert, held this month to benefit homeless kids.
Jedidiah works with a different nonprofit organization every six months, Treide said. This coincides with Made For Good's position as an umbrella company over its brands, which enables it to work with several nonprofit organizations at a time. The power of the consortium bolsters the movement and the sister brands, Triede explained.
"Made For Good is a catalyst in communication and sharing events that talk about the social good movement," Treide said. "It will also evolve as a forum to bring people together."
As part of its launch, Made For Good partnered with MusiCares — founded in 1989 by the National Academy of Recording Arts and Sciences to support musicians affected by disaster — on an apparel collection available online and at select Kohl's and Buckle stores. Proceeds from the collection, which features limited T-shirts designed by musicians Jack Johnson, Tim McGraw, Sean Kingston, Sugarland, and Slipknot, will go directly to the MusiCares foundation. Additional bands and musicians will design special-edition T-shirts as part of the collection. The T-shirts go for $25 each.
Made For Good products and brands have a surgical distribution strategy from the high-end boutique level to mass merchants. Find various brands' products at madeforgood.com and links provided to nonprofit partners' Web sites.