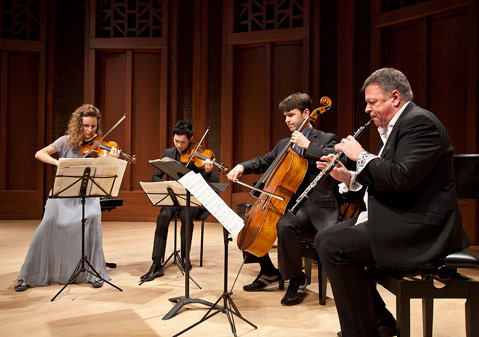 Camerata Pacifica's November program was interesting and varied; the playing was spectacular, and the group's principals performed with both familiar faces and newcomers. A great distance was traveled musically, from the early 19th century and Rossini's String Sonata No. 3 in C Major to a contemporary work, Earth, Receive an Honoured Guest (2003) by Peter Wiegold, for which the composer was present. And in the second half, the whole thing came gloriously back around to a touchstone of the standard repertoire — in this case the Piano Quintet in A Major, D. 667, "Trout" of Franz Schubert.
In her introduction to the Rossini, violinist Catherine Leonard described how 12-year-old Rossini wrote the piece as something to play alongside his father, with the father on first violin and the son on second. Making her debut with Camerata Pacifica, second violinist Caitlin Kelley thus fulfilled the youthful desire to please that's written into this warm and lively music. They were joined by Tim Eckert on double bass and Andrew Janss on cello.
The revelation of this evening came in the pairing of the 1971 piece by Elisabeth Lutyens, Driving Out the Death, Op. 81, and the Wiegold, which is based on the poem that W.H. Auden wrote to mourn the death of W.B. Yeats. Adrian Spence appeared between the Lutyens and the Wiegold to read the poem, but the focus throughout remained on the magnificent performance of oboist Nicholas Daniel. Leonard, Richard Yongjae O'Neill on viola, and Janss joined Daniel for both of these, and the entire sequence, especially Daniel's performance on the cor anglais in the Wiegold, was unforgettable.