Travel
Monaco: Not Just for the Rich and Famous
Affordable Fun Amidst One of the More Glamorous Cities on Earth
Monaco is probably most famous for the Monaco Grand Prix Formula 1 race and the Grand Casino. It is also known as a haven for the rich and famous as well as its royal family. But you don't have to be a millionaire to visit and enjoy yourself in Monaco. Here are a few ways that anyone can have some fun when visiting this glamorous European hotspot.
For those that enjoy history, check out Monaco-Ville. Also known as le rocher, Monaco-Ville is a picturesque medieval-style village with numerous attractions to visit. It offers numerous hotels, souvenir shops, and restaurants.
The Palais Princier, or Prince's Palace, offers tours every day and there are amazing views overlooking the Port and Monte-Carlo. In addition, you can watch the changing of the guard at 11:55 a.m. every day.
If you are into exotic sea life, you will want to check out the Oceanographic Museum and Aquarium. At 279 feet above sea level, it boasts one of the largest collections of marine life on the planet. More than 4,000 species of fish and 200 families of invertebrates are on display in the aquarium. You can make a day of your visit by having lunch in La Terrasse, the aquarium's restaurant.
If you want a unique touring experience, try Aquavision. Aquavision is a boat tour of Monaco via a catamaran that has windows on the floor to allow for underwater viewing of the seabed. At 11€ for adults and 8€ for kids, you'd be hard pressed for a more inexpensive family adventure.
A city renowned for Formula 1 racing would naturally have a car museum. The Princes Car Collection has various vehicles on display from the last 100 years. You will find everything from old carriages to classic and antique cards, as well as several Formula 1 racing cars.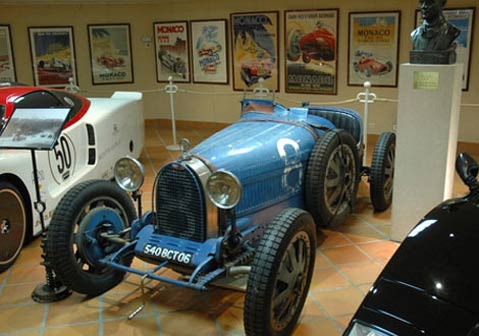 We would be remiss to mention entertainment opportunities in Monaco. If you go to during the summer, the Monte-Carlo Sporting Club features acts from around the world. Some of the artists that have performed in the past include the Beach Boys, Lionel Richie, Natalie Cole, Julio Iglesias, and many more. There is even a small casino on property for those wanting to scratch a small gambling itch. For €20 per person, this is a fantastic entertainment option.
As you can see from the above suggestions, Monaco is more than racing and gambling. There are actually many more activities available for those that have the time to take in all the sights. Monaco is not just for the rich and famous any longer.
For more travel tips and ideas, check out www.visitmonaco.com. Also see Casinoguide.com for more info.