Briefs
City Firefighters Conduct Live Training Exercises
Rookies Gain Valuable Learning Experience During Rare Opportunity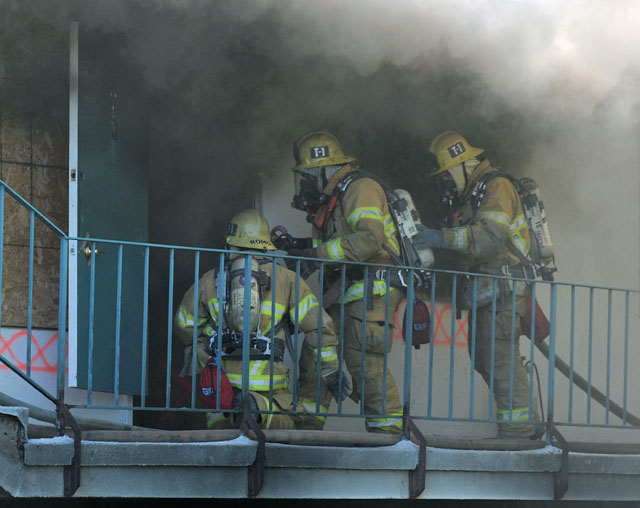 Over the next few days, the Santa Barbara City Fire Department will conduct a variety of training exercises in a 10-unit apartment building scheduled for demolition on January 16. The demo will make way for a new 54-unit affordable housing development located at 512 Bath Street, between Haley and Cota streets.
According to officials, firefighters have the rare opportunity to train in a "real life" environment, preparing them for future on-the-job encounters. Fire Captain Mike de Ponce said this is only the second time in his 20-year career that such an opportunity presented itself. "A lot of our rookie firefighters have wildland firefighting experience, so this is a chance for them to gain real world experience," he said.
Fire Chief Andrew DiMizio explained how there is usually only a small window of opportunity for the City Fire Department to secure a building for training exercises before it's razed. "Usually by the time we hear about a building, it's already demolished," he said.
Both de Ponce and DiMizio emphasized the numerous safety precautions taken by City Fire to protect surrounding residents and buildings, as well as the firefighters participating in the exercises. "The biggest challenge is ensuring the building is completely safe," explained de Ponce. "We went through a lot of safety checks to prepare the building for the burn."
Fire Captain Brian Porter stated that almost a hundred firefighters would be participating in morning and afternoon classes over three days. With eight burnings a day, four in each apartment unit, the City Fire has been able to put more than two months of preparation to the test. "What made this unique was the position and space of the building," said Porter. "This is the first time in 25 years we've been able to burn an entire structure inside the city."
During one of the exercises Thursday afternoon, a fire was started in the kitchen of an apartment unit, producing large quantities of smoke and soot. A few firefighters climbed to the roof of the building, checked its integrity, then sawed ventilation shafts to allow the smoke and pressure of the fire to escape. "Ventilation is really key to a lot of these fires," said firefighter Jason Fernandes.
Meanwhile, another team of firefighters entered the burning unit, where about a foot of smoke was already banked along the floor, and proceeded to extinguish the fire with short bursts of pressurized water from a hose.
Even with the removal of traditional apartment furniture and appliances, which usually increase the intensity and duration of a fire, Fernandes described the experience as "really hot and really smoky." Fernandes, who's only worked on one other fire to date, said the experience ultimately allowed him to "really know what's happening during a fire."
Firefighter David Berkovich, who was part of the fire suppression crew during the training exercise, said that although each trainee got to experience firsthand fire behavior, each fire has its own unique dynamics.
"Fire doesn't burn the same twice," said Berkovich.