Announcement
Carpinteria High School Professional Teaching Kitchen
Carpinteria Education Foundation Announces Grand Opening Festivities
On Wednesday, February 29, 2012, the state-of-the art professional teaching kitchen at Carpinteria High School will open its doors to the community. Culinary Arts students from the high school (and some guest chefs!) will be on hand to lead tours and serve tasty snacks. Superintendent Paul Cordeiro will highlight major donors and present the district's plans to develop community outreach programs like adult cooking classes and nutrition workshops.
"So many of our community members and local foundations supported this effort," said CEF Development Director Patricia Alpert. "It's thrilling to see it come to fruition."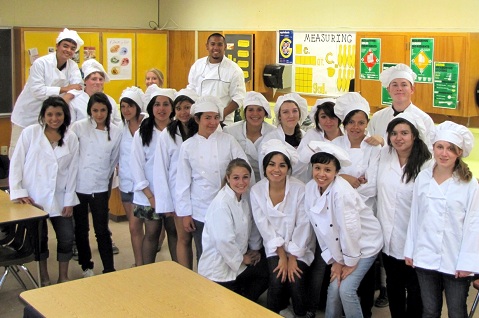 "The kitchen is yet another example of the good things that can happen when determined people work as a team behind a singular vision," stated CUSD Superintendent Paul Cordeiro. "Our students are no longer learning about modern culinary techniques on outdated home-economics equipment. Both students and adults can now access real industry equipment in a real culinary setting. It's one more thing that makes Carpinteria a wonderful place to live and visit."
Interested attendees should RSVP to Patricia Alpert at 805-566-1615. For more information about the kitchen or CEF, visit www.carpeducationfoundation.org or call 805-566-1615.