Briefs
Police Cite 60 Drivers During Crosswalk Stings
Motorists Ticketed for Not Stopping for Decoy Pedestrian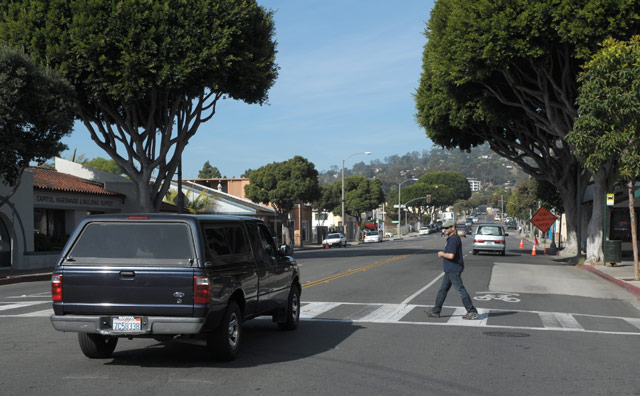 Santa Barbara police officers on Thursday ticketed 60 drivers for not yielding to a decoy pedestrian during multiple crosswalk enforcement stings around the city. The all-day operation took place at three different intersections: De la Vina Street and Los Olivos Street (18 citations); Milpas Street and Ortega Street (28 citations); and Coast Village Road and Butterfly Lane (14 citations).
Sergeant Mike McGrew explained five officers — one armed with a video camera — and a supervisor manned each location, which were staked out one at a time. Using the 30 mph speed limit in all three areas as well as driver reaction time and breaking distance, they calculated how far away from the crosswalks a motorist needed to start slowing down to let a pedestrian pass. The officers set up orange cones 200 feet away on both sides of the crossings and stopped drivers who didn't begin braking by the markers after the decoy — John Rousseau with the city's traffic engineering office — stepped off the curb and onto the road.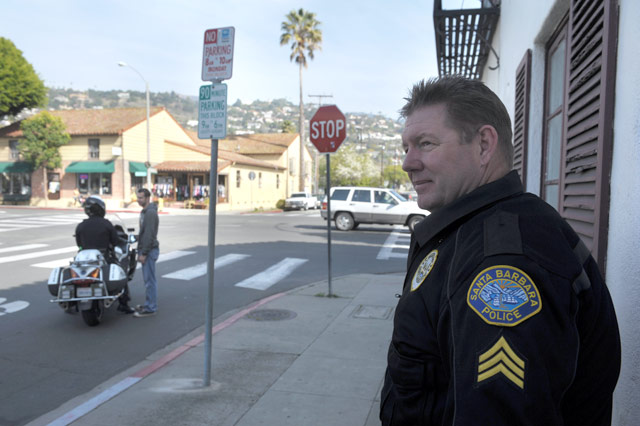 Drivers are required to stop for pedestrians who are on the roadway in any intersection without a stoplight, explained McGrew, whether there's a crosswalk or not. Tickets for not following this often-ignored law (California Vehicle Code 21950) cost around $200.
The sting locations weren't chosen at random, said McGrew. Fatal pedestrian accidents have taken place at the Coast Village Road and Milpas Street sites. Last October, a 15-year-old was hit and killed by a speeding driver as he tried to cross Milpas, prompting a renewed surge of community concern over the area's traffic safety. The De la Vina location was picked, McGrew went on, because of the many complaints his department has received about reckless driving in the area where the Braille Institute and a number of medical facilities are located. Since July 2007, there have been 12 fatal accidents in the City of Santa Barbara, nine of which involved pedestrians.
As they conducted the operation, McGrew said he and his officers received a lot of positive feedback from area residents and business owners. He said more stings — organized to encourage safe driving and bring awareness of the law — are planned for the near future, though the locations have yet to be determined.