Briefs
Faced with Floatopia, County Will Close Isla Vista Beaches Saturday
Massive 2009 Event Promoted Similar Closures in 2010 and 2011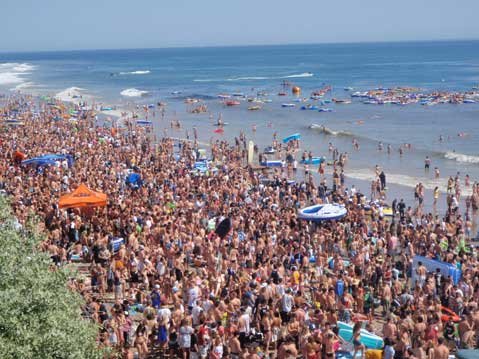 On Saturday, April 7, the Santa Barbara County Community Services Department will close Isla Vista beaches because of the Floatopia event planned for that day. Officials said the health and safety hazards faced by partygoers and the environmentally detrimental impacts of the large scale 2009 Floatopia, which attracted thousands of college students who left the beaches strewn with trash and human waste, prompted both the previous 2010 and 2011 beach closures after repeat parties were announced by organizers.
The 2009 event saw over 12,000 participants flood I.V. shores equipped with inner tubes and rafts brimming with booze to drink, dance, and float in the waves, while hundreds more watched from their beachfront balconies on Del Playa Drive. The bash led to 33 hospitalizations, 78 citations, 13 arrests, and piles of broken glass, trash, and poop, the result of no sanitation facilities at the unsponsored event. A Facebook page set up in 2009 was credited with drawing so many more participants to that year's event versus the estimated 4,000 that showed up in 2008 and 300 in 2007.
Although the beaches were closed in 2010 and 2011, spirited students took to Del Playa Drive for parties informally called "DPtopia" or "Deltopia," which still featured bikini-clad dancing students day drinking in the warm weather. It proved to be far less treacherous for both the participants and the environment since those involved were not near the ocean waters or steep cliffs.
Erin Strand, a fourth-year student at UCSB, described Deltopia as a smaller version of infamous Isla Vista Halloween weekends. "For the past two years that I've been to Deltopia, the streets were filled with students walking around and day drinking while deejays blast music from the front yards of every couple houses," she said. "The first year I went to Deltopia in 2010, it felt like an act of rebellion against the closing of the beaches since there were kiddie pools in front yards and people made makeshift sail boat floats to "sail" up and down the streets. Since then it has turned into an annual event the first Saturday of spring quarter to replace Floatopia."
The County Community Services Department will enforce the beach closures, and the Isla Vista Foot Patrol will continue to roam the streets to regulate the anticipated Deltopia parties.