More than sixty family, friends and colleagues of those promoted attended the event at the Sheriff's Training Facility in Goleta last Thursday, March 29, 2012. The following personnel were promoted:
Sheriff's Lieutenant Brad McVay
Lieutenant McVay began his career with the Santa Barbara Sheriff's Office in 1985 as a Reserve Deputy and became a full-time Sheriff's Deputy the next year. Since that time, Lieutenant McVay has worked numerous patrol assignments, as well as collateral duties, most notably as a veteran canine handler and POST certified canine evaluator. During his past eight years as a sergeant, Lieutenant McVay supervised patrol squads, a Mobile Field Force Team, and more recently community based programs, such as Crime Prevention and DARE. He developed the SBSO's current Volunteer Program, as well as the award winning Project Lifesaver Program and Operation Medicine Cabinet. For the last year and a half, he has served as the Adjutant to Sheriff Brown.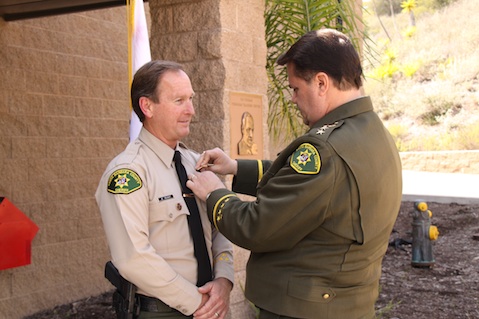 Sheriff's Sergeant Jeff Greene
Sergeant Greene began his career with the Sheriff's Office as a Correction Officer in June of 1999,when he was simultaneously hired by the Lompoc Police Department as a Reserve Police Officer. He spent nearly 20 months working for both agencies until he was promoted to Sheriff's Deputy in 2001, graduating from Alan Hancock Police Academy that same year. Since then, Sergeant Greene has worked assignments at every station, from Carpinteria to Santa Maria. He has been a Field Training Officer and a member of the Gang Unit. He was the Casino Liaison Deputy for the last three years, has been on the Hostage Negations Team for the last six years, and has been a Senior Deputy since 2005.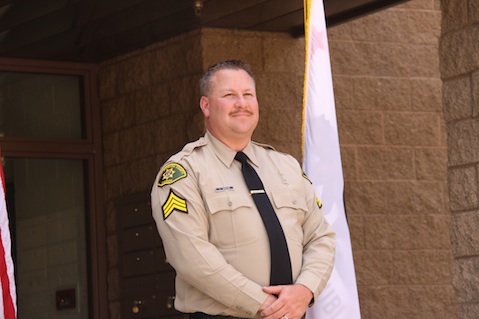 Custody Sergeant Anthony Espinoza
Custody Sergeant Espinoza started his career with the Sheriff's Office as a Correction Officer in October of 1998 and within a year earned the Deputy Sheriffs' Association Correction Officer Rookie of the Year award. Custody Sergeant Espinoza has been a training officer for the past eleven years. From October 2006 to January 2007, he was an Acting Senior Correction Officer and in April 2007, he promoted to the rank of Senior Correction Officer. In 2011, he became a member of the Special Operations Response Team (SORT).