Briefs
Hundreds of Homeless Have Their Feet Washed
WillBridge of Santa Barbara Hosts Fifth Annual Holy Thursday Event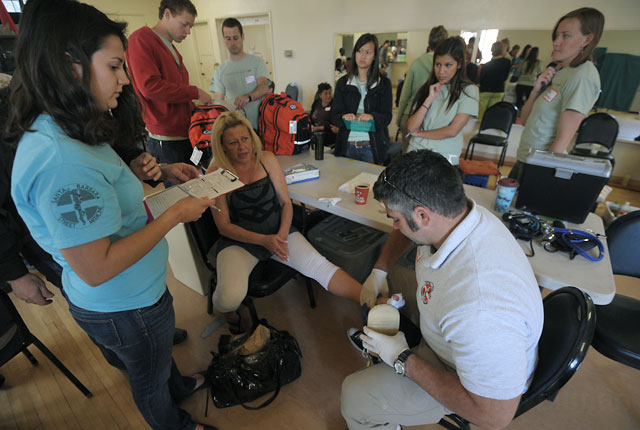 The differences between the homeless and the housed oftentimes seem to outweigh the similarities. But at Santa Barbara's Fifth Annual Homeless Foot Washing on Thursday, it was clear that the homeless are just like everyone else — people with cares, needs, and a desire to connect with others.
The event, which was hosted by WillBridge of Santa Barbara at the Veterans Memorial Building before this Easter weekend, served as a space to make those human connections across all class divisions. "It's about creating kinship," said Pastor Jon Lemmond of Montecito Covenant Church, who volunteered at the event. "It's about being reminded that we all have feet."
In observance of Maundy Thursday (or Holy Thursday), when traditional foot washing services are held worldwide, the event provided homeless with some of the key services they need. Men and women from all walks of life — and who do quite a bit of walking — received breakfast, a new pair of shoes and socks, a footbath, and even a pedicure or manicure if they so desired.
"This is a pampering day for them," said Lynelle Williams, founder of WillBridge Santa Barbara, who expected over 250 people on Thursday. "I just want them to have a great day," she said.
The spirits of these economically disadvantaged individuals were anything but downtrodden. Whether attendees were munching on fresh muffins, trying on new shoes, or chitchatting while having their feet scrubbed, they seemed to be enjoying themselves.
Custom bike builder Richard Boden, 50, said this was his fourth time attending the annual get-together. Sporting a new pair of sneakers and a burgundy manicure, Boden said he felt "absolutely blessed" to have the event in the city he currently calls home.
Cassie, 23, originally from upstate New York, also expressed gratitude while waiting in line for what would be her first foot washing. "I'm excited," she said. "I don't think there are enough things like this for the homeless community."
WillBridge offered more than just a foot washing, partnering with organizations like Doctors Without Walls to provide medical support at the event. The nonprofit's staff offer free medical services for the county's homeless community in the form of "street medicine." At the washing, volunteer care providers examined everything from neck pains to broken toes.
Dr. Jason Prystowsky, the organization's interim medical director, explained that foot care is an important part of homeless life. He was pleased to have Doctors Without Walls participate in the event, heeding his organization's mission of going where the need is. "It's an opportunity for us to provide care to people who have nowhere else to go," he said.
Gale Franco-Trowbridge, cofounder of WillBridge, believes that even if one person gets access to care as a result of attending the foot washing, it would be a step in the right direction. "It's a major undertaking," she said of helping the homeless. "I'm very proud of WillBridge."