Arts & Entertainment
Florence and the Machine at Santa Barbara Bowl
The British Band Kicks Off Its U.S. Tour in S.B.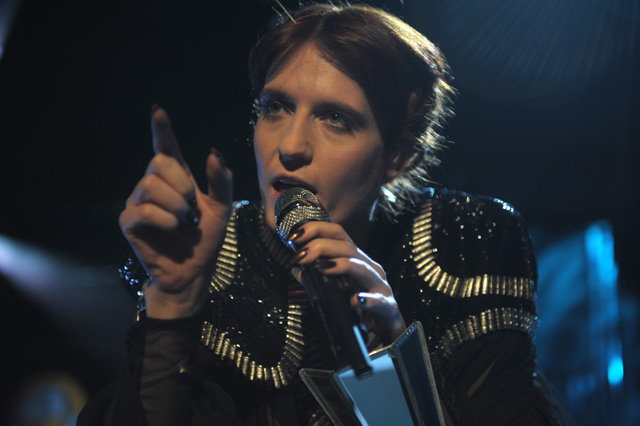 Santa Barbarans owe a huge thank you to Coachella. This past weekend, our town's music clubs pinched some of the top-notch talent swarming to Southern California's now two-weekend-long festival, getting visits from music's most innovative and beloved bands, including the bewitching Florence and the Machine.
Saturday night at the Bowl, under a rain-cleaned night sky, singer Florence Welch held the sold-out crowd spellbound from the moment she glided on stage in her black billowing cape. The mob quieted quickly when the singer hit the first crystalline notes of "Only If for a Night," a song from Ceremonials, the band's critically acclaimed sophomore album. On the heels of the opener came "What the Water Gave Me" and "Cosmic Love" before Welch addressed the audience. "Can you see the North Star?" the singer purred, pointing at the heavens. "Thank you so much for having us, Santa Barbara. As this is the first night of our U.S. tour, it has to be the best," she said with a smile.
The 14-song set was a keenly visceral experience. Backed by an eight-piece band that included a harpist, two backup singers, and a keyboardist, Welch was a siren — soulful, rocking, heartbreaking, and hypnotic. The frontwoman commands attention, not only for her vocal sorcery but also for her physical presence; clad in a Renaissaince-inspired cat suit, the lithe and graceful singer twirled, skipped, and floated barefoot across the stage looking like a fierce fairy queen. And although it was the first show of the British band's U.S. tour, for Saturday's audience it will remain their best.
Set List:
1. "Only If for a Night"
2. "What the Water Gave Me"
3. "Cosmic Love"
4. "Between Two Lungs"
5. "Shake It Out"
6. "Dog Days Are Over"
7. "Heartlines"
8. "Leave My Body"
9. "Lover to Lover"
10. "You've Got the Love"
11. "Rabbit Heart (Raise it Up)"
12. "Spectrum"
Encore
13. "Never Let Me Go"
14. "No Light, No Light"