Announcement
Rotary Club Awards Family of the Month to the Weddle Family
The Club has been nurturing Adams School with volunteer efforts for over 20 years and this new program highlights the efforts of families who give back. The Weddle family is RCSBN's Adams Family of the Month for March 2012 and at the April 25 club meeting they were presented with a framed certificate honoring their contributions.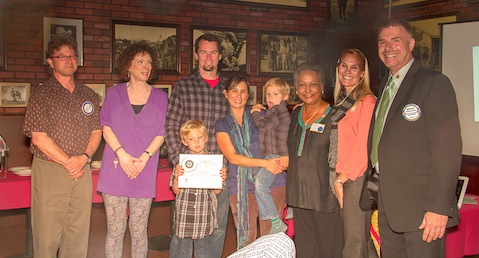 The Weddle family consists of parents Serena and Ron, Charlie (1st grade) and Max (preschool).  They have been great supporters of Adams School since Charlie started kindergarten.  This year Serena has been the chair of the Axxess fundraiser, chair of two fundraising evenings at Chaucer's Bookstore and has worked on many classroom projects and events throughout the school year.
Ron had an interactive station from his transmission manufacturing business Weddle Industries at the science night in December.  Amazingly, the Weddle support of Adams School does not stop with Serena and Ron. Ron's mother, Bonnie Goldberg is a retired art teacher, and she and her husband have done two projects in Charlie's classroom!  Charlie is a bright, motivated student who does well in all areas of school.  He has many friends, is curious about the world around him, is an excellent student, and he is fortunate to get so much support from his parents!  The entire Weddle family has been a great addition to Adams School!
When there is a school event, one of them is there, taking care of whatever needs to be done. They work very hard to help provide all the extras that make school fun and enjoyable for all the students!