Briefs
Secretive Space Plane Lands at Vandenberg
Touches Down on June 16 After 469 Days in Orbit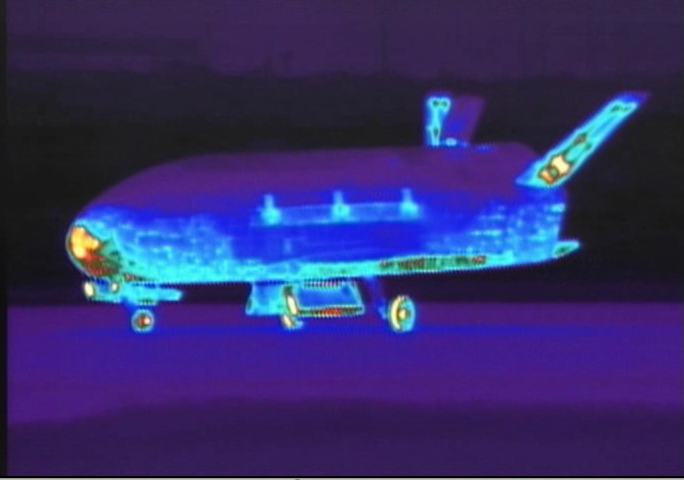 At 5:48 a.m. on June 16, a reusable and remotely-controlled Air Force space plane landed at Vandenberg Air Force Base. After launching from Cape Canaveral Air Force Station in Florida in March 2011, the X-37B Orbital Test Vehicle (OTV), conducted on-orbit experiments for 469 days during its mission — 199 days over the supposed 270-day orbital limit.
"Team Vandenberg has put in over a year's worth of hard work in preparation for this landing and today we were able to see the fruits of our labor," said Colonel Nina Armagno, 30th Space Wing Commander, in a written statement. "I am so proud of our team for coming together to execute this landing operation safely and successfully."
This is the second of two successful missions by the same type of plane. The first, dubbed OTV-1, launched in April 2010 and was recovered at Vandenberg on Dec 3, 2010 after 224 days on-orbit. It was the first unmanned orbiter to land unassisted in the United States; the first craft to accomplish such a feat was the Soviet Buran shuttle in 1988.
The plane itself is of Boeing's Phantom Works division and functions independent of an on-board crew. Designed to take off attached to a rocket and land like a regular plane plane, it looks like a miniature space shuttle, has a near-15-foot wingspan, and is equipped with solar panels for power.
A slew of controversies and assumptions have arisen from the secretive nature of the planes and their missions; ideas span from China Daily mentioning "concerns over a new arms race in space that could jeopardize world peace," to allegations that the X-37B was being used to spy on China's Tiangong-1 space station. Troop and arms transport has also been suggested.
The Air Force is preparing for another flight of OTV-1 at the Cape Canaveral Air Force station sometime in fall 2012.