Arts & Entertainment
Nation's Premier Drum and Bugle Corps Stops at San Marcos High School
Phantom Regiment Practiced and Played on June 27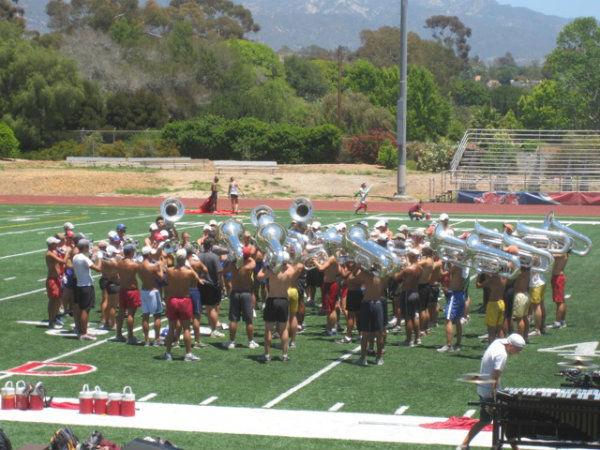 Traveling with five coach buses, two 18-wheeler trucks, a massive food and beverage truck, several golf carts, and thousands of pounds of percussion and brass instruments, Phantom Regiment, one of the nation's premier drum and bugle corps, practiced at San Marcos High School for five hours, finishing with a performance at Warkentin Stadium.
Phantom Regiment, which follows a strictly classical repertoire, is on a several-month nationwide tour, which started in Akron, Ohio, and will end at the Drum Corps International competition in Indianapolis in August. They are currently traveling down the California coast and are scheduled to stop in Oceanside, Walnut, and Riverside later this week.
Although the band is based out of Rockford, Illinois, it holds competitive auditions for its members, ages 15-21, who come from all parts of the country.
The very tan and toned band members all appeared to be in high spirits during their San Marcos stadium show. But after four hours of grueling practice in the sun, all 150 of them (plus parents, instructors, bus drivers, and kitchen staff) eagerly packed up their enormous caravan and headed to Stearns Wharf for the afternoon.