Arts & Entertainment
The Dukes of September at the Santa Barbara Bowl
Donald Fagen, Michael McDonald, and Boz Scaggs Teamed up on Tuesday, July 3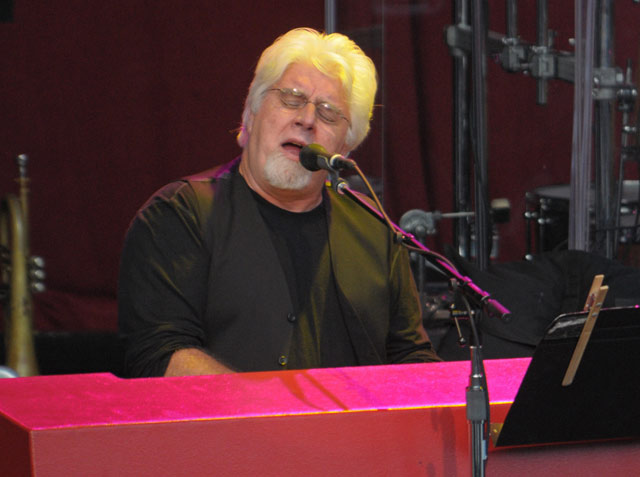 It's my opinion that the best pre-punk thing that ever happened to 1970s pop was Steely Dan. During that low-backlash age when lite jazz, soft rock, and eventually disco kept supplanting the psychedelic spirit, Donald Fagen and Walter Becker somehow managed to use every strand of bad radio rock swirling around them, turning it all into intelligent riff-rich pleasures. Last Tuesday night at the Santa Barbara Bowl, the Dukes of September proved me right by folding two minor (but beloved) 1970s hit makers into the Dan touring band with Fagen at the helm: smooth Michael McDonald (Doobie Brothers) and former Steve Miller guitarist turned blue-eyed soul Boz Scaggs. The pairing made both McDonald and Scaggs seem immediately smarter. It also effectively turned the Bowl into a cool 1970s-cover-band party.
The evening began like an old-school soul revue, with backup singers Catherine Russell and Carolyn Leonhart-Escoffery grinding out a "funky soul" groove while the big boys took the stage. "We're the Dukes of September," said Fagen, "I know it's only July: We must have taken the wrong bus." Then (somewhat disappointingly) they lit into "Who's That Lady?" which vied with the extremely unimaginative Sly Stone and Buddy Miles medley finale to make up the low points of the show. The rest was pretty great, though. The stars played tandem and solo classics alongside what Fagen called "some of our own compositions."
The best covers of the night included Marvin Gaye's "Trouble Man," Chuck Berry's "You Never Can Tell," and a particularly beautiful rendition of Ray Charles's "Tell the Truth." The most amazing musical moment was Scaggs dueting with Russell, him on guitar, her wailing sweetly. Unsurprisingly, original fare provided the highlights: Scaggs's "Lowdown" and Fagen with "Peg," "Reelin' in the Years," and "Kid Charlemagne," with the best of the non-Dan show going to a long McDonald piano interlude that led into a rousing "Taking It to the Street."
But the Dukes dissipated somewhat into the night air amid the Bowl's awesomeness. There wasn't much in the way of spectacle in the show, and the absence of a real dance floor was felt; a nightclub would've harnessed the nostalgia better. "Reelin' in the Years" is okay sometimes, but McDonald and Scaggs on their own never wrote anything as remotely fine as Fagen's "Hey Nineteen," a song that made Tuesday's crowd sigh with happiness. It was good to hear them all do it together, though, and it made the 1970s seem much cooler years than they really were.